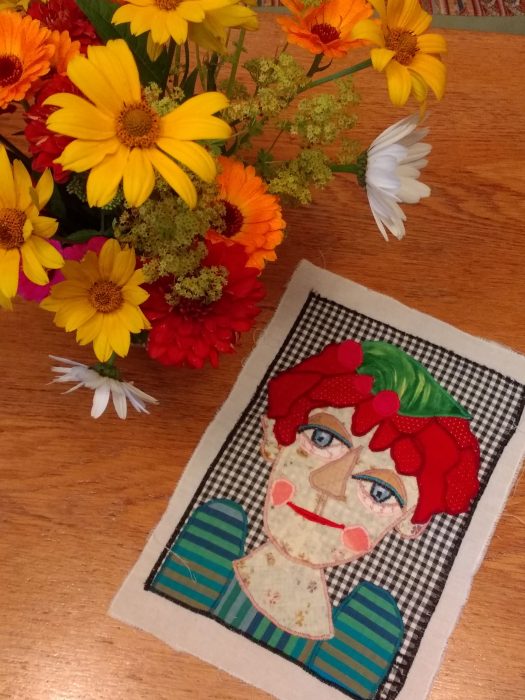 "I'm just a simple housewife," she asserts, when I ask Bodil Gardner, if she calls herself a fabric artist or an art quilter. In fact, she is an international star of the quilt world beloved for her disarming, quirky masterpieces. "I just make my pictures, she says." Her modesty is typically Danish.
As she explains on the website her husband, Peter put together for her, "I have not had any artistic training and was brought up to be the practical one in a creative family, which needed to get the washing-up done. Are my pictures art or not? The question is frequently asked. For me, it doesn't matter what they are. I make them for my own sake, hoping all the same that you will also like them."
I have invited myself over, finding myself in her vicinity when the husband and I are visiting our son and his wife in Aarhus, Denmark. My daughter-in-law, Bev, volunteers to drive me over to the suburb of the city, where Bodil and Peter live. "Drive up the road through the garden," are her emailed instructions, which turn out to be quite the understatement.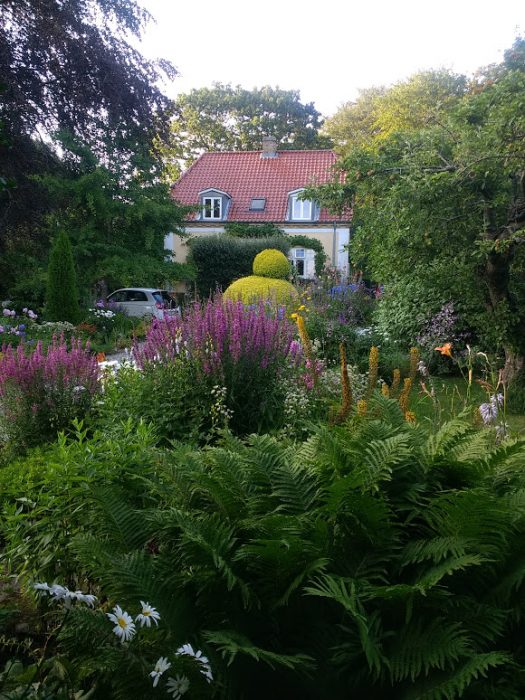 As you can tell, Bodil and her husband live up to their surname, Gardner. Like Peter, the garden style is English, transplanted and intermixed with Danish determination. The warmer seasons are mainly for gardening; winter is when Bodil devotes herself to working on "her pictures." Playing with colors and patterns are the common source of joy.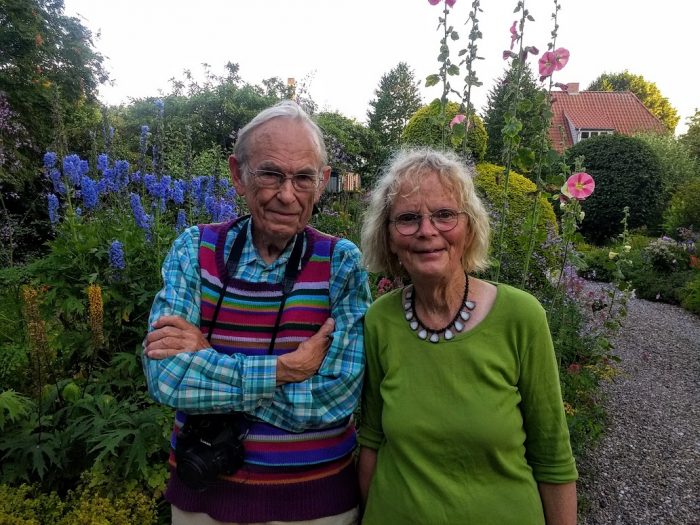 Bodil doesn't have a "studio," and when we visited, we sat at a dining table where she served us homemade apple crumble, with danishes and chocolates and tea. We brought a bottle of red wine, and a packet of various fabric prints. An old, portable sewing machine under its cover sits on the shelf behind the table, and there's a jumble of fabric scraps on a trunk beside Peter's computer table. Otherwise, no sign of a work space. Past a large archway, you're in the sitting room, where appliquéd pillows and patchwork command the lower planes, and books and photos fill the walls from floor to ceiling.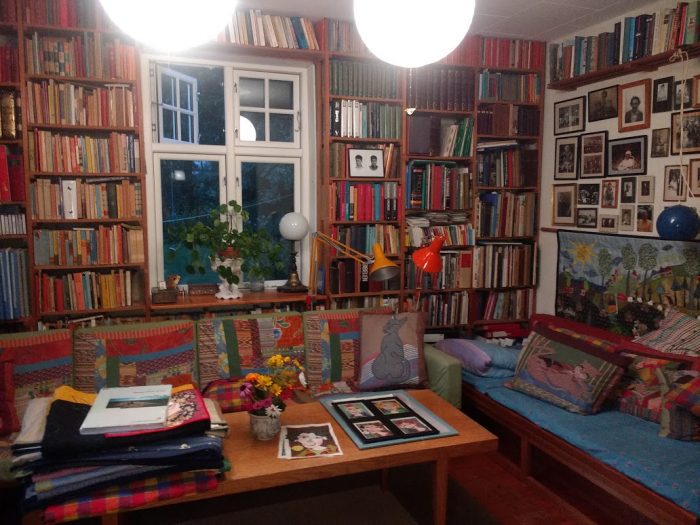 After dessert and far-ranging discussion, Bodil displays some of her pieces the same way she composes them: on the floor.
Lots and lots of delightfully funky portraits. Like Joni Mitchell's Ladies of the Canyon, Bodil points out, each one has a unique personality. Fabulous hairstyles, flower accents, funky colors. Friends bring her fabric, and she uses what she has. No fusible web for her. She chooses from her assortment of scraps, cuts each piece freehand, assembles elements as she goes on larger background pieces, pins pieces to secure them in place temporarily. Only when she is satisfied with the entire composition does she moves to the sewing machine to satin-stitch over all the raw edges. Quilting and finishing details are minimal. Larger works elaborate on women at home, of generations, taking tea, counting sheep, gentle pets, and children, either confident or shy.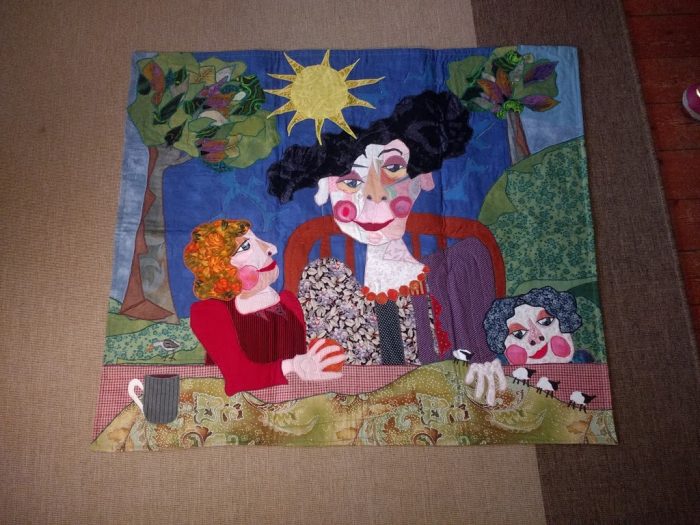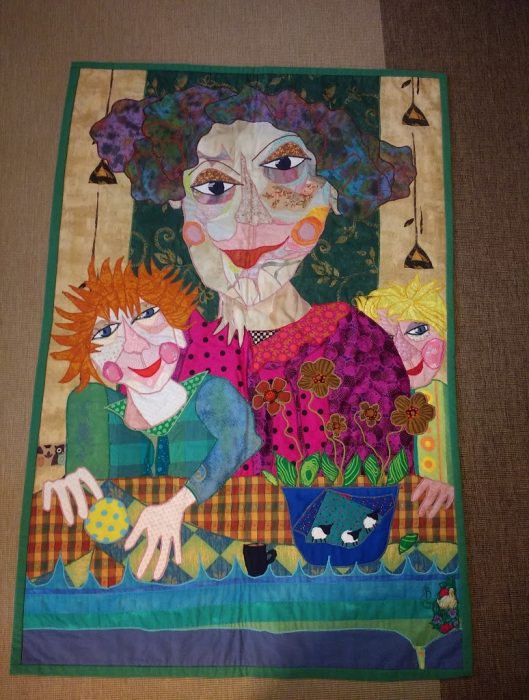 It's easy to recognize a Bodil Gardner art quilt, isn't it? And to feel the warmth and friendliness, and yes, a bit of zaniness embodied in each and every one. Far from quilt shops, shows, classes, she retains her own signature style, and doesn't travel far, so relatively few students can learn from her way of working and her genius for face values, so to speak. Pamela Allen of Canada got her to join the Studio Art Quilt Association (SAQA), and Peter Gardner encourages his wife to respond to more of their calls for entry. Her work has been showcased in many top-drawer, juried exhibitions, within and outside of Denmark. But in many cases, a juror chooses a cohesive collection of sophisticated abstract and painterly tour-de-forces; Bodil's pictorials stick out as being too different, and so don't make the cut. That was the case when Bodil entered the piece below for the SAQA show for which the theme was Tranquility. Her reclining woman with cat, book, and teacup didn't make it into the exhibit….yet SAQA saw fit to feature the piece on the cover of their magazine.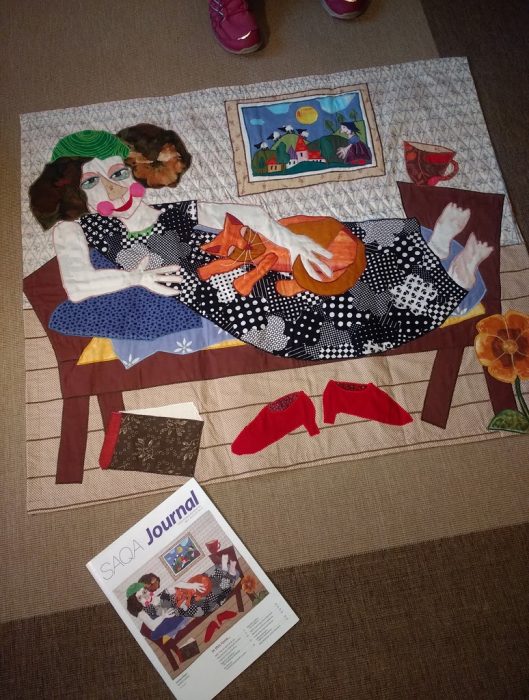 There's not a whit of pretentiousness in these portraits of wise, nurturing women. I can easily imagine each one a sort of self-portrait…the alter ego of their maker. There are probably hundreds of them, a treasure trove of joyful folk art, with many more to come from from Bodil Gardner.