If anything good has come out of the Covid-19 pandemic, it's been that 1–forced to stay home means more time for quilting, and 2– a good kind of pressure to share online. Just in time for Mother's Day weekend, let me present some of my favorite, funniest quilts about Mothers…
First, Psycho Moms Bake a Cake, by Katherine L. McKearn and Diane Muse. A real oven mitt and apron give you an idea of scale. The fire in the untended oven reveals the truth: that getting together and schmoozing with a chum is more important than successful productivity.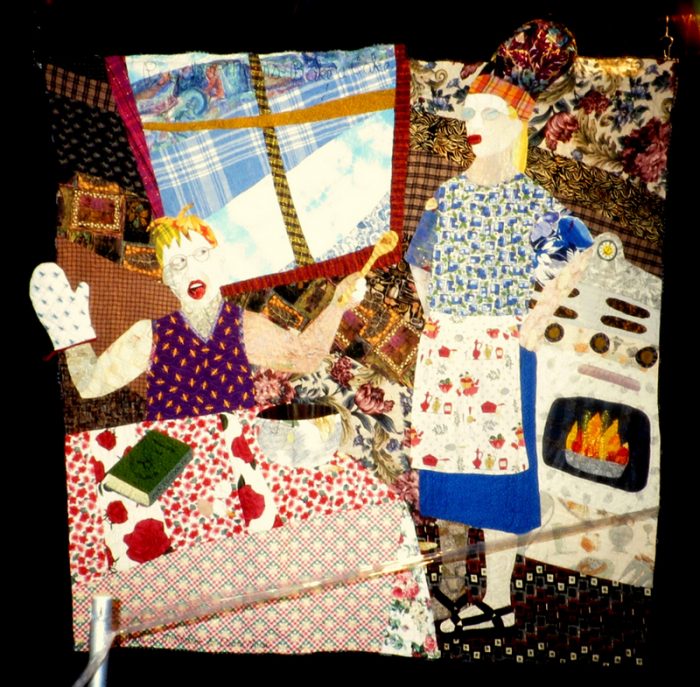 This quilt by Amy Stewart Winsor reads, If you want to see me, come over anytime. If you want to see my house, Make an Appointment! (Cuz God knows I've got lots and lots of cleaning to do.)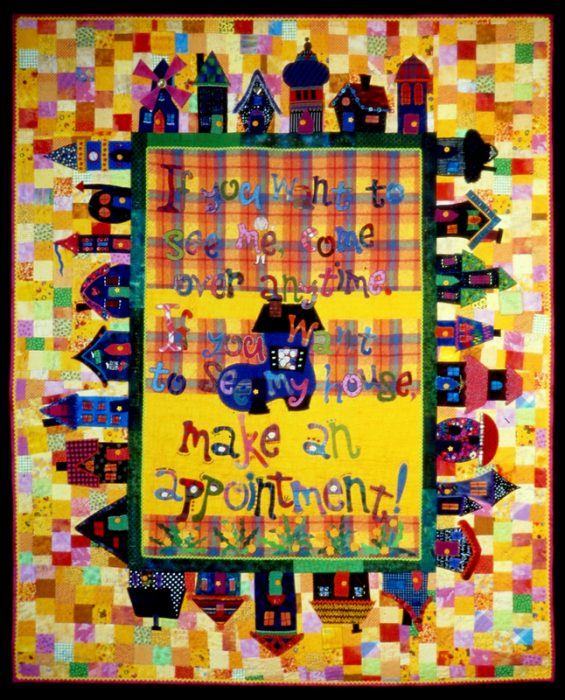 Mrs. Noah, by Pamela Allen honors the woman who obviously did all the cooking and cleaning aboard the ark…yet in a literary injustice of biblical proportions, she doesn't even get her name mentioned.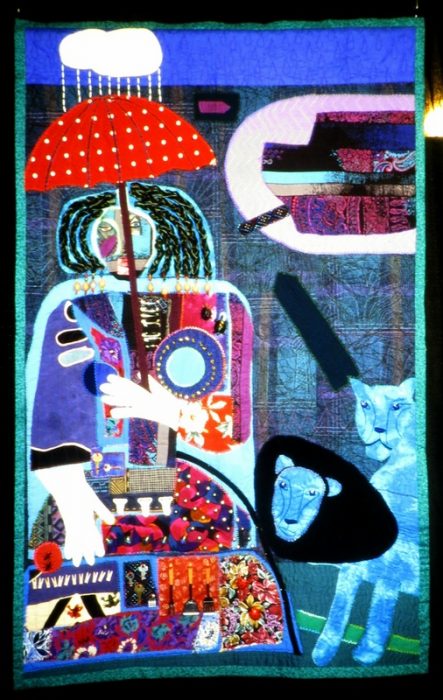 Most quilters could easily identify their own mothers — and more horrifyingly, themselves — within Jean Ray Laury's famous quilt, Listen to Your Mother. Each of its Nine-Patch silk screened panels contains a cartoon bubble with the text of a common maternal maxim, such as, "Change that underwear! You might get hit by a car!" or, "Put that down! You don't know where it's been!" Who doesn't hear her own mother's voice?
Inspired by Jean's iconic piece, I borrowed the image of Whistler's Mother, and directed her criticisms to quilters, to wit: "It takes how much guilt 'til you finish that quilt?" "What about the label?" "The baby is due any day! How are you going to get that thing done in time?" "Pull up that bobbin thread! You've got little nests all over the backing." "Better needle-turn; you don't know what fusible web will do after 50 years." "What?! You didn't preshrink before lumping that new fabric in with the others?" "Get those new rotary blades while your coupon is still good." "If you're not going to quilt, then you should be cleaning your house." "You're going to use that for the binding?" "Move that needle position back to center! You're going to break that needle!" "Check your tension! Loosen up! Go faster! Keep to an even pace! Relax! No pressure!"
All rules I frequently break!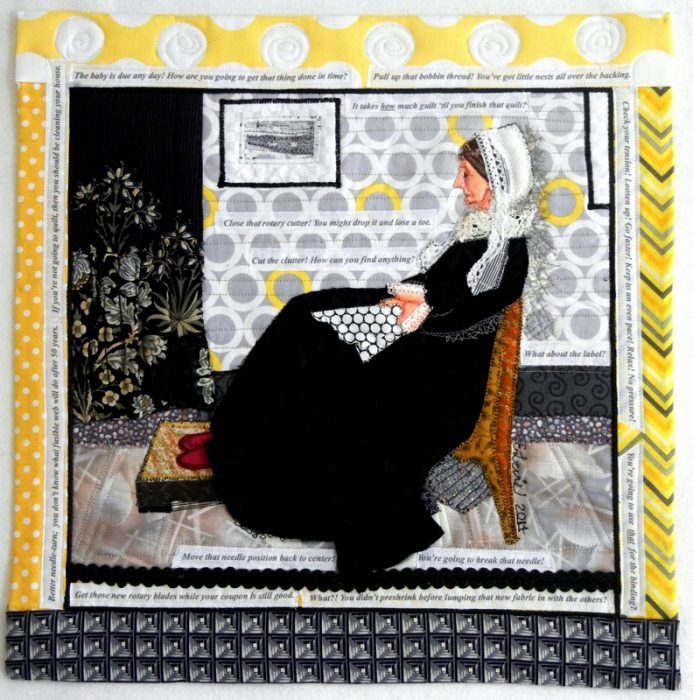 For more inspiration and entertainment around Motherhood, see some charming story-quilts by Bodil Gardner in my blog post here. And my Tribute to Moms from way back in 2012 here.
Happy Mother's Day, to everyone who is a mother, grandmother (me, finally!) godmother, aunt, mentor, teacher, nurse, nanny, child-care provider, or girlfriend…of any gender. That is to say, anyone who mothers others! We need you!