Just in time for Mother's Day! I'm sharing 3 of my fav art quilts on the subject (plus, one of my own).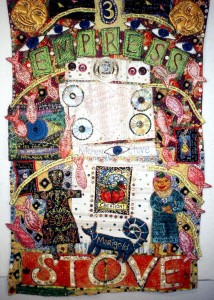 "The Stove / Empress" by Susan Shie, 1999.  48"x 74". An art quilt in her Kitchen Tarot series.  Lucky, as she's affectionately known, describes her piece: "Here  the Stove is a big, warm, nurturing Mama of love and feminity! There are real "lucky" bottlecaps along the stove's front, as well as many moonstones embellishing its surface.  The stove clock is a coffee can lid, and the burners are CDs. The stove control knobs are some kind of weird Indian things that resemble shisha mirrors."
Pamela Allen works her usual magic with enchanting Picasso-esque faces, found objects, and a tap on the funny bone. This piece, "Single Parent Family," looks back as her hard-working mom returned to Pamela and her sister, latch-key kids at a time when it wasn't frowned upon.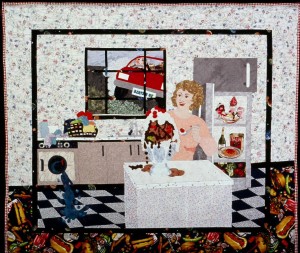 We can all relate to the domestic crises Moms and other female heads of households face, as illustrated in this quilt by Pauline Saltzman. The title of the quilt says it all; it's called:  "All Stressed Out…No One to Choke…So I Might as Well Eat."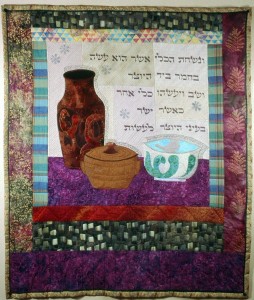 Here's a quilt I made for my mother:  A tribute to her as a potter and a Torah scholar. The Hebrew is a verse from Jeremiah, which says,
And if the vessel (s)he was making was spoiled,
as happens to clay in the potter's hands,
(s)he would make it into another vessel,
such as the potter saw fit to make.
Jeremiah 18:4
My mother always says, if a project isn't going well, I can always mush it down into a lump and start again.  And we quilters, if we're not happy with our quilts, maybe we can make like the potter and cut them up and turn them into something different, right? or maybe there's a mother- in-law or a daughter-in-law we're not so fond of ? Well then, we can give it to them!
I love to endow such wacky folk wisdom in my presentations to guilds. Think about bringing me in next April or May for my "Not Just for Mother's Day"    presentation. I wear an "I Love Lucy" get-up that ensures the laughs outweigh the tears of  nostalgia.
But as for this year–today in fact, Happy Mother's Day to one and all!