booking details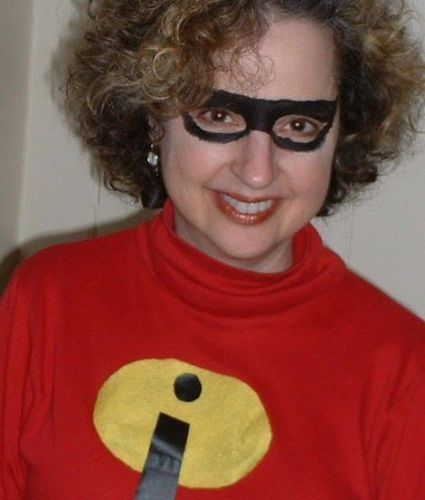 Like Mrs. Incredible, I aim to stay as flexible as possible to help meet your needs!
RIGHT UP FRONT, HERE ARE MY FEES:

$350 for a presentation at a guild meeting, either in person or on Zoom, 45 minutes to an hour including Q & A.
$350 for a 3-1/2 hour workshop: On Zoom for up to 12 participants, in person for up to 24 participants.
$600 for an in-person, 6 hour workshop.
BUDGET CONSTRAINTS?
For a Zoom meeting, invite another guild -- anywhere! to join your meeting or participate in a workshop.
For your in-person meeting, invite another nearby guild to join you.
To fill a workshop: Encourage guild members to invite their family, friends, and neighbors to attend a workshop with them. Share your stash, and your design skills. Each individual pays the fee and receives guidance. Children and grandchildren as young as 9 will love the experience. So will friends who would enjoy a play-date with you and a chance to play with your fabrics. Bet they would really appreciate your willingness to do the quilting and finishing for them.
For a workshop on Zoom, get together with a quilting buddy and share the screen, tools, fabrics, ribbons, and fusible web.
FOR GUILD MEETINGS ON ZOOM
What you can expect
A smooth, professional presentation with my live narration, almost completely glitch-free (never say never, but oops moments are rare). A variety of quilts, most with details, so everyone can get up close and personal with each item. Fascinating or funny stories to go with them. A glimpse of how they were made.

Technical anxieties?
Invite me to attend a practice session in advance of your meeting --either by a few minutes or a few days before. Or, invite me to a previous meeting, where I can say hello, introduce myself briefly, show viewers a preview, and get members jazzed about signing up for a workshop.
Failproofing: Send me the link when you send it to your members. Provide me with emails and phone numbers for at least two guild VIPs, so I can call if I have trouble getting in, or in the very unlikely case that I lose wifi and need to ask for a few extra minutes to find another location.
Guidelines and Suggestions
Hosting: In my experience, the guild has always hosted the Zoom meeting, and allows me to be the co-host so I may share my screen. However, I have a Zoom pro account for groups up to 100 if you need me to host.
I'll provide Zoom tips so viewers get the maximum enjoyment out of my presentation.

Q & A: No need to hold your questions until the end of my shpiel! Unmute yourself and interrupt me during the lecture to ask your questions as the specific slide is on-screen and I'm on that particular topic.
Hybrid meetings: This is a bit complex, but it may be the necessary wave of the future. We can do it! Bring members together in a room with a laptop, projector, and large screen. Most meeting places will have a staffer who can assist with optimizing the audio set up of microphones and seating placement suggestions.
In advance, send the link to me, as well as any members who cannot attend in person and wish to join via Zoom. Rehearse a few minutes before the meeting begins in the set-up designated space.
FOR WORKSHOPS ON ZOOM
I host workshops on Zoom for up to 12 people. This includes lots of individual guidance for every participant, as well as interactive discussions and constructive suggestions so everyone benefits from my ideas and those of their sister or fellow students.
I ask that the guild supply me with a "helper" who can phone latecomers to join us on Zoom, and help participants with any individual technical issues they may have.
We start with quilter's yoga, to stretch our bodies before we sit down to hunch over our computer screens and projects on the work surface.
I explain what to expect, demo the process in lots of steps, and put you in breakout rooms where I can give individual guidance to each person, yet leave everyone with 2 or 3 buddies to chat with and help.
Everyone creates a sample and we spotlight the results.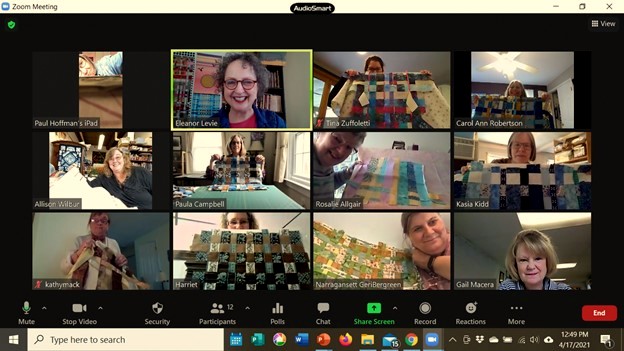 Best of all, I send each person a complete written and illustrated set of how-to's that are printable and which you can keep forever. You can also email me with questions anytime, and I hope you'll send me a digital photo of your finished project.
GUIDELINES FOR IN-PERSON VISITS TO PRESENT TO YOUR GUILD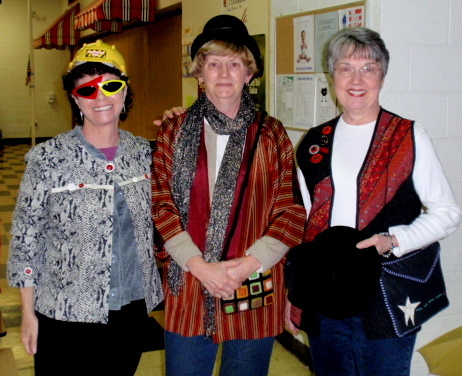 For in-person appearances, please book me for a workshop as well as a presentation.
What you can expect: All of my on-site presentations include a trunk show, with quilts for passing around and touching. These are made by me, or in my collection of anique, vintage, and contemporary quilts. Please try to provide a table or two -- for exhibiting trunk show items, plus books for show and sale. I'll be grateful for 2 to 4 volunteers to hold up quilts or model quilted garments. I will not need you to hang up quilts on display systems.
Safety precautions: Now that Covid is the new normal, I follow the CDC guidelines and Covid cautionary advice for your area.I'm happy to stay masked indoors for you, and observe social distancing recommendations, bump elbows rather than hug, and avoid close contact. I will remove my mask to present. I have a big, clear voice, but if a microphone is used, please have wipes available to clean the mic between users.
Travel: If your guild's meeting place is within 2 hours driving time, I will most likely be able to drive to you. I will charge you for mileage according to current IRS business rates -- $0.655 for 2023. I will pay for tolls.
For a booking further away, requiring plane travel, let's evaluate the options for flights, and whether I'll need to rent a car or have volunteers chauffeur me around.
Overnight stays: Pre-Covid, I really enjoyed home hospitality, and the chance to get to know my host(s) and see their sewing rooms. But now, I find a 3- or 4-star hotel chain provides the safest environments, protecting me and my would-be hosts.
THE BEST WAY BY FAR TO GET IN TOUCH IS VIA EMAIL: EleanorLevie@gmail.com
Or, use the "contact me" link on the upper left.
If you'd like to talk, give me a couple of good times to call you, or to suggest dates and times when you can call me. I routinely use my landline: 267-519-8157. I use my cell phone only when I'm traveling.