about me
quiltmaking
|
photocrafting
|
crafting & Needlework
|
bibliography
|
resumé
|
personal stuff


Calling All Quilt Guilds!
Need to check out my quilting credentials? Post my bio in the newsletter or introduce me at a meeting? Click here!
What's In A Name?

Hi! I'm Eleanor Levie. To pronounce my last name, think, "Drove my Chevy to the levee." While I was named for Eleanor Roosevelt, and while I probably need all the dignity I can get, you're welcome to call me Elly.

My company name is Craft Services, LLC. I generally use this name for editorial and PR work on needlework and crafts projects and publications, or to hide money from my husband (just kidding, honey!). Any of you obsessive film buffs who stay at the end of movies to read all the credits past the cast of characters will see that I am also very busy providing catering to every crew on location. (Not really, but they're called Craft Services, too. And now that you know this, you can skip the credits and run to the restrooms like the rest of us).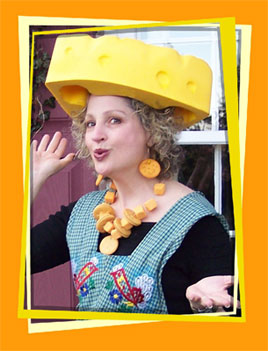 Here I am, at right, in my Craft Services mode, ready with cheese and crackers to serve you and your crew. Seems cheesy, I know, but when it comes to entertaining slide lectures that make everyone crack a lotta smiles, workshops that are crackling-good fun, and crackerjack publications, I'm really all for Puttin' on the Ritz. (As a wisecracker, I'm hitting the bottom of the barrel here--the cracker barrel, that is.)


My hubby is Carl Harrington. I've been known to answer to Mrs. Harrington, but Carl's mother's name was Eleanor and she was totally unique, so there will never be another Eleanor Harrington in this family. By the way, Carl doesn't cotton to being called Mr. Levie.

The bottom line? Call me anything you want, just call me!