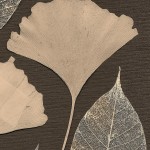 Who doesn't love a gingko leaf? Possibly the most graceful form to be found in nature.  Each as unique as a snowflake, its veins radiating out from a sinuous, curvy stem into a blade that's rippled or notched.  Of course, the essence of its beauty is its fan shape, conjuring up timeless Oriental serenity.  Which makes sense when you realize that the ginkgo is one of the oldest forms in nature. Fossils of early versions date back 270 million years–now doesn't that make you feel young?  The  species survived the Pliocene age only in a small area of central China, where it has been cultivated for a very long time.  The proof is in the garden: there are some gingkos at Chinese temples that are thought to be over 1,500 years old.  And Europeans found gingkos in Japanese temple gardens more than three centuries ago.
So it stands to reason that many quilters who look east for inspiration find the gingko leaf to be a most evocative motif.  One such extraordinary talent is Lonni Rossi (LonniRossi.com), who often incorporates Asian inspiration  into her commercial fabrics for Andover, her one-of-a-kind silk screened fabrics that she creates in her studio and sells in her shop, and in her masterpieces. Here's the art quilt Lonni made as a gift for her sister's 50th birthday:
How I envy the recipient!  But you know, any quilter can have a Lonni Rossi design: Her Seasons of the Moon is on the cover of my Skinny Quilts & Table Runners II (click here) and her Pocket Masterpiece is one of the cover models in my Unforgettable Tote Bags (click here). Check out Lonni's website for other patterns and kits. And for more pure inspiration from Lonni, take a long look at this triple panel wall hanging that simulates a kimono. Lonni used her own hand-painted silk, and planted a gingko leaf for a focal point:
Back to botany: The genus, sometimes spelled ginkgo, means "silver apricot" in Chinese and later in Japanese. The species is Biloba, bi-lobed, or two lobes. Strange names, and if you find them hard to remember, you may be one of many folks who take a form of Ginkgo Biloba to enhance memory. Knowing this, you'll understand why I have often used the leaf motif in my Memory quilts. Here's one about family, and if you knew the very skinny genus—er, genes of my peeps, you'll get why this Skinny Quilt is called Stringbeans:
If you happen to live on the internet and you see my blog today, you might think Memorial Day compels me to commemorate  memory, specifically lives lost in war.  And that would be most appropriate, as my father is a proud WWII vet, and these days, everyone I know hopes and prays that our military sons and daughters return safely from deployments overseas.
But what actually brought me to blog about gingkos is much closer to home. To be perfectly candid, it's standing  in front of my home, on the side of our very narrow, historic street.  As you'll see in the photos below, a curtain of green and then yellow leaves outside my home office window, and as the leaves fell, an autumnal yellow carpet on the streets are high on the list of reasons we fell in love with and bought this Center-City Philadelphia townhouse a year and a half ago.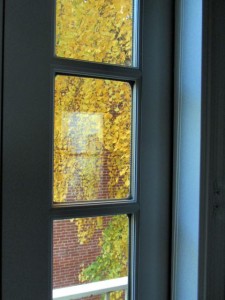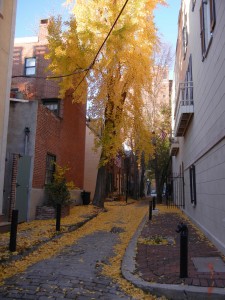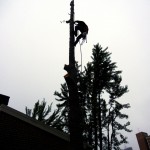 Alas, lumberjacks working for the city took it down a few days ago. It was decided that it was too big, breaking up the sidewalk and street. But serendipity sneaked in. Months ago, we had asked the city to gift us a new tree on our side of the street.   Reasoning that we had the gingko, and that a different tree wouldn't grow so big, we gave our preferences for three other options. But what do you know, another gingko was chosen for the site and recently planted with the help of volunteers from our civic association. This time around, it's a clone of a better species that won't grow as tall, yet will branch out high, to soar above our four-story building.  A happy ending…as long as I'm willing to wait until this blog is but a distant memory!