I know, I know, looking at vacation photos can be such a snooze. But get this: every image I'm going to share from my recent trip to Portugal in flluences the way I approach making art with fabric–and might just inspire your quilting, too.
While Portugal's cityscapes, valleys, and beaches were frequent wow'ems,  The Berardo Museum in Lisbon is a stop that tops the cultural to-do list.  Don't call me Miss Demeanor:  Taking photos without flash was permitted here, as in many museums throughout Europe. I'm guessing their managements got wise to cell phone cameras and internet sharing, and resigned themselves to the fact that today's pic-snapping tourists just can't be curbed. Modern and contemporary art  in this world-class collection—with a small part on view at any one time– were amassed by Portuguese magnate Joe Berardo.  Here's his portrait, painted by Julio Pomar of Lisbon, below. (Quilters may then wanna take a workshop from fabric artist Esterita Austin so they can turn photos into visual biographies.)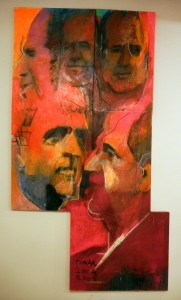 While I doubt you've heard of Julio Pomar, it's a sure bet you'll know many artists in this world class collection. Picasso, Warhol, Joseph Cornell. And mmmm:  Magritte, Miró, Modigliani, Mondrian, Man Ray, and more. Man, oh man, most of the artists are men. But I adore this small collage  by the amazing Englishwoman Eileen Agar: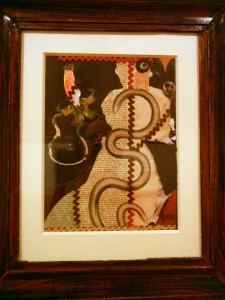 This work of 1936 is called Snake Charmer, and I'm totally charmed with the way newsprint text and rickrack help to create a portrait.  I have and I will use those elements in my work. How about you? Need more ideas in this direction? Take a gander at Pamela Allen's collaged portraits in her on-line gallery.
Love, love, love this enormous 1987 painting by Gerhard Richter: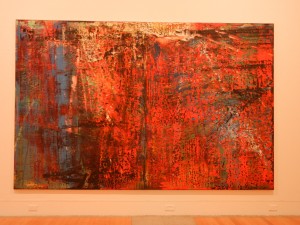 Kinda conjures up the work of artists who use fabric as well as paint in abstractions, such as Cynthia Corbin.
Similarly color-rich, and closer to our medium of choice, is this  fine art embroidered piece by Alighiero Boetti. Do you think the title, Positivo-Negativo, refers to the color contrasts, or the nature of  conversations between those who speak English, Italian, and other western romance languages and those who speak a middle eastern tongue such as Pashto or Dari? News flash:  You can see similar pieces at the MOMA in NYC now. Learn about the concept behind this body of work, which actually created bridges between warring factions in Afghanistan.
On a much lighter note: In the quilt world, we have many folk artists who have a way with words. Mary Lou Weidman often incorporates scrappy captions in her quilts, and Tonya Ricucci readily admits to being an unruly quilter—and writer. Tell me in comments: How do you get letters, words, phrases into your quilts?
It's so cool getting turned on to an artist who has made a mark in modern art, as Boetti did. Now for another artist who is new to me: This spring/summer, the Berardo is presenting a special exhibition of work by Nikias Skapinakis. Check these out; don't you think these works with their flattened, but luminous planes, would translate beautifully to fabric homages?
In fact, the landscapes remind me of Karen Eckmeier's Happy Villages, a book, a body of work, and a really fun quilt workshop.
Just for fun, get a load of  some mixed media sculpture at the Berardo: Wrap Around the World Man, 1990,  by Nam June Paik (don't let the middle name fool you, this was a Korean American man) and White Aphrodisiac Telephone, 1936, by Salvador Dali:
And here's a classic Calder mobile (no date found),  and Inhabitable Sculpture by Miguel Arruda, 2010, with me inhabiting it!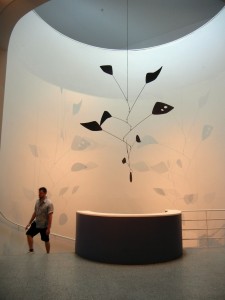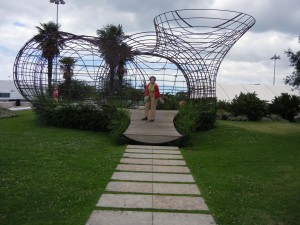 Psst: I'll divulge one more Berardo space I inhabited–you can see its entrance on the right…