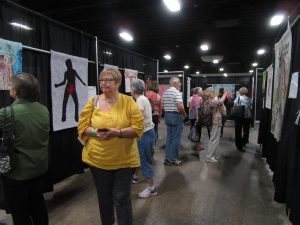 At the same time I launched United We Quilt, a group of fabric artists called the Artists Circle Alliance put out a call for entry to Threads of Resistance.
The two shows are sisters–both expressing deep concerns for the character, policies, and actions of the Trump administration.
UWQ has been, from the beginning, strictly a digital gallery–and if you're reading this, do consider submitting a work of your own. The only deadline is when democracy has been restored. Every day the president gives us something else to provoke anger and concern and inspire speaking up for justice, with words, deeds, and art. I'm proud of the capacity and accessibility of UWQ for doing justice to each work and its maker.
ToR, however, was designed as a traveling show. No doubt it has involved a huge investment; the managing of finances, insurance policies, and storage; negotiations and legal contracts with venues and insurance agencies; transportation coordination; and answering to the needs of everyone who submitted work and everyone involved in showing the work. The political theme made this show exponentially more time-consuming and risky. In fact, several venues were cancelled and one was shortened…I can't help thinking it was because the booking was arranged before the producers understood how subversively "in your face" some of the content was; I assume they caved to complaints.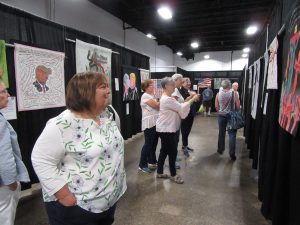 Yesterday, I got to see ToR at the Pennsylvania National Quilt Extravaganza. It was one among many exhibitions and competitions of quilts eliciting oohs and aahs over extraordinarily gorgeous workmanship, composition, brilliance or graphic power. Signs on the ends of the aisles of this exhibit clarified a disclaimer.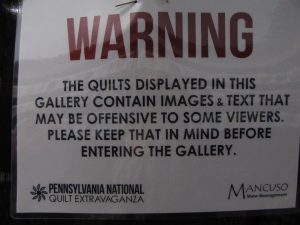 And yes, the Mancuso team that manages PNQE received complaints about gratuitous nudity, use of expletives, and anger expressed in, of all things, a quilt.
BUT. No doubt about it, ToR attracted the most attention, had the biggest crowds, and garnered the most lingering views, cell-phone photography, and conversation of anything in the cavernous exposition halls. I think many viewers were not used to seeing statement art quilts. And I give them, the often apolitical, traditional quilters a lot of credit for taking it all in and responding enthusiastically to many of the works.
I have poured over this website, and I hope you will, too. Links at the top of ThreadsofResistance.org take you to "Traveling exhibit"–those juried into the show. Even the biggest quilt shows will have space limitations for each of their exhibits, and the Artist's Circle Alliance choose between 50 and 60 pieces–about one-tenth of the works that were submitted. However, to their credit, they decided to have every single piece that came in put on their website, under the link "The Artwork."
Take as much time on the website as you can. Of course, as with all quilts, art quilts– really, art in any medium, an image can't hold a candle to seeing a piece in all its tactile glory…even if you can't touch it. What I can do here on my blog is share views of pieces that are beyond anything you can get online…let you look closely and peek under, as I did with the help of a white-glove lady.
Let's start with this one: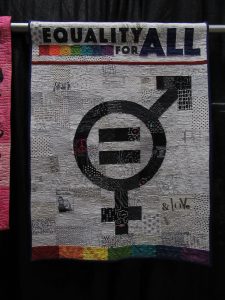 Equal means Equal by Jessica Levitt
I read the artist's statement "This quilt was created to be carried as a protest sign for The Women's March on Washington on Jan. 21, 2017." I thought holding a quilt high in a large crowd probably meant that the back of the piece must hold some interest. And indeed it did.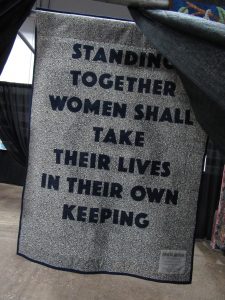 A stunning favorite of mine is Seeking Refuge by Do Palma. It's a heart-rending response to the ongoing refugee crisis. I love how the artist used silk screen, printing and stenciling on fabric to silhouette long lines of people forced to flee. Even more, I loved how a sheer overlay added depth, obfuscation, and clouded views of these people who are forced to live in the shadows. When the delicate overlay was carefully lifted by a white-glove lady, I was able to photograph the under layer.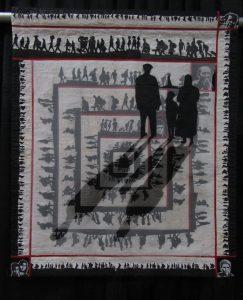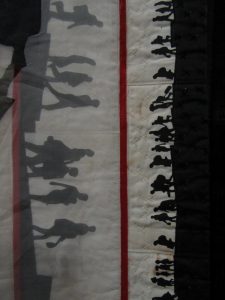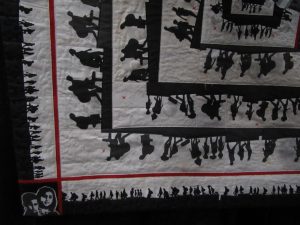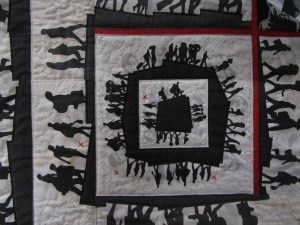 On the other extreme to graphic power is a really soft, subtle piece in the exhibit called There's Something Between Us, by Heidi A. Parkes. You can see it in its entirety here. But you cannot appreciate it from a small image, nor from the statement on the site:  
"In recent years, my mother's politics have shifted, and she has made it clear that she doesn't want to discuss her politics with my brother or me. This election has been deeply troubling, and has raised ethical questions that I cannot shrug off as 'just politics.' It has created a tangible discomfort in our relationship."
No, you have to look closely at this pale, highly textural work, and be aware that the artist has embroidered text over a  curtain that her mother made, and then hand quilted it. It takes time to discern the phrases, such as, "My mother voted for a man who bragged about nonconsensually groping young women like me"….. "If we can't talk about this, how can we talk about anything?"…. "Grandma says never talk politics with family."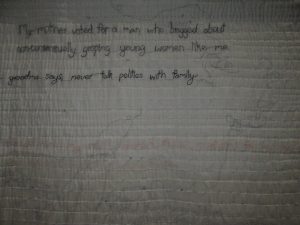 If it's curtains for honest conversations with loved ones, could it be curtains for democracy? Not when we stay informed, stay vigilant, speak up, persist, resist. As these artists and the Artists Circle Alliance have done.
I don't want the curtain to drop on this exhibit.
I know the PNQE is the next to last stop for ToR. Maybe the artists are looking forward to getting their pieces back, even though these are not artworks that most of us want in our living rooms when mom or grandma come to visit. I would also put forth that individually, these are masterpieces, but all together, this show is an important piece of history. How I wish that George Soros, George Clooney, or George Stephanopoulos will purchase the show in its entirety and donate it to a museum as a permanent collection or one that gets mounted from time to time. Like Judy Chicago's The Dinner Party. It's that good, and it's that worth preserving.
In the meantime, permit me another shout-out to United We Quilt: Sewing Justice. If Threads of Resistance inspires you to make quilt art as a protest against the Trump administration, or as a celebration of what patriotism ought to look like, we're eager to show your work, in the most democratic way possible: No jurying. No size restrictions. No packing. No shipping. No entry fees. No censoring. No deadline. How 'bout it?