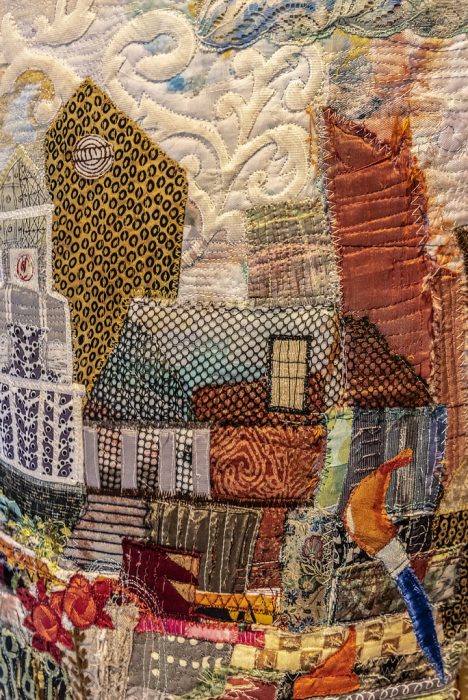 Last summer, I took a collage class at QSDS–Quilt & Surface Design–from Deborah Fell.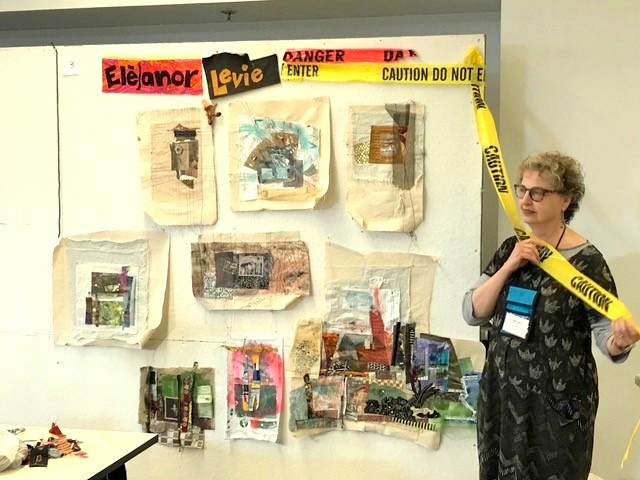 See that sprawling assemblage to the left of my hip? It started as a small abstract composition…abstraction being something I aspire to. But I can't help myself; my work invariably calls to mind some object or scene, and I'm off to flesh out figurative or landscape designs.

This held true here: I saw buildings and began to recreate my current hometown of Philadelphia. I had a few recognizable buildings, some vague representations, the Schuylkill River on the left, the Delaware River on the right. It came together in stages, and I placed sturdy pieces of canvas or upholstery weight fabric under the expanding areas as foundations for a large, odd-shaped wall hanging.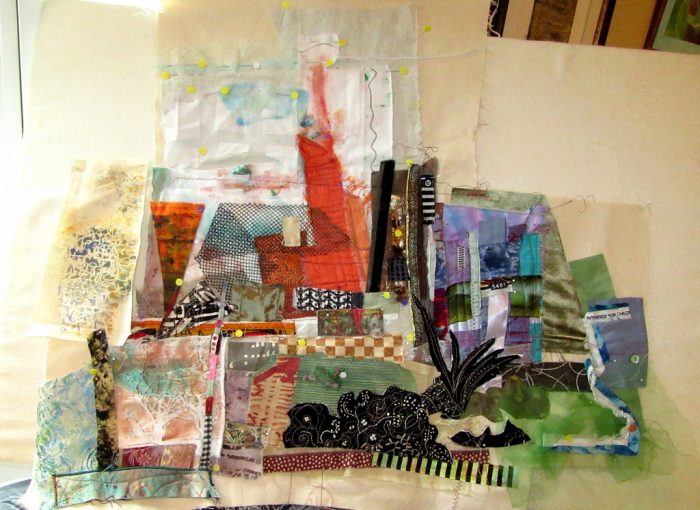 A few months later, I read about a SAQA (Studio Art Quilters Association) call for entry: Forced to Flee. The theme resonated. As a volunteer, I've long advocated for compassionate immigration reform and protested against Muslim bans, the Wall, family separations, and inhumane detention centers. I decided to finish my cityscape to express pride that Philadelphia is one among hundreds of sanctuary cities in the U.S. My "city of brotherly love" (sisterly love is implied!) accepts its moral obligation to protect immigrants and refugees. City leaders and activists alike fight against detentions, deportations, family separations, and discrimination. We rise to welcome the stranger, give shelter, secure safe haven for those "forced to flee."
Knowing the caliber of work submitted to a SAQA show, I thought I'd have less competition for a 3-D piece, and be more likely to get in. So, I traced around an oval trashcan for a pattern — cuz what better to give me elegance than a trashcan? I continued to build my city over thick Pel-tex stabilizer so the vessel would be an upstanding example. Alternately, I worked on the inside surface, using a vintage quilt fragment for its soft, comforting associations, plus emergency mylar thermal blankets of the sort that are given to detainees. I cannot express how much struggling, how much cursing, how many broken needles went into assembling this beast. It stands 28" high. To ensure steadiness without adding weights, I fashioned a spiral pathway with signs and symbols of concern and welcome: bi-lingual expressions, caution tape, keys and safety pins and zippers.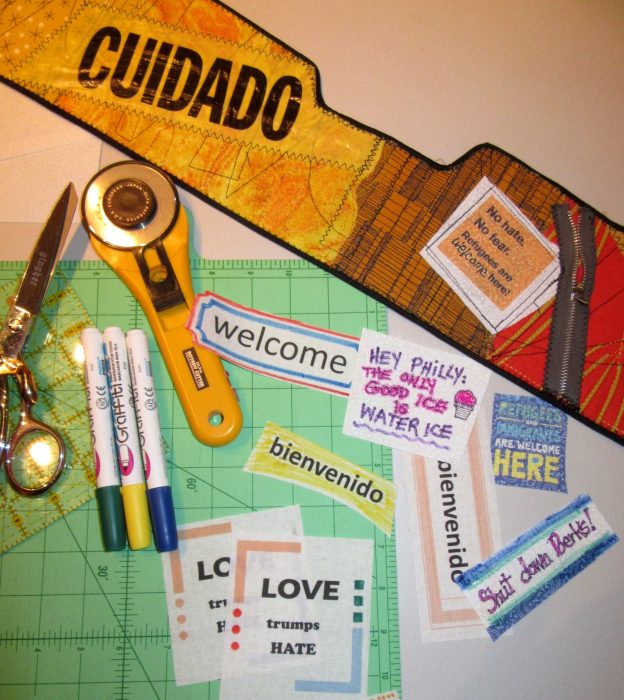 There were further frustrations as I hand-stitched the elements together. Then I had to photograph it to try and meet the demands for pixels, clarity, background, and appropriate depth of field. I managed to submit my information and images 45 minutes before the deadline.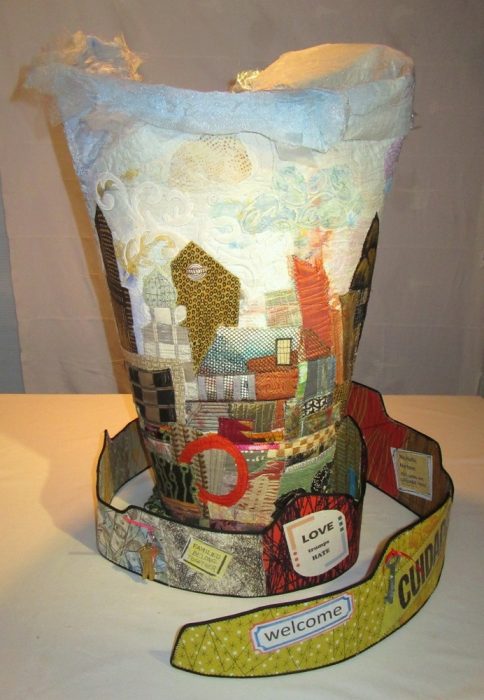 I didn't get in to the Forced to Flee show. I get it. Jurors receive hundreds of submissions and usually curate down to under 50 — for a cohesive, high-quality exhibit at venues with limited spaces. Perhaps my piece was too discombobulated and did not appeal to the judge. Perhaps there were no other 3-D pieces and this would have been odd man out. And perhaps my photos weren't up to what SAQA demands for not only the judging, but also the catalog.
Rejection gave me several advantages: I really wasn't satisfied with the piece, and was now free to make significant changes. Another SAQA call for entry beckoned: 3-D expressions. I had time to revise and polish the composition from all sides and the inside. New construction and embellishment strengthened the overall aesthetic and referenced more Philly iconography. I added more vintage mini-blocks and doilies to the inside, and crocheted an oval rug to cozy up the "inner sanctum." I want those who see the piece to take time to walk around it and peer inside. And yeah, I'm tempted to throw in little stuffed heart-shaped pillows, additional keys, and poems of welcome…but mostly because I don't know when to stop. What do you think? More secrets and treasures? Or enough already?!?
Happier with the piece, I took the time to hire an expert photographer — Gary Grissom — and set it up in a better-lit niche. Now I felt more confident submitting it to the other show.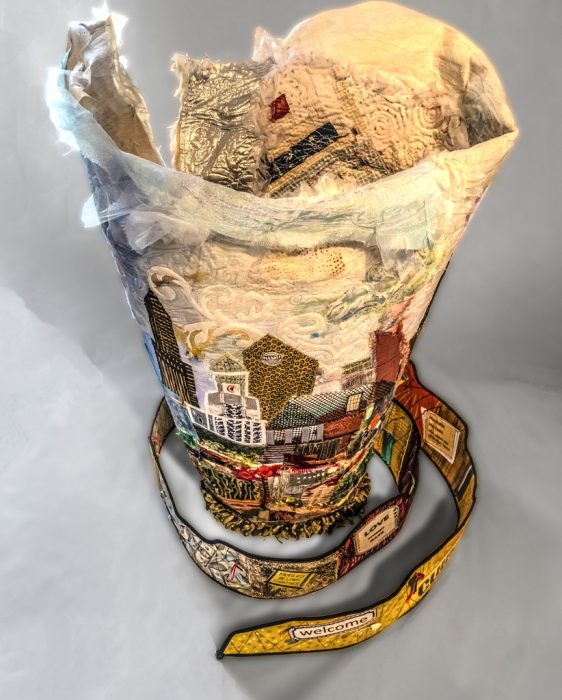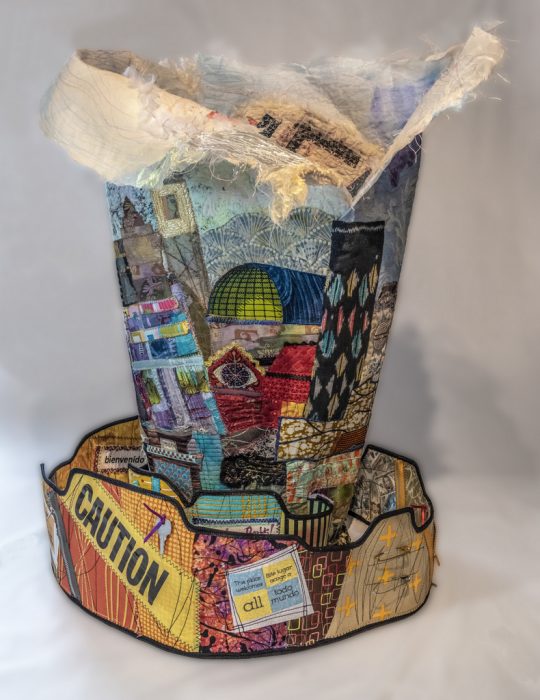 More time and attention to detail and good workmanship, along with professional shots, did the trick. I got in!
Icing on this cake is the impressive decision-maker, an art professor and gallery director who is one of the finest modern fiber curators in the world. (Oh, and he's a Philadelphian.!) SAQA's website states, "The wide variety of pieces selected by juror Bruce Hoffman include vessels, wearables, wall-pieces, and sculptural artworks. This cutting-edge exhibition shows how textile art can expand both into the third dimension and into the future."
This exhibition, 3-D Expression, will premiere at the Gerald R. Ford Presidential Museum in Grand Rapids, Michigan in September 2019. I am angling to see while it's there. Aside from the honor of having my work included, I would be thrilled to study all the other works in the only way they can truly be appreciated: by walking around them and checking them out from every angle.
Meanwhile, I'm back to making essentially 2-D art quilts for a while. Oh, and shopping for a workhorse of a sewing machine that may allow for thick, sculptural work in the months to come.