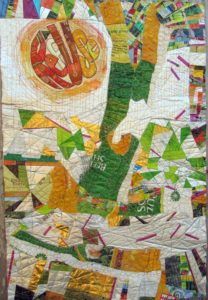 If you've read my last two blog posts, you'll know that I've been working on a textile poster, pieced and appliqued out of trash–used packaging. A lot of the assembly came about in flip-and-stitch sections, with quilting to flatten everything down onto felt, then onto a backing.
The problems I saw were a jumble of clutter and a lack of cohesiveness. Many thanks to everyone who left a comment with a suggestion. I considered every single one. And I was determined to move on to address the problem, to redress and resolve those issues, and others brought to my attention, with paint.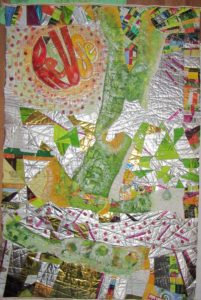 Paint day 1–Brushwork, dabbing, sponging, dotting the fuchsia matchsticks—! or i?, adding a soft color to the f in RefUSe:
Better. But still, not half as cohesive as I'd like. On to Paint Day 2, now armed with my favorite paint tool, the Gelli Gel Plate–for mono-printing, and a few high quality tubes of acrylic. Continued to daub, sponge, and brush.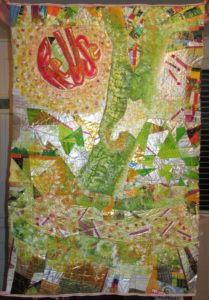 Getting there, now, I think. It's a lot more impressionistic, which helps to blend the sections for the cohesion I'm after. A lot more yellow, yellow-green, and orange tones, for warmth and sunniness. I'm thinking most of what Joan had to say: "I would use paint so it would have the look of a wall that multiple posters have been ripped from and covered with more posters. I would soften some, completely paint over areas and leave some bright…"
I've darkened the S in RefUSe, and the outer edges of the second e–which seems to need a bit more darkening to be readable…Not that ReUS doesn't have some merit as a message. It's about "us" doing our part. And hopefully, this message won't be interpreted as a plea for nationalism over globalism, cuz this citizen really doesn't cotton to the America First slogan we keep hearing over and over…
OK, focus on your art, Eleanor. We're not trying to be controversial this time. Honest.