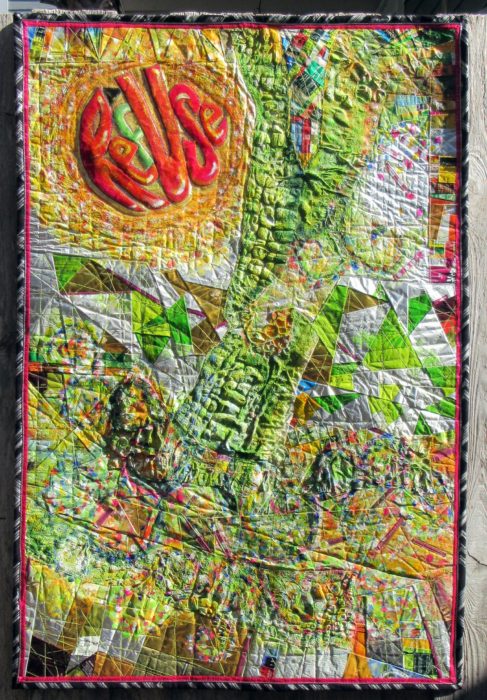 Here's my finished piece, ReUSe/REFuse. 32″ x 48″  Photographed in harsh, side-lit natural light.
Certainly a learning experience. So grateful for all the wonderful advice I got from you blog-commenters: I emphasized the message text as well as I could, repeated the look of its circular shape, sought to add layers of paint to some areas, like posters peeling away, and to keep the color contrast, using pointistic dabs to lead the eye around the piece.
Just in time to enter it in the Mancuso Tri-State Quilt Show (March), and in the much more selective SAQA Textile Posters show…Here's hoping it will be chosen by either or both, and have someplace to be seen in the flesh, er…cloth, er… mixed media of the trash kind.
Another photo, this time with indirect sunlight. Doesn't show up the bubbling, but hies to the evenly-lit image requirements–all this amateur photog can handle with her little automatic Canon Powershot, no photo studios, reflective umbrellas, etc. etc. I'm always jammed right up to the entry deadlines, story of my life, so no time (or money) to hire a pro to shoot my piece.