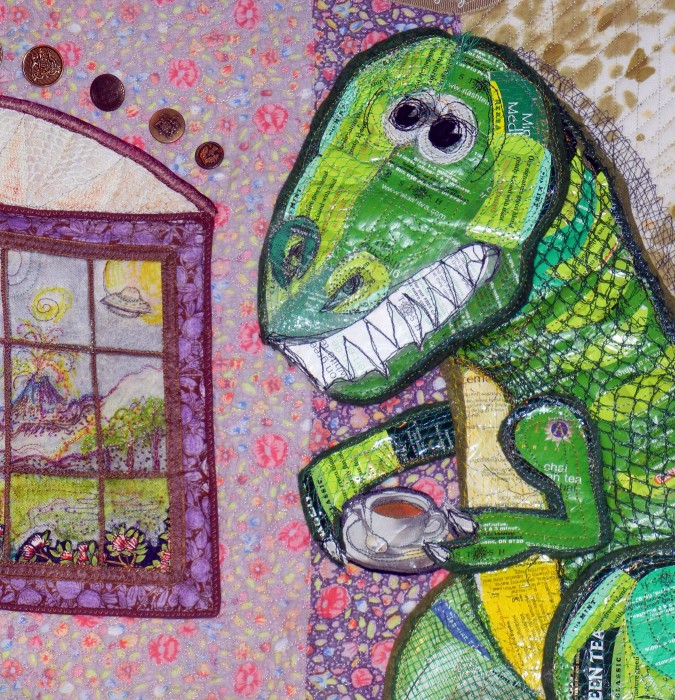 Word play is often a part of my art quilting, so my riff on T-Rex shouldn't come as a surprise. And like other pieces in my ReUse, trash-stash series, this piece is made of tea bag envelopes, coffee bags, and other foil-lined packaging. And yeah, it's a "green quilt," as in the term coined by Susan "Lucky" Shie, representing an effort to use what's on hand and upcycle, to do our part for the planet. Of course, the citrus net bags, vintage fabrics and trims, buttons, beads, and rickrack are here partly because, as my hubby bemoans, I never throw anything away.
Yes, I began with an appealing pun, a Barney-like dino and an Alice-in-Wonderland tea party set up, with a funky vase made from my grandmother's well-worn, embroidered neck wrap, and the vase is filled with—what else?—tea roses.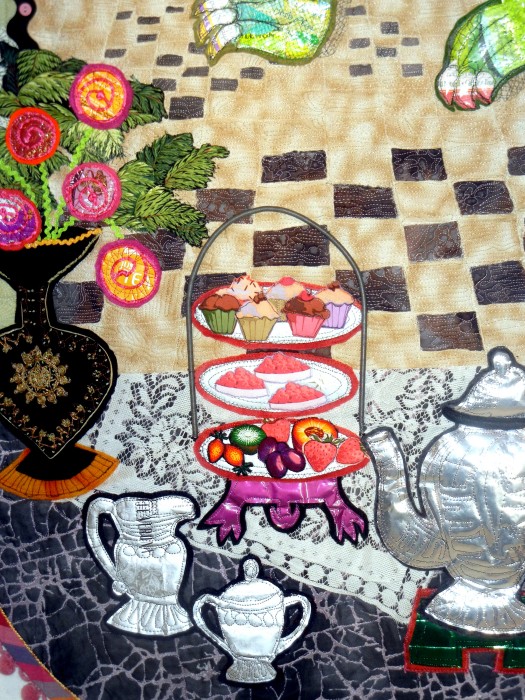 Here's where the word play wandered into sword play, quickly and quilterly lunging into the more politicized rooms of my mind. Didja notice the space ship and volcano out that window?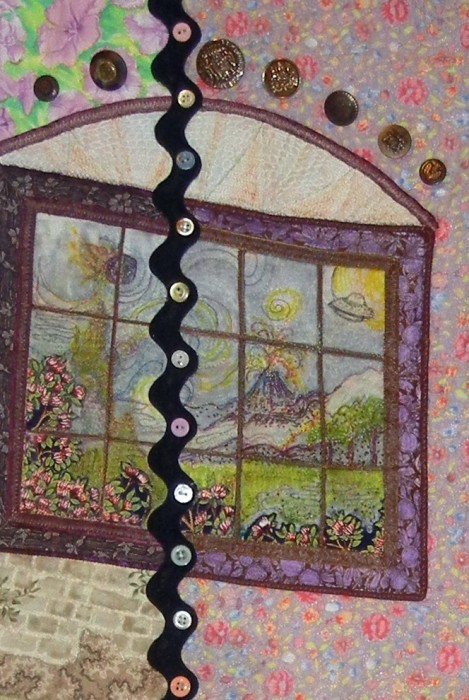 How about the tsunami rushing in, the blazing sun, the meteor hurtling towards earth? It seems our titan of leisure is cluelessly indulging in conspicuous consumption. Our Tea-Rex is denying inconvenient truths, such as global warming and waning resources for those lower on the food chain. Instead, the arriving guest invents wild fabrications…and invites extinction. A cautionary tale? A parable for our time? Obviously, this Tea-Partier is way out of date.