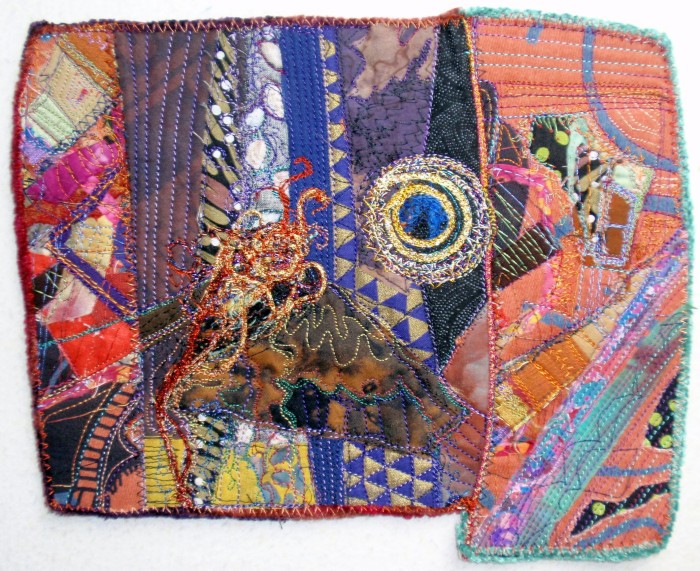 The Slow Stitching Movement: So. Not. Me.
This is me: Scraps on the floor after another obligatory project is due and done. Restless rumblings. Silk, rayon, and frenetic free motion stitchery building, colliding, bursting, erupting—all in the course of one intense evening—just don't ask me how I define "evening." Ideas surge and flare, drowning out the inner mom trying to guilt me into cleaning up before starting something new, the urges to check the computer screen one more time, the calls from the hubby to come to bed. This is how I do my best work, imho. If only this brief season of volcanic creative activity would strike more often than once in a blue moon!
But opportunity may strike for you! Here's how:
1 Day (Feb. 4) — 100 Artists (I'm one of 'em!) — 100 Patrons (You could be one!) — $10,000 for the American Cancer Society.  My 8″ x 10″ art quilt, which I call, "Volcano Season,"  is one of the amazing 100 art quilts that could be yours. Mark your calendar: Wednesday, February 4, 2015, at 10 a.m. Central. The first 100 people to contact Virginia Spiegel at her website, VirginiaSpiegel.com will be given a link to donate $100 by credit card directly to the American Cancer Society through Fiberart For A Cause. Somebody gets my piece. But oh, you gotta check out the talented quilt artists–lots of big names–who are also among the 100 contributing artists. This site shows you a bunch: http://www.pinterest.com/…/the-100-fundraiser-to-fight-can…/ You'd contribute to the ACS anyway, right? Be on time, and the bonus is gonna be bodacious in your abode.
What about you? Do your brainstorms erupt suddenly? Or build quietly over time?