The always vivacious, irrepressible, and dare I say it, totally lovable Pat Pauly: Exuberant doesn't begin to describe her, or her richly textured art quilts, which appear in THE most distinguished shows, private collections, and books about art quilts.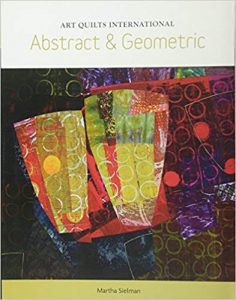 So you can imagine how thrilling it was for me, when I was in Rochester, NY last fall, to get a tour of her house. And now you can, too. The front is charming and neat, but friends come in through the back door.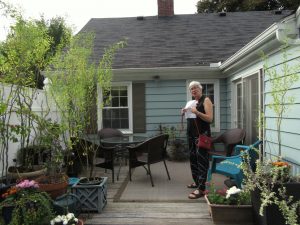 Pat painted the clapboards of the exterior — she painted the interior, too. Installed cabinets, refinished furniture. A gardener, she planted all the containers, trees, and flower beds. What that means is that, just like with her fabric-printing and art-quilting students, she establishes the ground rules, guides their development, then lets them loose to do their thing. 
Flowers, or rather, lotus pods command the big diptych which dominated the living room when I visited. This, however, is a space where Pat rotates her giant (relatively speaking) masterpieces. The throw pillows are her work, too. Hot tip: Pat sometimes jumpstarts the process, beginning with linen or cotton ready-made covers which she squeegees and marks with thickened dyes. High-style soft spots that unify the color scheme of the exhibit du jour.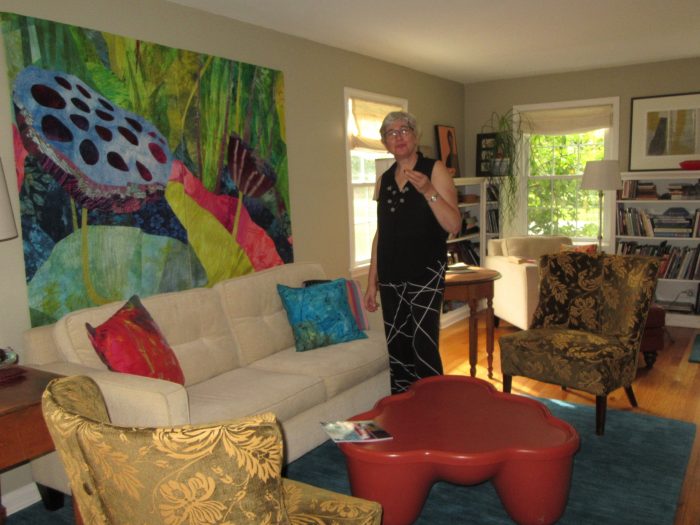 Other corners of the house showcase a cool mix of antiques, vintage, and modern, spare groupings of souvenirs, tchotkes, and art by friends. But it's her own work, even with smaller dimensions, that invariably captivates your attention. Like the one shown below, Pat's signature style of layering visual textures in strong, large-scale patterns make for abstract art that seems devilishly complex. Yet she will often produce 40″-squares following her own "Take Two" workshop technique, cutting and combining just two pieces of fabric.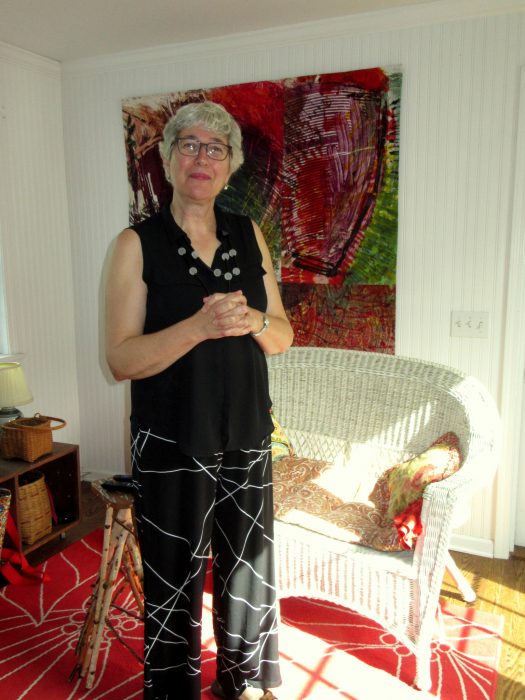 Pat wouldn't let me take pictures of her basement studio, where she does the messy work of printing on fabrics as well as the improvisational piecing and free-flowing free-motion quilting. Not a ton of space, but suffice it to say it allows her to be her authentic, whirlwind self and create a prolific body of work. Especially remarkable, given the demanding pace of her teaching gigs. She should bottle and sell that energy, if not that talent.
Lucky me, I had the incredible thrill of taking two classes with Pat at QSDS earlier this summer: Glorious Prints, and Take Two. If you hunger for art, inspiration, or adventures in surface design or composition, she's the teacher you want— PatPauly.com. Check her calendar and see if it meshes with yours. Attend a presentation or program or workshop, and you'll probably get the opportunity to purchase her gorgeous fabrics. Oh, and if you want the inexpressible pleasure of living with her art, salivate over her portfolio on that website.
After blogging about Pat Pauly, you may find I have some nerve showing you some of the fabrics I created in her workshop…in my next post. Gonna do it anyway…