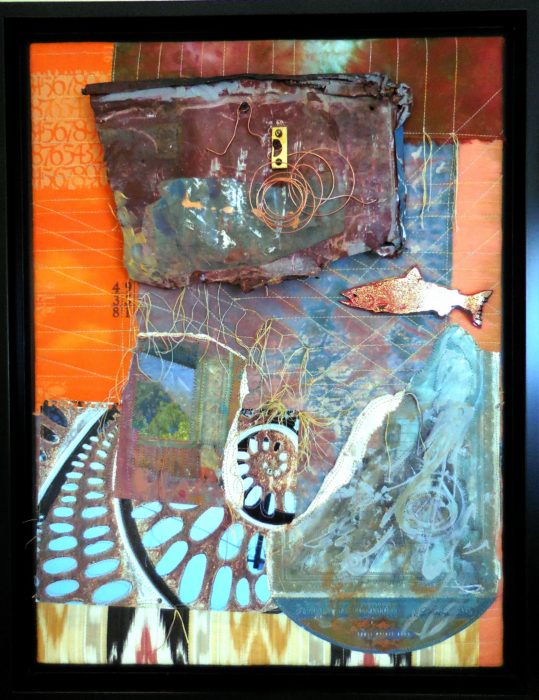 I am a bottom feeder who cannot pass up a slab of rusted metal in the street, the cardboard wrapper for some fancy smoked salmon, texture and patina. I have a box of such hard found pieces. I also have an accordion folder and loose piles of fancy papers, tear sheets, beautiful calendar pages…thank you, Sammie Moshenberg! Thank you, Barbara Adler for that glittery packaging from smoked salmon! From the time I was a girl, I collected my father's lithography samples from when he worked for a printing company.
The obvious thing to my mind is to combine papers and metals into a collage. But I challenged myself to make unrelated materials play together. One way to do that was to use color—salmon and it's color complement, light blue—as a way to breed the hard with the soft. Some of the papers had been given  a wash of paint, obliterating a clutter of text and integrating them into a cohesive grouping.
I thought the rusted metal held secrets, and history, and I looked to fabrics with not just color coordination but also unfathomable text and visual texture, to continue that narrative of mystery. Thank you, Lonni Rossi! I quilted them to provide a more stable background, and connected by stitch the ephemera, the old and new papers, with the cotton fabrics. Unsure of where I was going, I arranged and rearranged the composition, and when I thought I was close, I still had challenges of mounting the disparate pieces for durability of display, deciding to pull it over stretcher strips, screw spacer strips to support and elevate the metal piece, and camouflaging the screws with spirals of copper wire.
I was definitely swimming upstream, my title for the piece…. like the salmon, expecting only to get screwed by the all difficulties, and die in the end, that is, to have this project end up in the trash.
But on the other hand, I wasn't floundering. The work had a nice flow to it, and I never felt I was fighting the current. Maybe that's because my art quilting has not followed a single direction, despite my deep respect for artists who work in a series. I'm not a serious artist, and I can't take my work or myself all that seriously. But I have to say, finding connections of line, and a balance of shapes is a very satisfying exercise for me. Perhaps, after all, this mixed media piece may not be a one-off; I just may return to the river where hard and soft textures and disparate elements combine. I'm not fishing for compliments, but I sure welcome feedback!