Hold onto your soft, cushiony seats, folks. Over the next  month, Philly is a contemporary quilt-lover's paradise, but if you cannot get here, I'll guide your armchair-travels via this blog post and the next one.
Here, I'll share three of my faves from the Fiber Biennale, now showing at the Snyderman Works in Philly. Think fiber is a  field for females? Think again. These pieces are all by men, and each is a legend in his own time.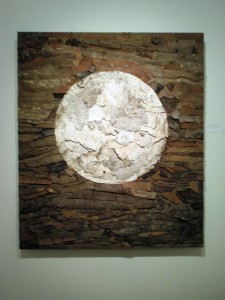 I've never seen a John McQueen that wasn't a shapely vessel. But this sculptor/basketmaker bar none has created a comparatively flat piece from poplar, pine, and birch bark. For me,  I'm reminded of a contemporary applique quilt…just not soft. "After Dark Comes Calling," 2011, 36″ x 42″
Warren Selig, professor in the Fibers/Mixed Media program at the University of the Arts in Philadelphia–who calls Rockland, Maine home– insists on redefining textiles.  Just as quilting stitches produce a play of light and shadow, so do the stainless, intersecting rods with clear acrylic spheres that extend 5″ from the wall. Titled "Shadow Field/Crystal Path," it extends to 83″. Gallery co-owner Ruth Snyderman stands alongside for a sense of scale.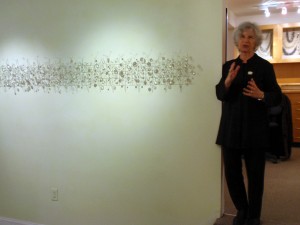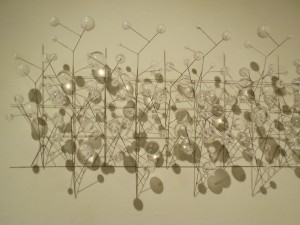 Finally, no show, no collection of top-tier quilted art could be without a piece from Michael James. Professor in Textiles at the University of Nebraska – Lincoln, James gives a nod to the traditions of cloth, piecing, and quilting stitches. Yet he soars by using digital textile printing to play with pattern in ways that reference dreams and memories. What a calm feeling washes over me as I study "Lands End: Quiet Hour," 2014, approx. 51″ x 54″. Full view and detail: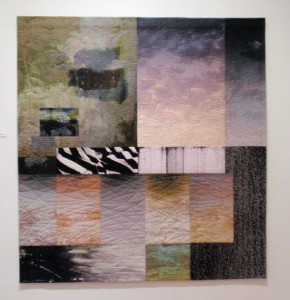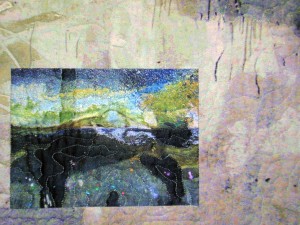 Neither my photos, nor the greatest, most professional photography can come close to seeing these pieces "in the cloth"…er, or steel, or bark. Go to snyderman-works.com for more info. I must caution you, seeing only makes you want to touch, and you can't touch–unless you buy. And these masterworks will cost a pretty penny. And why not? For all their humble materials, these pieces, and dozens of others in this extraordinary show that is always two years in the planning, represent the best contemporary art. The fact that it's categorized as fiber art doesn't make it less worthy of our esteem as any of the fine arts. In fact, for me, it holds a much greater interest. This show will challenge you to question what is fiber? What is art? And leads to that perennial discussion (and my next blog post) of what is a quilt? Man, oh man, oh man, we're having fun in Philly.