There were dozens of dazzling, grand-scale arrangements at the Philadelphia Flower Show this year: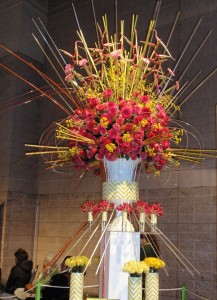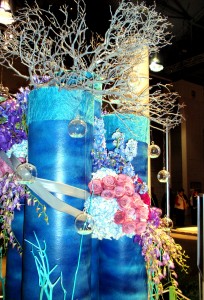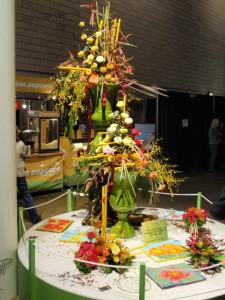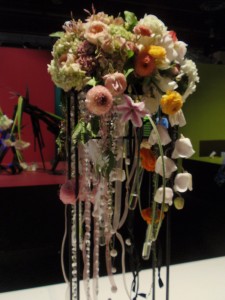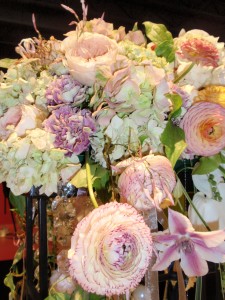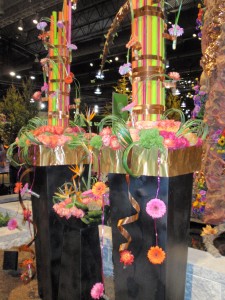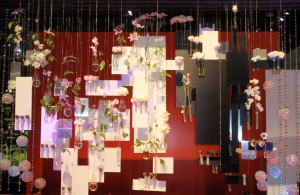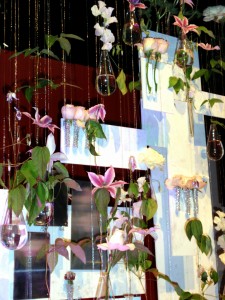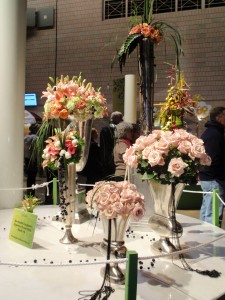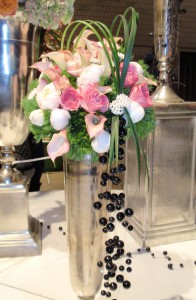 Of course the aromas and the views of these wow'ems from all sides add a whole lot to the horticultural spectacle…sometimes to the point of stimuli overload.
Maybe that's what makes me gravitate to the small, simple designs. Call me a minimalist, but I defy you not to fall in love with the following charmers. Just one type of flower–and fairly common, affordable ones at that: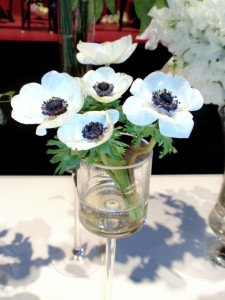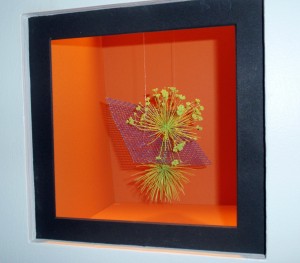 Add just one more floral element, twigs, a leaf…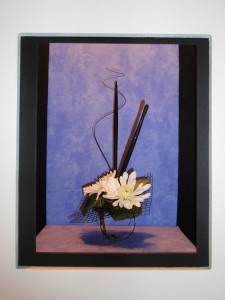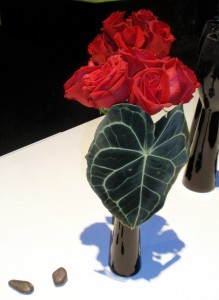 This next one's gigantic, but it's only roses and pussy willow, inspired by a future installation at Storm King Arts Center: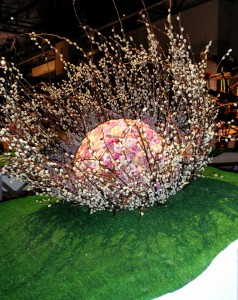 A pairing of two common houseplants…but a closer look  reveals a very uncommon placement of buds at the base of the philodendron (?) leaf. Can anyone id either of these plants for me?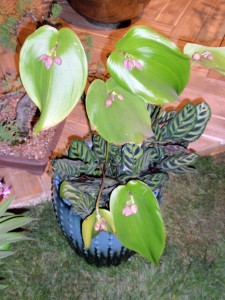 By now, you've got me pegged as a sucker for singular simplicity. It's always been that way, I think, even guiding the choices of quilt designs I've put into my books.  My "T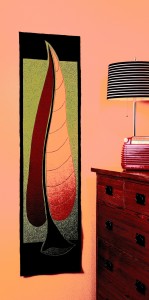 able Leaf," from Skinny Quilts & Table Runners, shows how just one  leaf can be quite striking.
In Skinny Quilts & Table Runners II, check out how Jane Davila's appliqued "Las Hojas" or  Frieda Anderson's pieced "Blushing Aspens" make one type of leaf in multiple dance across the background.

Or how about a single type of flower, like "Wisteria Lane," by Melinda Bula, or "The Dahlia is a Diva," by Julie Popa of Sunflower Hill ?


After working for months on a big, spectacular, multi-block queen size bed quilt or tour-de-force wall hanging, who wouldn't want the simplicity of a skinny slice of a project, one with just a fewer patterns, ease of assembly, a chance to just dip into a playful, new technique. But what is it about simplicity that makes a design, whether with florals or fabrics, cause our emotions to burst into bloom?
Tell me your thoughts about simplicity or florals in quilts or whatever this blog post inspires you to write in the comment box below. You could be the lucky winner of autographed copies of both Skinny Quilts & Table Runners and Skinny Quilts & Table Runners II!  The Philadelphia Flower Show runs thru Sunday, March 10, and I'll choose a winner from among the comments at the end of that day.