Whether the topic is creativity, genius, or success, the formula is often quoted to be 10% inspiration, and 90% perspiration. The first–inspiration–like breathing in fresh air, involves listening to your heart, keeping an open, free-range mind, and just pure luck. The second–perspiration — means doing the work: hands-on, facing challenges, problem-solving, trial and error.
Hamsa is a Hebrew word, with the initial h pronounced with a gutteral sound like chutzpah. The semitic origins of the word Hamsa mean hand, five, and the iconic shape represents the Creator's protective hand. It's usually depicted as a hand with two thumbs and three fingers in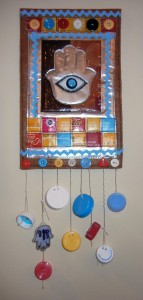 between. But the Hamsa presents a handy, creative opportunity to everyone, even those who claim they are all thumbs.
The use of the Hamsa is part of Jewish and Israeli folklore and superstition. A Hamsa  is an ancient yet still popular amulet for magical protection from the evil eye. It has nothing to do with religion! But who doesn't want a good luck charm, just in case?!
I recently had the good luck to teach a group of women from the Pomegranate Guild of Judaic Needlework how to create a little good luck wall hanging using my favorite media–recycled coffee and tea bags. I gave each participant a shrinky dink Hamsa — cut on an Ellison die cut machine at my synagogue Sunday school — to use as a template. I showed them my sample, but encouraged them to personalize their creations to fit their style, their personality, and their decor…which they did in spades!  Take a look at their work in progress: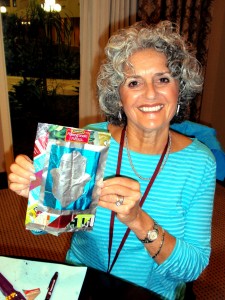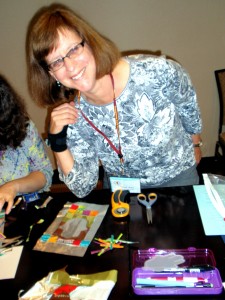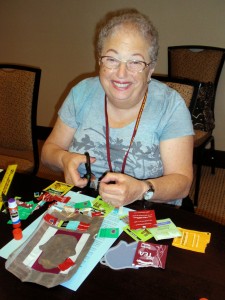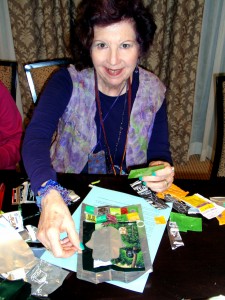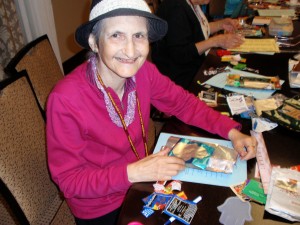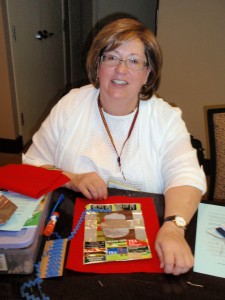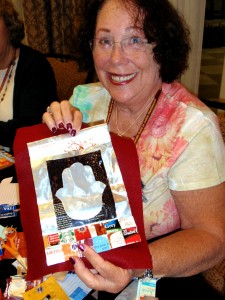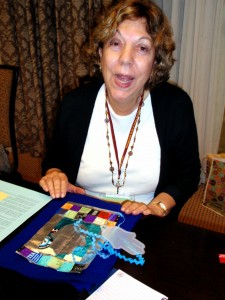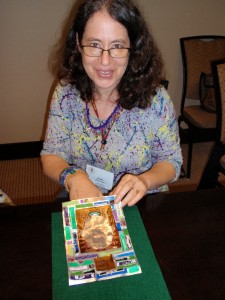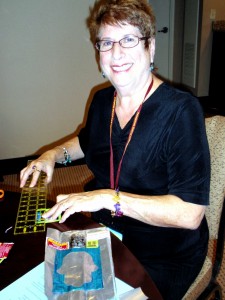 Anyone wanting to put your Hamsa…er, hand to quilting with recycled packaging? The instructions for my design are up on my website now, on the Free & Fun link. Foil-lined packaging means you can hang this good luck charm in your kitchen, and just sponge off any grease or dust. The shine of the material means it's nearly impossible to capture these recycled art Hamsas in a photo that does them justice. But like a quilt top vs. a quilted piece of fabric art, adding a background/filler/backing  plus quilting stitches to draw the three layers together really makes the piece a success. Two layers of felt and design lines in thread depress the plasticized foil surface into little hills and valleys, giving depth and definition to the piece.  I can't wait to see the finished projects, and hope these "Poms" will complete their projects and email me a jpeg—with a little luck!
Leave me a comment, and do share your thoughts about your favorite good luck charm, the power of amulets or recycling, how I should photograph shiny surfaces, or what quilting outside the box YOU are doing. Oh, and do click on the subscribe button to get alerts in your email in box when I have a new quilting blog post. Look forward to hearing from you!