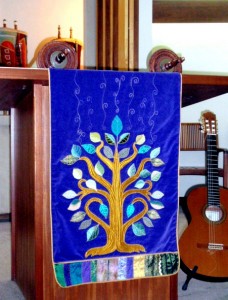 A tug in opposing directions has characterized my quilt publishing career through the years. On one side, I am pulled by the needs of a broad range and huge numbers of quilters who lack the confidence to create their own designs, and so they look for designs they love to reproduce. In books, patterns, and kits, the quilting industry is set up to cater to these folks.
On the other side, I can't deny a tepid feeling about a copycat quilt, one that's perfectly faithful to the original. Even when the original is an amazing antique classic that has entered the public domain.
Maybe that's unfair. After all, when I made the table runner pictured at the top of this post, I certainly started with inspiration: an ancient Sephardit design that originated in Spain or Portugal. The Etz Chayim—Hebrew for Tree of Life—is a symbol for Jews' most sacred object, the Torah. It also represents family, growth, and strength.
I fully expect folks to start with an existing design–you have to start somewhere! This is exactly why I produced the book Quilt Blocks Go Wild!, which allows you to take a classic block and do something exciting to it, to make it your own. I simplified the tree for a second rendition, offered as a workshop for the Pomegranate Guild of Judaic Needleworkers.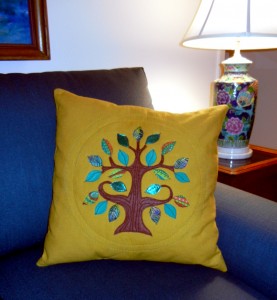 For the first time in my teaching career, I was tasked with providing kits to the participants. With a little reluctance, I took orders for a honey, natural, or lavender linen-blend fabric. But I drew the line at including any other specifics, and merely set out stacks of different-color felt for tree trunks and piles of fabric fat quarters and scraps for leaves. I explained to the class my discomfort with straight copying, and my hope that they would each apply their own a personal stamp or different color palette, a unique perspective on the project. Students went well beyond my expectations, and I had the privilege and fun of helping each participant ensure a good contrast, balance, and the injection of her own personality. The resulting quilt tops present a varied grove, a treasure trove of uniqueness. Check out the fabulous, fused appliques below. Kudoes to those who cut an unusual, chunky tree, added a "carved" heart on the trunk, a bird's nest of eggs, or unusually shaped leaves.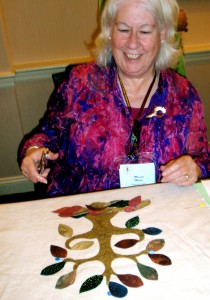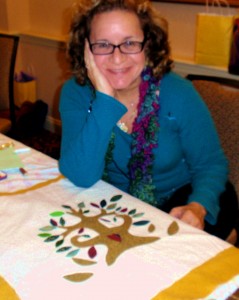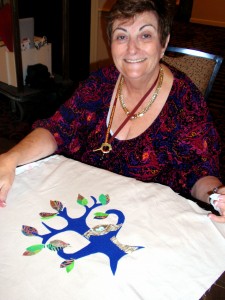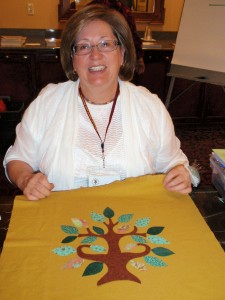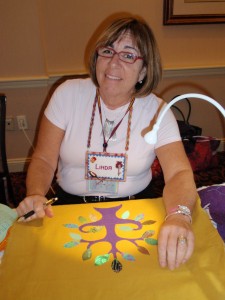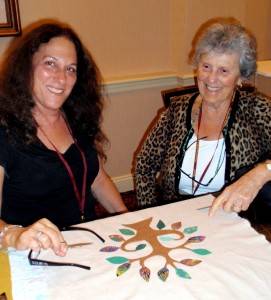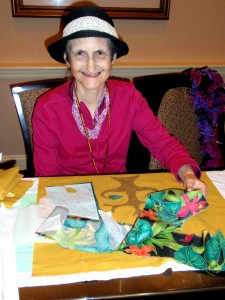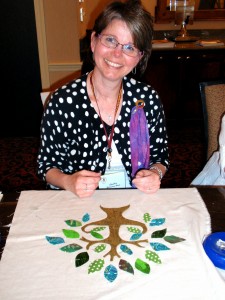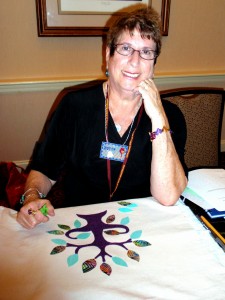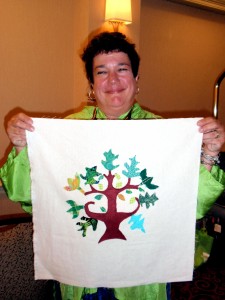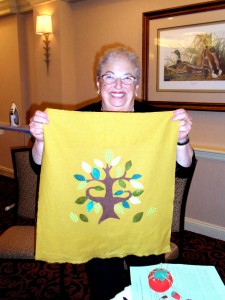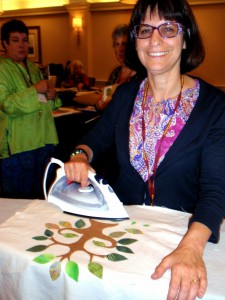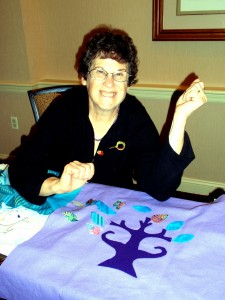 By the way, the how-to's and the actual-size pattern for the Tree of Life pillow—no kit available! is on my website's free & fun link; click here for that. But the Pomegranate people let me know they planned to use their designs for wall hangings, tabletoppers, challah covers, and other applications.
What do you think? What's your take on patterns and kits? What inspires your creativity?