I admit it, I am a trashy art lover! No, not soft porn, or sexy comic-book art, but art that utilizes the graphic excitement of commercial packaging and found objects. With these imaginative concoctions, that which is usually thrown away gets a second life  worthy of our highest regard. Not to mention that each one is a treasure of entertaining pleasure.
Eileen Neill commented to my last blog post: "I too make art quilts from trash. there is a particular brand of potato chips (Miss Vickie's) here in Canada that has a really nice bag. I have made many small wall quilts using these bags. I commission my grandchildren to eat the chips for me."
Fun! And makes me want to hit the pantry for some crunchy munchies myself!
I've shared in a previous blog how Amy Orr uses cut-up credit cards in her art. Get a load of another masterpiece with a diversity of discarded "gems."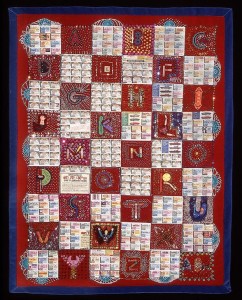 Alphabet Quilt, by Amy Orr
Crack vials, action figures, miscellaneous plastic and metal fragments, Publishers Clearing House stamps and glass beads, hand-stitched onto velvet
41″ x 32″
Doncha LOVE it? Amy's use of unusual trash and found objects always provide an underlying, almost subversive dimension to her collage fiber art. So, although you're looking at a textural icon recalling a joyful classic juvenile quilt style, Amy is also commenting about the dark, dangerous horrors all too prevalent in the environment or future of a child living in urban poverty.
Ellen Saul, one of the  Dumpster Divers of Philadelphia now exhibiting in Upscaling: Trash into Treasures, used a stained, vintage hanky and vegetable bags, among other things, to make her little masterpiece, My Way, below. Excuse the glare from the glass, and like all these pieces, you just have to see them in the cloth! And, her other little hanky-pankies, on her website.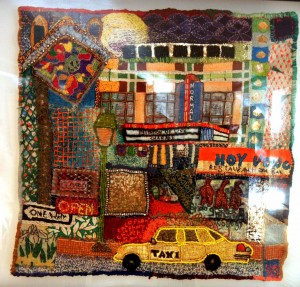 Another member of this esteemed group of artists bound together by their talent for taking trash to the max is Ellen Benson. With the understanding that art quilts are one step away from more 3-D forms of mixed media, you're bound to fall under the spell of Ellen's talismans (talismen? taliswomen?).
In the event you need an extra reason to covet them, Ellen makes a variety of weathered, ancient-looking labels available, so you get to choose the figure you want, plus the nightmare you wish to ward off. I seem to need the one that says Amulet to protect me from my computer going down….Talisman to prevent cellulite…or to ward off loud cell-phone users. You might prefer  Protection from overwhelming urges to go shopping–although I think there's only good karma in purchasing from Ellen or other artists at dumpsterdivers.org.

Finally, let me share the work of one more Dumpster Diver in this show–soon to close at the Main Line Unitarian Church in Devon, PA: a new and wonderful friend whose work was recently exhibited at the esteemed Snyderman-Works Gallery here in Philly: Linda Lou Horn.
These "Ladies" are:
"Lit Up for You," created with a parts of a lamp and other electrical components
Slinky Sally Shimmers, created with chair parts and part of a broom
Dart of My Heart, with a brush, doll shoes, and one found object that makes it an irresistible target for adoption.
If you like treasures from trash, green quilts, mixed media from found objects, please   comment below, share your work with me at elevie@comcast.net…
… and stay tuned for more adventurous art!