The intriguing themes of the Quilt Alliance's 20th anniversary contest and auction always jump start my creativity, and this year's theme, "20″ had me immediately sketching.  In fact, this is probably the first time I've had an idea and stuck with it. My inspiration was the crossed legs of a classic bistro table form  a double X, or XX — the Roman numeral for 20.
Friends and readers of this blog know about my fondness for upcycling foil-lined packaging. If you're new to this blog, you may wanna look at my entire ReUse series before this one in my earlier post, Trash Stash Quilting. The great things about using trash are: free materials, no need to press, and the knowledge of helping the environmental situation that plagues our throw-away culture.
And the great things about making pieces for the Quilt Alliance's annual fundraiser are: a push to produce work with definite guidelines, the opportunity to show work, the knowledge of contributing to this amazing organization, and, in my case, the freedom to exhibit in the public realm a piece that's full of branding and logos many venues would not accept.
So I love this challenge, and pass along TWO challenges for you. First, you have until June 1 to submit your own "20″ quilt. Dimensions must be 20″ x 20," natch, and all the info is on the website provided above.
Second, and you may have to place the winning bid on my quilt in order to rise to this challenge, I incorporated a little "I Spy" game in my quilt: Find twenty 20′s–characters (like the XX table legs), text (there's lots on the packaging, such as "Use before 2012″ or the words for 20 in other languages), and quantities of items (5 Four-Patch blocks, 20 flowers).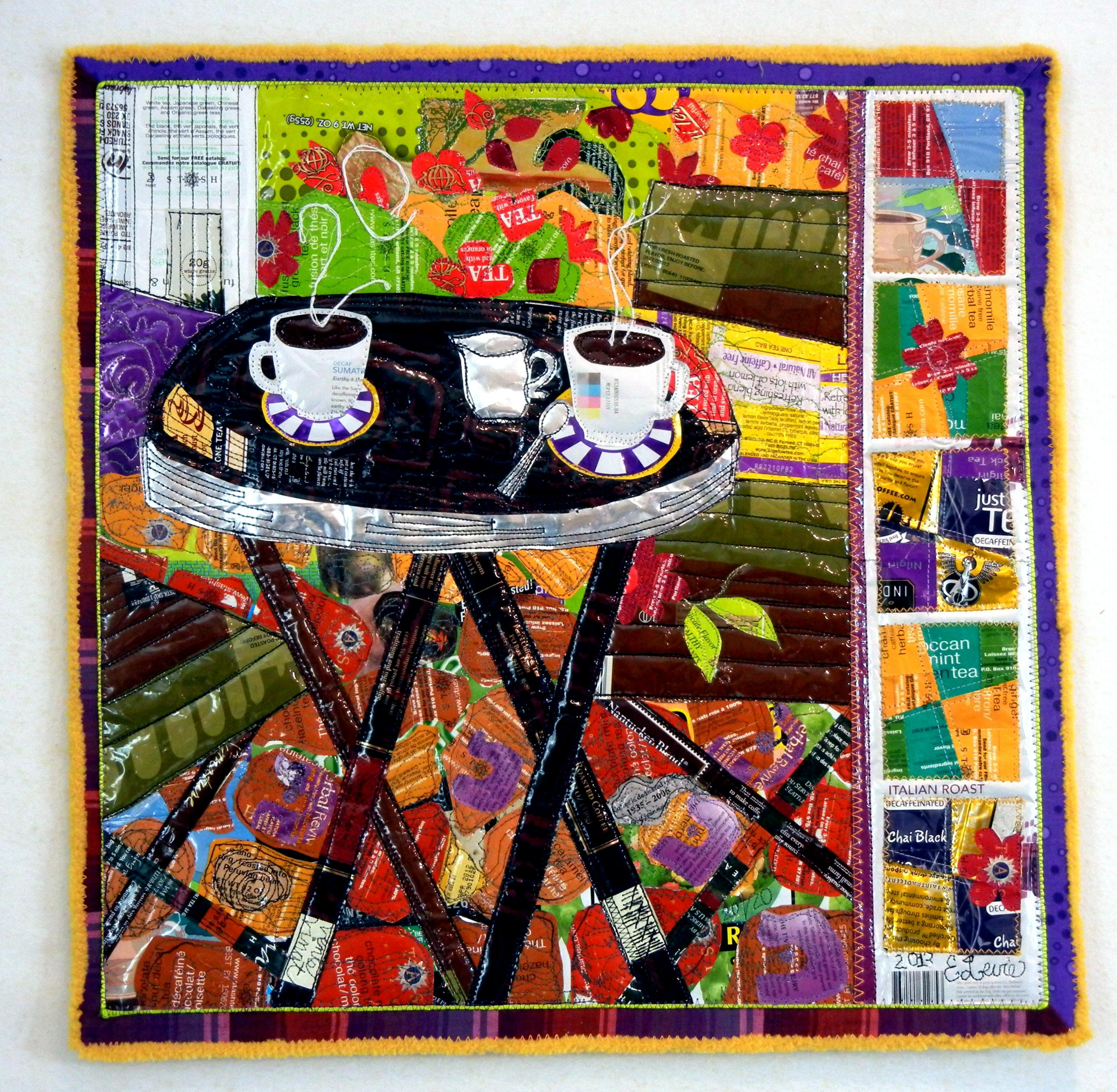 Maybe, just maybe, the number 20 marks your own anniversary, birth date of the month, sports hero jersey. But even if  20 has no special meaning for you, consider bidding on my quilt because of the advisory behind the title: It's called "Take 20″– because everybody needs a break now and then, even if it's just 20 minutes to enjoy a cuppa with a friend.
Alas, no time for that now—I'm off to mail in my entry!