editorial services
Inspiring Creativity
Yup, that's my mission, and my passion.
I believe that most people need just a little jumpstart to ignite their own creativity, to get those creative juices flowing. I love to provide the sparks. A freelancer doing business as Craft Services, LLC, I've produced dozens of how-to books, magazines, and publicity campaigns for a wide variety of publishers and consumer product companies. The connecting threads in all of them are exciting and easy ideas I find on the cusp of new trends, and in innovative twists on tradition. These ideas make folks say, "Oooh, I've got to make that!"
Meeting Your Needs
If you're a publisher seeking a new how-to title, or a company with a product used in creative expression,
you've come to the right
person
. I am flexible, ready to devote my talents, skills, and enthusiastic energy to working for you. I am a team player who can follow your lead, contribute different perspectives, join your think-tank, or help build consensus. I am resourceful, focused, and productive to save you time and money. And, as you'll see below, I am versatile, wearing many hats. No job in the field of needlework and crafts is too big or too small.
Top Quality Work
I am proud to have earned a reputation for quality. I'm an
upbeat wordsmith with an English teacher's credentials
. For me, visuals worthy of publication must have immediate appeal, and should strike an emotional chord. Good taste can rule across a broad range of genres, from elegant to funky. On any project, I take full responsibility for clear, reliable descriptions and directions. In fact, my accuracy rate for the step-by-step instructions I've written over the past 28 years is above 99.9 percent.
Producing
As an editor, author, and book packager, looking at all kinds of outlets and media,
I figure out what the trends are, and what's on the horizon
. And having worked at and for many different companies, I'm tuned in to the competition, and where there may be great opportunities.
Most recently, I've been producing an editorial PR campaign for Fujifilm, working with design and photography talents to create fun, family-oriented photocrafts. Visit
www.yourpix.com/createphotos/photocrafts.jsp
to see many of the projects I've designed and supervised (and download the instructions, too).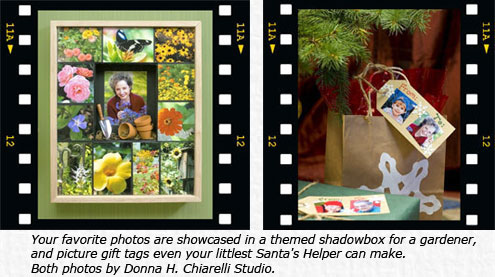 Producing also means team-building: finding, hiring, cultivating and contracting people with creative talent and experience. Since 1979 I have been at the helm of many publications -- first special interest magazines, and then books.

In 1998, as Rodale Press was closing down their quilting department, I won the bid to complete the Rodale's Successful Quilting Library series. Within the next 4 years, I produced 8 volumes, each with 128 pages and 150 to 300 original photos. I created a budget and hired a team—including an art director, photographer, editors, writers, designers, sample makers, illustrators, hand models, and more. I contracted them, worked with them closely, served as "banker," and kept within the budget. I'm very proud of the results—which certainly live up to the Successful part of the series name.

I also produced, edited, and did the photo styling for Quilts To Come Home To, by Joy Hoffman and Darlene Zimmerman. Working with the authors and with EZ Quilting/Wrights, I focused on producing a book that would encourage sales of specific quilting tools. It's still being sold, packaged with those tools.

I was the producer as well as the author of Creations in Miniature for Krause in 1998, which features "101 tiny treasures to stitch and craft."
To learn more about my books, visit my books page.

In addition, I've held the senior-most editing position at many special interest magazines from McCall's Needlework & Crafts, Woman's Day, and Country Accents. At Woman's World magazine, I was chair of the needlework, crafts, and sewing department, with a full-time staff of 3, responsible for 6 pages in every weekly issue.

To sum things up, I hope you'll consider me for projects that expand your in-house capabilities. As your off-site, satellite manager, I'll do the legwork for publications and editorial campaigns that will do us all proud.


Editing
Whatever you need, I can do it!
Do you have an editor who's going on leave, and need a superior temporary staffer or emergency replacement? Are you facing an especially busy period? Even if the time crunch is NOW, I can turn around material quickly and help you meet those deadlines. For that trade or consumer show on your schedule—let me help you prepare catalogs, flyers, class listings, signage, your booth, your entry set-ups, and more. Or, if you need a great presenter, take a look at my slide lectures and workshops (click on the links at the far left), available on short notice. I will also customize a presentation just for you. I am fast, giving you quick turn-around, and flexible with my schedule. I am reliable, good with details and a sharp trouble-shooter. I am energetic and upbeat, happy to work with anyone and everyone. And I love a challenge! Here are some of the editorial caps I wear:
Acquisitions Editor
With confidentiality and diplomacy, I can assess and advise on the merits of book proposals, contribute new ideas for titles or series to fit your line-up, and delicately suggest ways to keep an author in your stable, or woo a new talent. Count on me to scout for the best authors for a multiple-author title, help you create a new series, or steer a new project along.
Developmental Editor
I worked with Linda Johansen on her first book, and with C&T Publishing, Inc. on this pilot book of the Fast, Fun & Easy series. The result? Fast, Fun & Easy Fabric Bowls was the runaway top selling quilting book of 2004. I can gently guide a new author through the process from planning to galley checking, or any segment of the process.
Even experienced authors are frequently less than confident about writing, organizing, or preparing for photography. I can help: from hand-holding to shaping a manuscript or through the whole megillah.
If you're a creative soul interested in doing a book, either to pitch to a publisher or self-publish, give me a holler. I'm happy to consult on marketability, and to handle all your editorial needs. As an example, I'm proud to have edited Lonni Rossi's new book, Asian-Inspired Quilts--which includes five gorgeous designs using Lonni's sumptuous fabrics for Andover. Contact Lonni at www.LonniRossi.com to learn more about the book and about working with yours truly.
Technical Editor and Directions Writer
I've worked on just about every kind of how-to book there is.
A glance at my
bibliography
will show you a strong background in quiltmaking and crafts—both traditional and contemporary. Perusing the pages of these publications will point up directions I've written and edited for a huge number of craft areas and techniques, such as culinary arts, basketmaking, decorative painting, weaving, woodworking, plus a wealth of wearable art and do-it-yourself decorating projects.
In a pinch, I can write directions working only from a photo (though notes on size are really helpful!). I'll format my user-friendly how-to's to suit your style needs. If you don't have an established style, I'll develop an instructional format for you to review and discuss, and I'll refine it until you are completely satisfied.
In preparing for any illustrations, I'll always provide clear pencil sketches for diagrams and patterns suitable to the book specs. I can recommend or hire illustrators at your request.
Cheerio, bonjour, and g'day, mate:
I have also Americanized many craft and quilting books from the UK, France, and Australia!
Exhibitions Editor
Having a convention, symposium, or large quilt show? It would be my pleasure to create or edit ads, programs and catalogs, signage. I am extremely respectful and solicitous of people's work and ready to help with displays and returns. I earn the trust of vendors, teachers, and exhibitors.
Field Editor
I'm quite willing to travel to you, but in this day and age, there's little I can't do from my office at home. Via telephone, I can interface with one person or teleconference with the whole team, day or evening. With email, I can get you the proposals, manuscript, or updates you need in time-warp speed. Or send you scans and digital images that will show you swatches, sketches, and samples. I can also fly jpegs of professional photography over the Internet to you in time for you to request photostyling changes.
Have an author in my neck of the woods? That includes the Greater Philadelphia area, including Bucks County and mid-New Jersey. It's so easy for us to get together to share samples, ideas, and brainstorm. And, it's just a couple hours to New York City and adjacent counties, to my hometown of Baltimore and DC, to Lancaster County, PA, and Wilmington, Delaware. Practically anywhere in the metropolitan east coast area means an easy day trip for me. Desperately (or not) seeking new designs or designers? I cover lots of shows, engage in lots of networks, and am always on the lookout for creative masterpieces that haven't been published, and the talented people who can give you just what you need. I'm more than happy to scout for you!
Guest Editor
Have a special magazine issue or theme coming up? Looking for something fresh and different? Let me know! I've written recent articles for U.S. News & World Report, Yarn Market News, and a Foreword for a scrapbooking guide planned for next year. I can provide ideas, feature articles, and images to suit your needs and your budget.
Ghostwriter
Something comes in and it's a disaster. We've all been there.
Don't kill it; I'll save it
, and make sure you save face, too. You don't have to worry about my ego!
Writer and Copywriter
A headline, subtitle, or caption that sings! A smart, catchy blurb with zip, zest, and zing! These are a few of my favorite things,
and I'd love to do them for you. Call on me to…
Jazz up intros, captions and subheads.
Make copy kickier and more inviting.
Inject humor, personality, and readability
Add elegance and sophistication
I will follow your lead and your style, guarantee consistency, good flow, and clarity. As a former English teacher, I promise quality writing that is fun, compelling, and correct!
Photo Editor and Photo Stylist
I'll work to get you gorgeous photographic images. That means pre-photography meetings or discussions with jpegs to ensure we capture the mood you want. It means working with a great photographer-your choice or I can make recommendations. Photo editing means on-site care so the viewer understands exactly what the project is. Photo styling means prepping and propping, so the viewer appreciates what the project offers…and how great the end product will be. From warm and welcoming location shots, to clean and crisp gallery shots, you'll get the best. And since this isn't New York City, the prices will be unbeatable.
As examples of my photo styling, take a peek at these pages from Great Little Quilts, which I authored, and Quilts To Come Home To, by Darlene Zimmerman and Joy Hoffman for EZ Quilting/Wrights.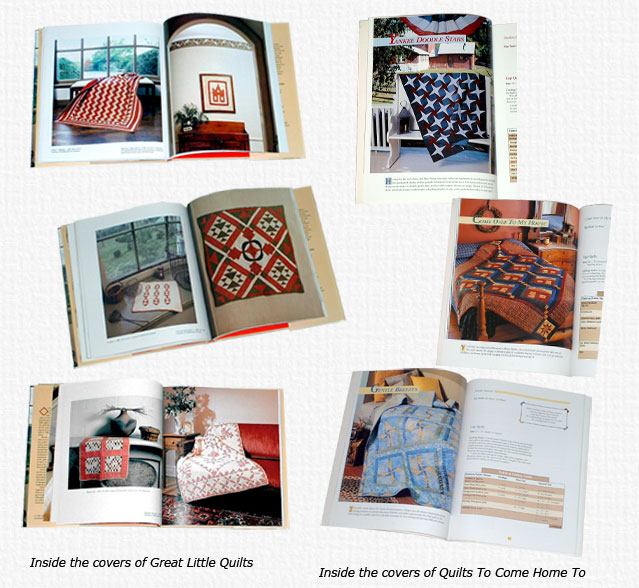 Marketing, PR, and Publicity
Keen insights into the quilting and crafting worlds + savvy marketing instincts = successful strategies for your business!
My knowledge base comes from ongoing relationships and affiliations with publishers, teachers and experts, guilds, professional and academic organizations. I attend major, national trade and consumer shows for quilting, scrapbooking, and crafting, and keep up with dozens of magazines in these fields. I take and give classes and workshops, and I always learn from my students.

I've got a good sense of what creative consumers want, tempered with good taste. I have great respect for art, craft, and the people who pursue them, professionally or as amateurs. (Scroll up to the top and check out my Mission Statement!).

It all totals up to a deep understanding and appreciation for the ever-changing attitudes, trends, and changes in many creative communities.

My Not-So-Secret Marketing Weapon
Let me introduce you to my husband, Carl Harrington.
Carl is an independent marketing consultant with a superb reputation for growing businesses. He is a principal in The Marketing Works! Check out
Carl's bio
. He's also my personal marketing guru, helping me hone my own PR skills.
Together we can offer you an unbeatable combination of understanding your customers, innovative thinking, quality service, and value.
Here's an example: For Quilt-Pro, makers of quilt design software, we worked together on strategic planning. We formulated surveys, conducted focus groups, and helped determine marketing directions and strategies for this company. They're using our "Yes I Can!" creative copy.

Carl and I would love to meet with you and discuss the directions you are steering your company. We could look at those areas or opportunities where you wish you could grow but haven't been able to. Afterwards, we will identify concrete ways to grow your business, and pinpoint some specific areas we all agree would be worth pursuing.
We are ready to satisfy any concerns you may have about sharing proprietary business information by signing a confidentiality statement that will protect you. We can even provide a draft version if you don't have one.
Whether in strategic planning, pointing out new business opportunities, or the creation of editorial, PR, publicity, sales and promotional materials, our unique combination of knowledge, experience, and skills ensures that you will get a lot of bang for your buck.
Count on Craft Services, LLC and The Marketing Works! for:
Online research
Focus Groups, Surveys, and Questionnaires o Marketing plans
Strategic Planning
Advertising
Publicity Campaigns
Websites
New Products
New Series
Count on me to:
Develop a demo, lecture, class, or workshop just for you
Get your message out there, as a Company Spokesperson
Create press releases, catalog copy, and more
Book Author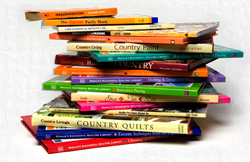 Topics that stand out-and often stand alone in the marketplace. Quality and value promise a life-long place on America's bookshelves.
Publishers came to me to ask for the following titles:
American Quiltmaking: 1970-2000 (American Quilter's Society, 2004)
The Parents Party Book, (Golden Books Adult Publishing Group, 1999)
Country Living Country Paint (Hearst/William Morrow, 1998
Country Living Handmade Country (Hearst/William Morrow, 1997)
Halloween Fun, 101 Ways to Have a Safe and Scary Halloween (Berkley Press, 1993)
Country Living's Country Quilts (Hearst/William Morrow, 1992; reprinted in soft-cover in 2003
The Country Look and How to Get It (Hearst/William Morrow, 1991)
Here are two titles I pitched and sold:
Creations in Miniature: 101 Tiny Treasures to Stitch & Craft (Krause, 1998)
Great Little Quilts, 45 Crib and Doll Size Antiques, With Patterns and Directions, (Harry Abrams, 1990)
Writer
Topical, with a twist, my articles make the subject accessible and unforgettable.
Recent articles include the following:
"A Crafty Plan for Summer" (kids' crafts), U.S. News & World Report, June 20, 2005; "Close-Knit Cafés" (knitting cafés), U.S. News & World Report, April 18, 2005; "The New Knitting Cafés," Yarn Market News, Issue #2, Fall 2005; "Scrapbooking, Cyberstyle," U.S. News & World Report, Sept. 13, 2004.
Designer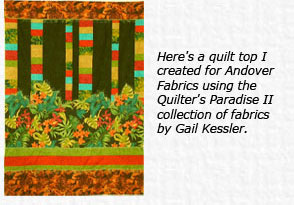 While I love to bring in a diverse group of talented, professional designers, I very often pick up the needle, craft knife, and spray adhesive and create original designs to inspire others. I am proficient in many sewing, quilting, crafting and painting techniques. If there's a new product or technique out there, chances are I'm getting my hands on it and figuring out a cool way to use and present it.
Visit my
Gallery
, which shows other quilts, and check out my
Photocrafting page
.
To cut-and paste-to the chase, you won't get an artiste with an attitude—but you will get a versatile designer who brings you business by inspiring creativity in others.