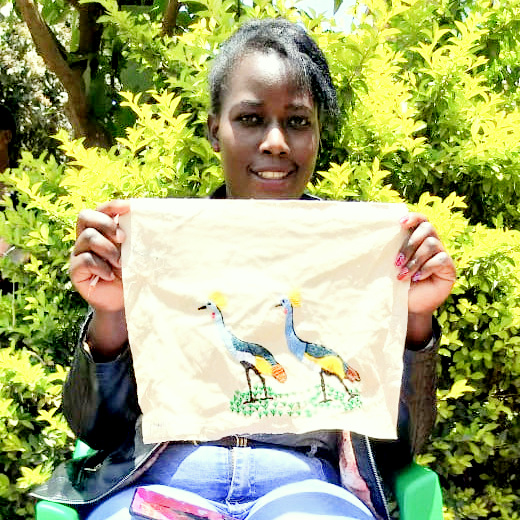 Let me introduce you to my most recent art partner, Meryline Ingaso, who lives in Kangemi, an under-served neighborhood of Nairobi, Kenya. She writes:
Hi! I was born 17/12/1996. I am an orphan, a mother of two kids, all girls. The first, 6, is in baby class. The second, 3, is not yet in school. I earn a living as a mentor. I do voluntary work to empower girls on how to protect themselves in this pandemic. There have been a lot of challenges e.g. buying food and paying rent. But I get a little support from washing cloth to people. That's how I survive.
Beautiful, inside and out. Hard-working. Creative. Caring. Nurturing. Meriline has joined with forty other "Sister Artists" who under the auspices of the Advocacy Project and during the height of the pandemic, produced beautiful embroidered blocks depicting Kenyan wildlife.
I answered the call to choose a block and incorporate it in an art quilt, and Meriline's "Crested Cranes" called out to me. The finished piece will be auctioned off to fund services that benefit Meriline and others like her. Maybe you'll become the proud owner for the completed piece, or another featuring a Sister Artist and a quilter?
By the way, two years ago, I participated in a similar project celebrating the creativity, in embroidery, of young women in Mali. That time, security issues surrounding these women who were victims of sexual violence prevented me from knowing the artist's name. Nevertheless, I was proud to support the cause and create a Mali Medallion around the charming village scene. Read my story about the making of that art quilt here.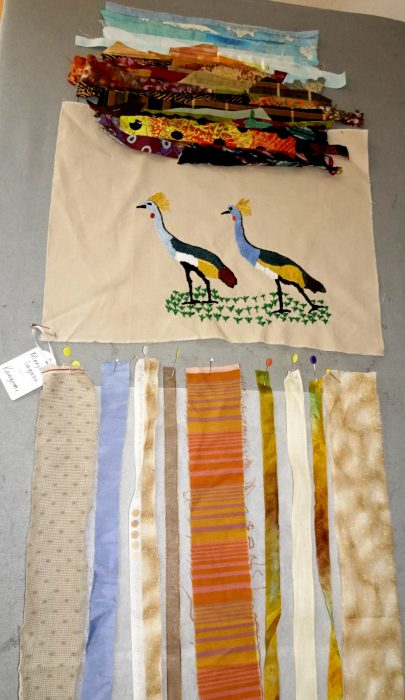 This time, the plan is for a Skinny Quilt. If you know my books, Skinny Quilts & Table Runners and Skinny Quilts & Table Runners II, you'll be aware that this long narrow slice is my favorite way to compose. And that I love to weave with a variety of textiles. I decided to elaborate on the cranes pictorial with a new, l-o-n-g weaving easily composed on my Big Board. And on top, I added a little UFO — a landscape I threw together long ago in Sue Benner's exciting Composition Quartet class. My goal is to integrate the three sections so they are cohesive and hopefully flow together.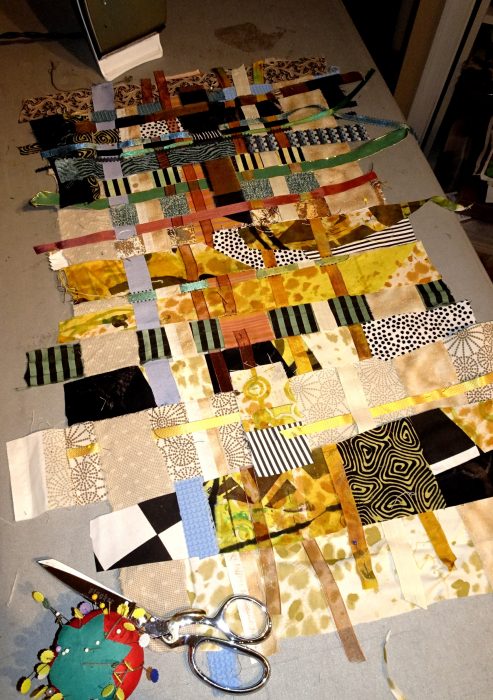 In addition to my usual weft of commercial fabric and assorted ribbons, I've included trimmings from my recent art quilt made with fabric I printed or discharged, and strips cut from upholstery samples. Always keeping Meryline's charming pictorial close at hand, I tried to bring out the colors she used.
Stay tuned for the quilting and finishing!