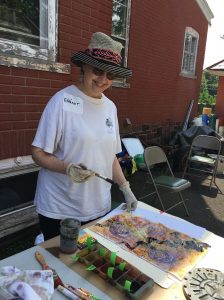 See the work I'm doing here?
Brushing on "cool black" dye over painted and crayoned paper. Check out my last two posts here and here to find out why. My choice of dyes were squirted into ice cube tray compartments, because you only need a little. Each dye is identified with a green masking-tape tag, because really, the look of the dye is rarely telling.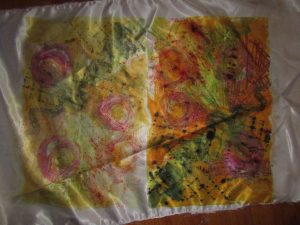 The right half is the transfer of my workings onto satin polyester fabric. Then I printed a second time, resulting in the quieter colors of the left half.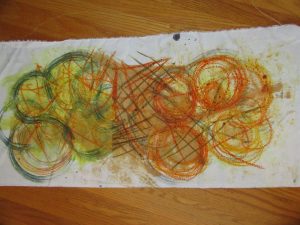 I preferred the poly cotton–more like the natural fabrics I use in my art quilts and craft pieces (table runners, pillow covers, tote bags, etc.). Here are two printings from one crayon-and-dye sketch, but with extra dye brushed on to bridge the gap between them.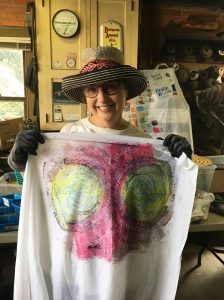 I was big into circles, and printing twice, with the second aligned. Inadvertently, I made myself a bodacious bra, huh?!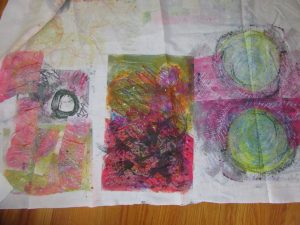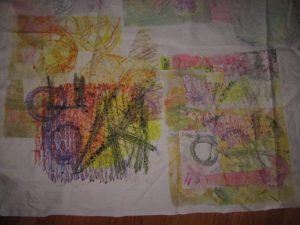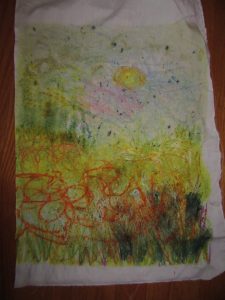 Last one shows a lapse back into traditional territory–a landscape. But even like the scribblings of the other experiments, this will probably be cut up and used as components of an abstract art quilt. Although, with all my circles, I can't help but think toward Drunkard's Path patchwork. In any case, I found these sips and gulps of disperse dyeing quite intoxicating.