Two weeks before the Disperse Dyeing on synthetics workshop at Lisa "Dippy Dyes" Reber's house, I was invited to send in photos for transferring. So I went through recent vacation photos, architectural landscapes I'd shot in Riga, Latvia. I wanted my fabric transfers to be correctly displayed, so I flipped them to the mirror image and sent them in as Lisa requested.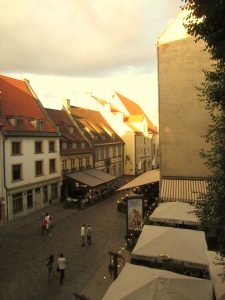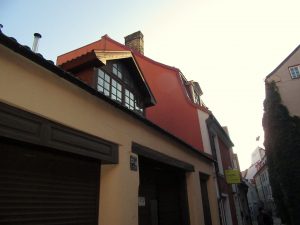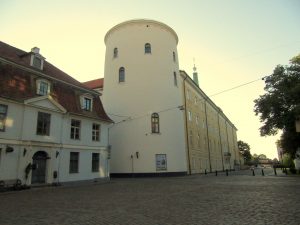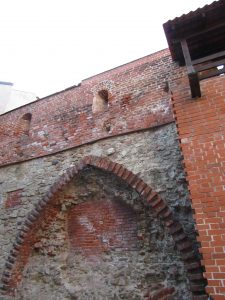 Lisa directed us to send our images right to Fine Balance Imaging Studios–which is located in Langley, on Whidbey Island. I have fond memories of vacationing on this charming island, a short boat ride away from Seattle, WA. Kudos for this top quality firm locating in a place where quality of life is so high. Anyhoo, their site says:
If your files are anywhere up to 20MB or so, please send us an email at theprintstudio@gmail.com your file as an attachment and instructions for your job. We'll follow up with you within 24 hours to verify your request and provide a timeline and estimate.
Gmail user? You can send any size file through email – it will automatically upload to Google Drive and send us a link!
Alternately, Dropbox is a great free service we highly recommend that is easy to use. Upload your file and send us a link via email. [Maybe box.net will also work!]
Please do email us and let us know you've sent a file, and specify what you would like for your order.
At the workshop, Lisa passed out the large sheets of paper that were imprinted with pigments made for synthetic fabrics. Presumably, you could ask FBI Studios to use the pigment that was right for natural fabrics, too. Here's Kerry, my classmate, cutting her pictures into individual transfer sheets.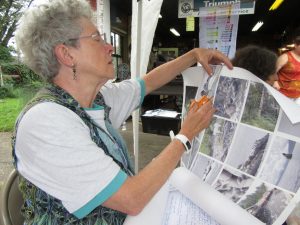 Photos were placed on fabrics, with right sides together, within the hot press. I began, using a poly-cotton broadcloth supplied by Lisa. Excellent saturation and detail!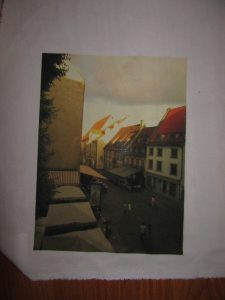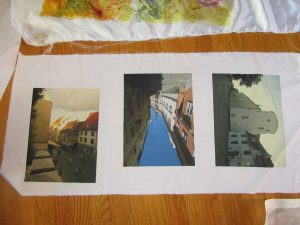 Next, I experimented with my own unusual fabrics. Below, two photos transferred onto a piece of polyester chiffon that is embroidered with little leaves or feathers. Under that, two photos transferred onto a peach polyester moire.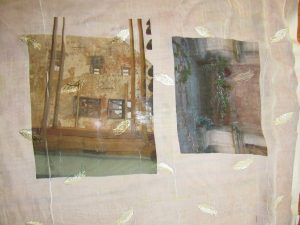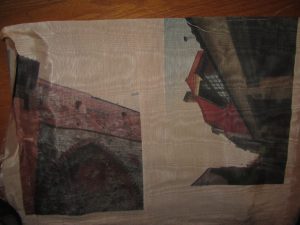 Here are transfers to a sheer pinkish polyester.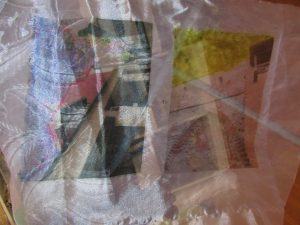 I think these will make ethereal overlays to abstract compositions which allude to the ghosts of my family members who lived in Riga and walked the same streets I did. Some were tradesmen, involved in manufacturing of paints and turpentine, so I believe they would approve.