It took a phenomenal exhibit to move me back to blogging mode–after months of merely Facebooking (sigh).
Stories of Migration is a joint venture by SAQA–Studio Art Quilters Assoc. and the Textile Museum, now housed at GW University in DC.  It takes the concept of diaspora, and moves it far beyond the traditional dispersal of Jews following the destruction of the Temple. From the Greek–a scattering or sowing of seeds, it now covers any body of people living outside their homeland. Psychological and evocative reactions and political ramifications are powerful. But because movement and geography, or space, are inherent to this theme, I am moved to share with you just a few pieces that go beyond the art quilt on the wall and take less usual positions.
Above, that big ball is a rolled up strip, 300 yards long, with overlapping hand-prints to depict the people and the journey of homo sapiens over 2500 generations.
Below are three shots of an installation piece by Sara P. Rockinger. She is interested in how "global social issues intersect, overlap, and become stitched together through shared human experience." Handmade clothing from different cultures are molded and stiffened. Video projections allow the viewer (i.e., me) to become part of the experience, called In/Visible.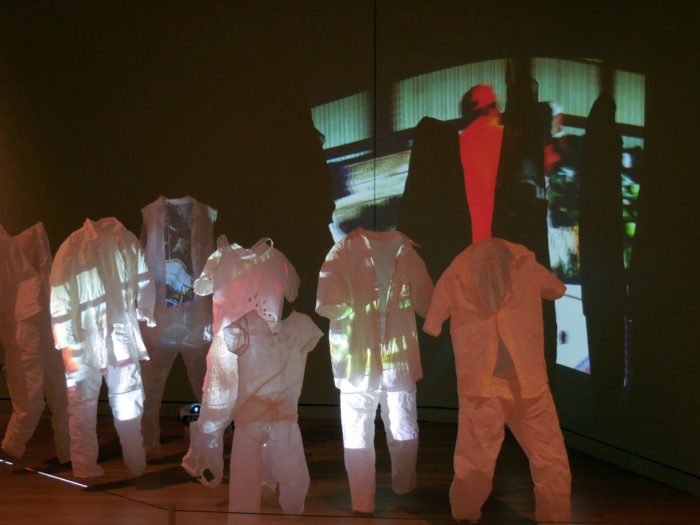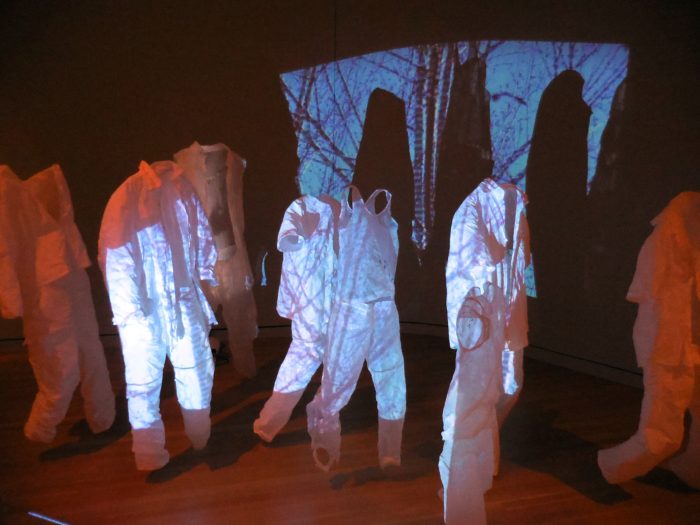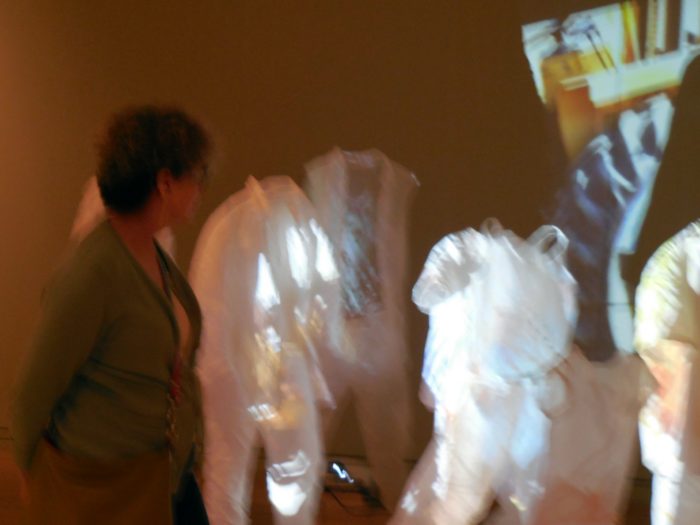 Jane Dunnewold is a favorite artist of mine, working in fabric, paper, and lots of surface treatments. Taking a vintage quilt and handmade and vintage papers, she has used collage and weaving, added spackle and gold leaf to rework the idea of a soft covering for a bed into a symbol of transition and paradox. The title, "Receptacles of Memory," can be applied to a great number of the pieces in this exhibit.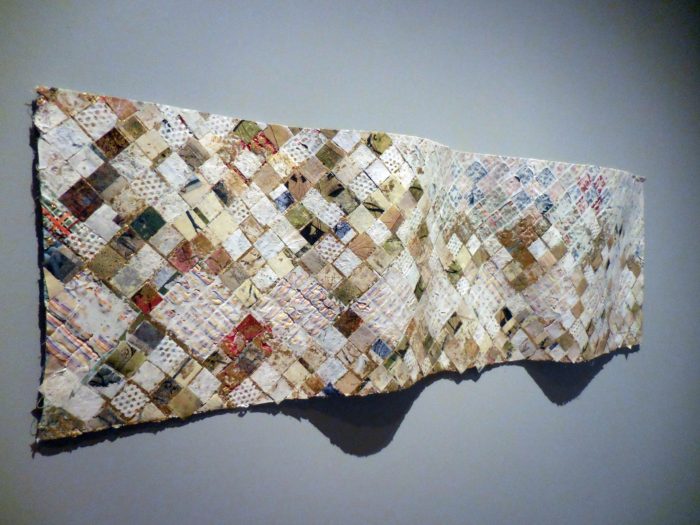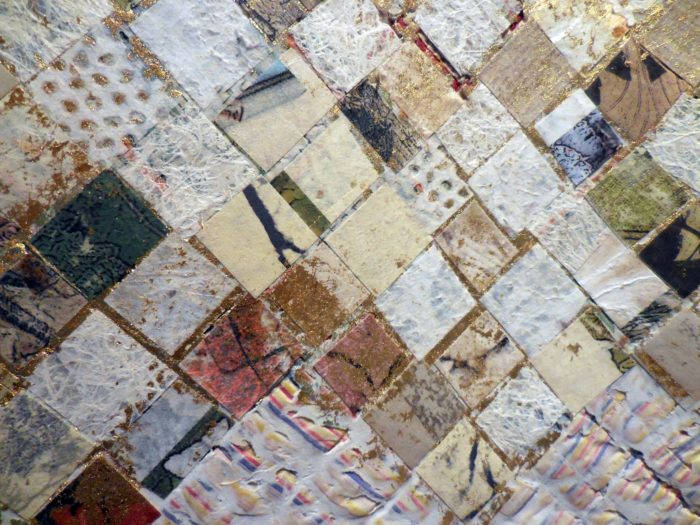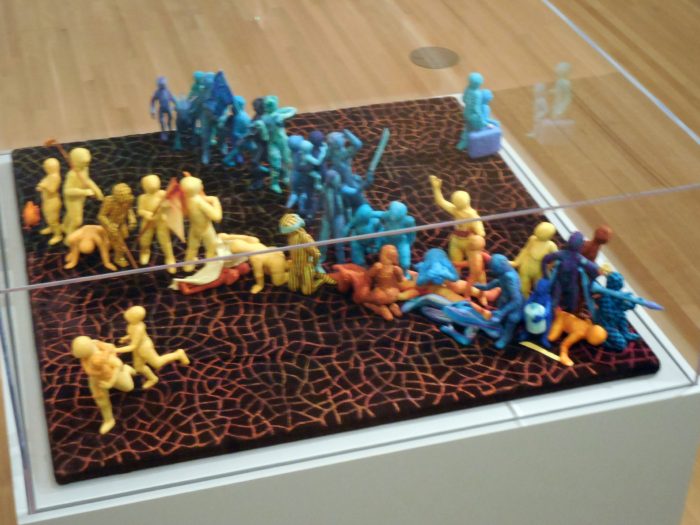 I've also followed the evolution of Susan Else from quilter of bed quilts to art quilts to fabric sculpture. Above and below is her "Crossing Points." She explains that decades of injury and counter-injury and outside interests catch people up in a web where they have nothing to lose by leaving.
This piece sits beneath a site-specific installation by Consuelo Jimenez Underwood, called "Undocumented Border Flowers." Underwood was invited to submit work, as were other celebrated artists (Faith Ringgold is another one). The rest of the artists were juried in.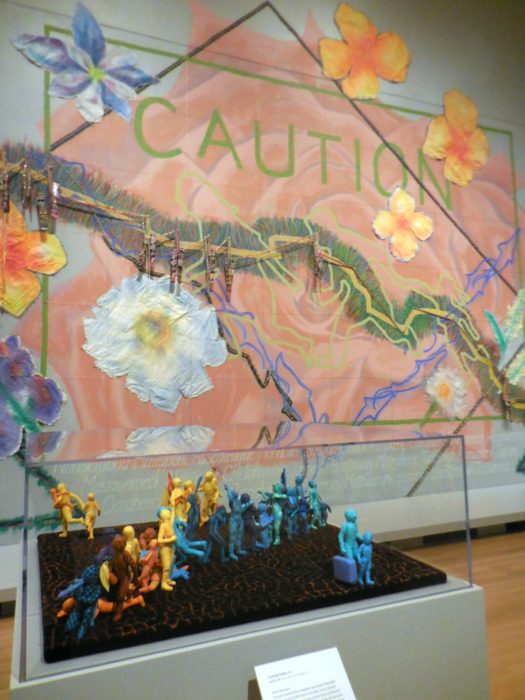 More human-scaled, and perhaps more accessible, is this wonderful evocation of what it is to be an urban nomad. Kristin La Flamme has made a shopping cart over into a village, using fabrics from army uniforms, yarn, floss, and bungie cords. It's called, "Home is Where the Army Sends Us."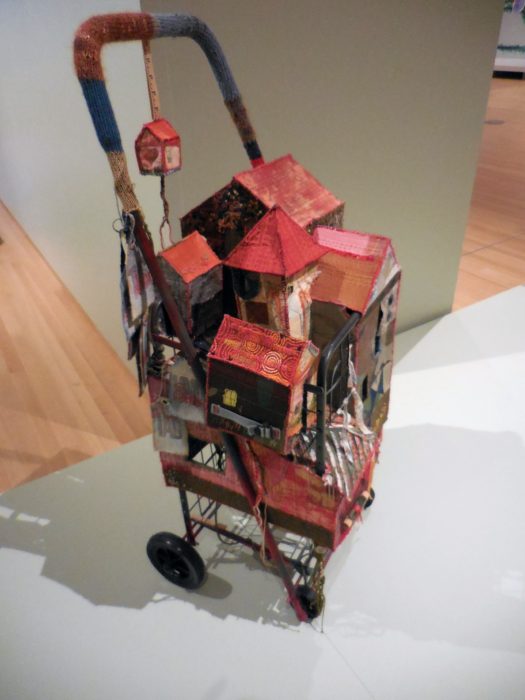 Hoping this blog post sends YOU to see this exhibit before it closes Sept. 4. And, if you're still reading, I have a copy of the exhibit catalog to send to someone. Share your personal migration story in the comment box below. Not much room, I know, so try to use fewer than 50 words.  I'll pick one that particularly inspires me and mail you out this full-color collection showing all the pieces in the exhibit.