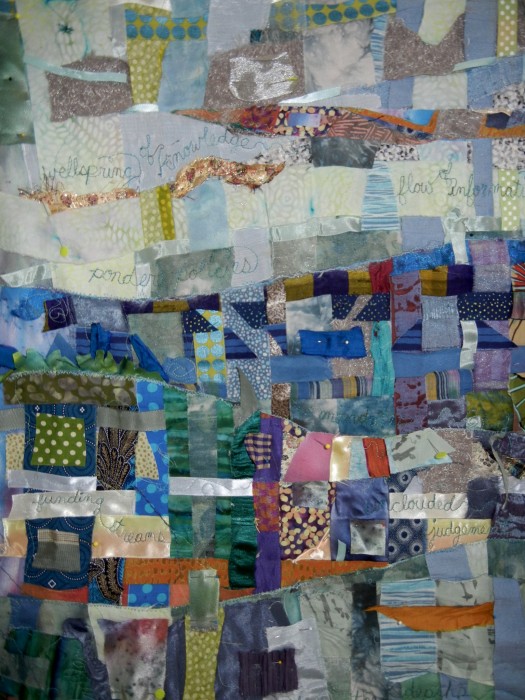 Ahoy there, mateys! Just picking up from my posts of June 29 and July 1. Seems like I row row row my boat, get off of it, get back to it, and row some more. Isn't that how everyone courses through their bigger projects?
Please excuse the metaphors, if they don't float your boat. Always thinking of my son and his fiancee as they about halfway through their one-year trip sailing the Great American Loop, which you can read about on their blog, sailbatic.al.
To refresh everyone's memory, including my own, the wind beneath my sails is a challenge from Quilts for Change, titled Water Is Life. See this post for info, and this post for my launch of the project.
The weavings came together, with lighter and darker sections cut in curves and overlapped, as shown above. Then, I added stream of consciousness phrases with free-motion script:
Justice
transparent governance
wellsprings of knowledge
flow of info
ponder policies
unclouded judgement
funding streams
wo/mandates
fathom the depths
After that, some dense quilting in wavy lines. Then appliques to lighten some areas, tone down others, add interest and contrast and texture.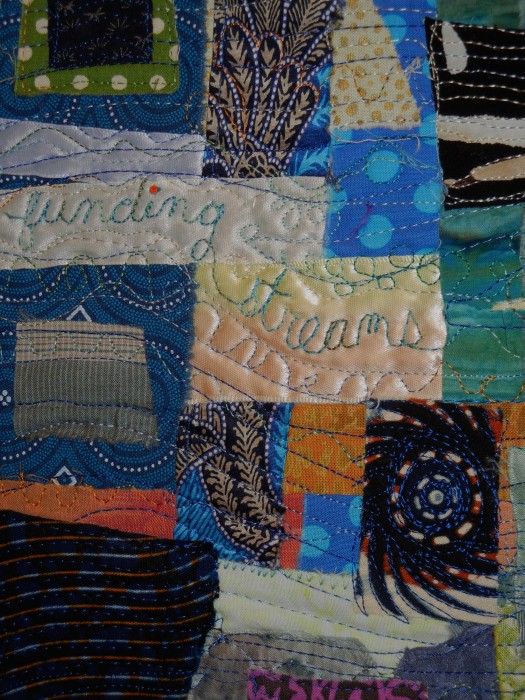 The finishing was a whole 'nuther trip around the bend. One rust binding all around wasn't enough, so that became an inset with a pieced binding.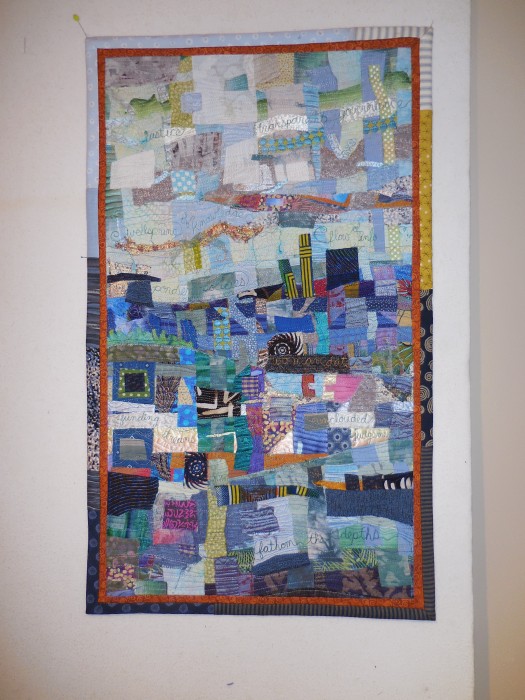 Still not enough. So I auditioned several different sizes and colors of rickrack. Aqua, white, yellow, blue and gold…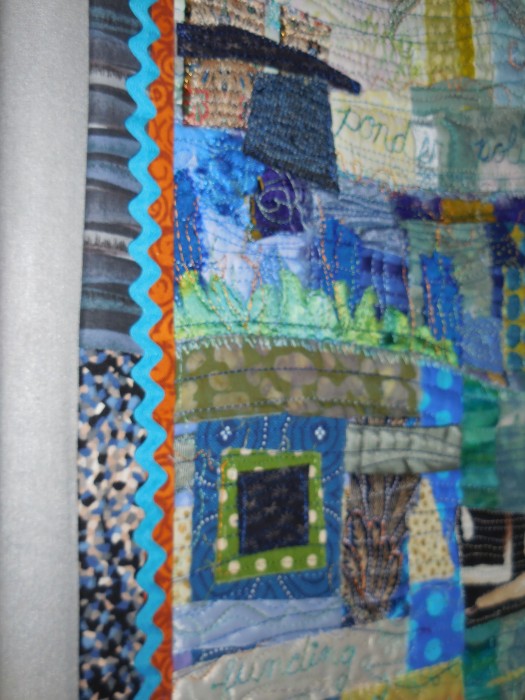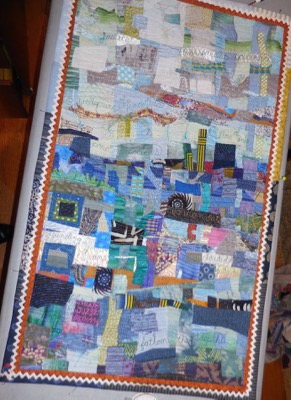 Opted for a yellow green to add light to the whole. Or, as a mutiny against spending more time and angst over this piece. (I'm ready to set sail on a new project.)
Yes, after months, I have finally reached the shore and completed my art quilt today! And submitted images, a bio and a statement.
Title: Let It Flow
Water is a deeply complex issue, swirling with interwoven challenges of safety, security, social justice, and access.
Only transparently clear, progressive, democratic governance can ensure a good flow of information and funding streams.
As the traditional water gatherers who understand what is best for their communities, women deserve a place in discussions and decision-making. When mandates become "womandates," results are life-affirming.
Done! And 9 days before the deadline: a record for this captain of last-minute industry. Making art and quilts is usually a lonely, isolated journey, so comments and constructive criticism are always very welcome!