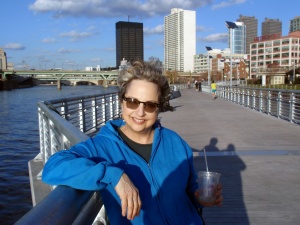 November 24, 2014, and temperatures in the 70s. With cold–and even snow expected in a couple of days, the hub and I wisely decided this was NOT a good day to stay in and work…or go to the gym. He had a destination in mind: the newly-built "Boardwalk" on the Schuykill (River, that is). Here's the professional shot:
My pics, while not so panoramic, showcase far prettier sunshine and shadows, if I say so myself…and I just did. The light mid afternoon was spectacular. I felt as if any one of my photos could inspire an art quilt. Which one do you think makes the best composition? Which one would translate best to fabric?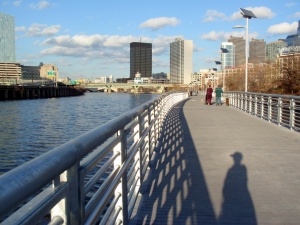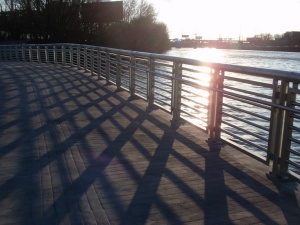 "Wood-grain" cement floorboards, with shadows…and I can picture this one with black lines of quilting, can't you?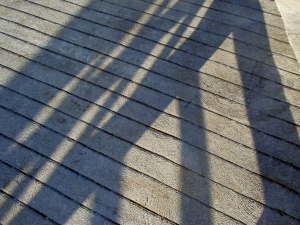 Some photo editing took this scene into a more fantastical, if not Peter-Max-imum realm: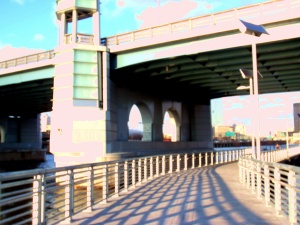 Writing this blog post certainly inspired me to learn to spell Schuylkill correctly. Going Dutch, like the 17th century Europeans from the Netherlands as well as Sweden and England, gives us the translations of schuylen and kill to mean "hidden creek." Perhaps since the mouth of the river was "discovered" by these explorers hidden behind dense vegetation at Delaware River's League Island.
Along the boardwalk, runners, bikers, strollers (like us, but the kind with babies on board, too) all make tracks.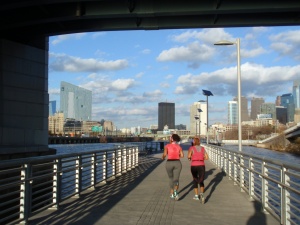 To one side of us, the glorious Schuylkill River, the dreaded Schuylkill Parkway (where traffic is almost always at a crawl), and beyond that, West Philadelphia. On the other side,  the scenery was equally EPIC. Train tracks, trains, construction sites, scrub brush, texture and movement.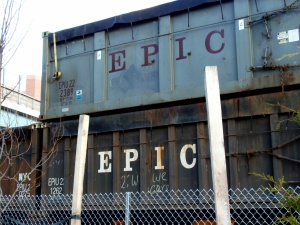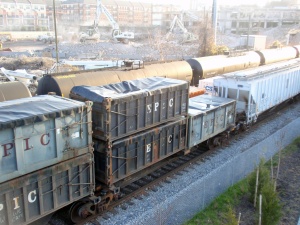 Yup, today's walk was such a good idea…which is invariably the case when following this guy's train of thought: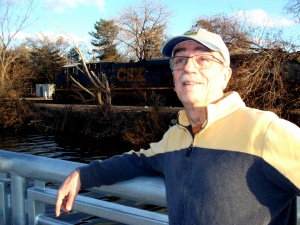 OK, we've reached the end of the line!