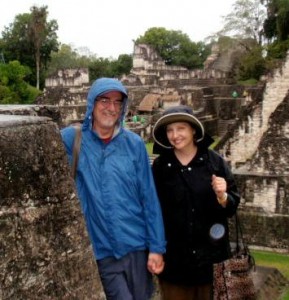 Here I am with the hub in Belize–this was taken a couple of years ago. Only photo I could easily locate where I'm carrying my go-to travel tote, an airport purchase, made in China, waterproof, and many-pocketed. But not my own work, and despite the leopard print, eminently forgettable-looking. So NOT worthy of the author of Unforgettable Tote Bags–don't you think? So I recently went about remedying that.
The process was a cinch, using small pieces of mud cloth.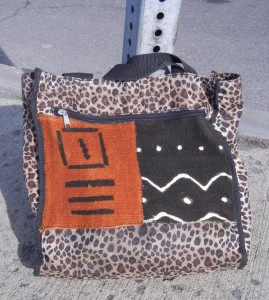 Bògòlanfini or bogolan ("mud cloth") is a handmade cotton fabric from Mali, woven in narrow widths and dyed with fermented…you guessed it, mud.  It is a symbol of Malian cultural identity.
Newsflash from Janet Goldner (see below):
Although usually translated as "mud cloth," bogolan actually refers to a clay slip with a high iron content that produces a black pigment when applied to handspun and handwoven cotton textiles.  Mud is any old bit of earth mixed with water and will not dye the cloth.  Although bogolan is traditionally done on hand woven bands of cotton cloth, the word actually refers to the dye process."
 Check out this wonderful site from the Smithsonian, called
Discovering Mud Cloth
. I love the fashions of Chris Seydou on this site, and there's also a fun little interactive section for making virtual mud cloth–quick and dirty–NOT. Don't want to actually mess with mud? Do what I did, and buy pieces of mud cloth from  Lisa Shepard Stewart of
culturedexpressions.com
.  Lisa no longer has the scraps (unless we all "virtually" get down on our knees and plead with her?), but she does carry packets for making mini purses, journal covers, and more on her website.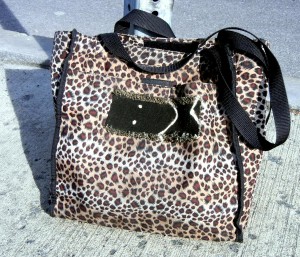 I removed the tray from my sewing machine, and with the free arm–or shall I say, arm free (like for stitching sleeves and pant legs), I could get the needle into the pockets. It was a simple matter to straight-stitch or zigzag-stitch the edges of the mud cloth to the outsides of the tote's pockets.  Now, the delicious pattern and texture of the mud cloth tote-ally adds style and uniqueness. A few vintage buttons sealed the deal.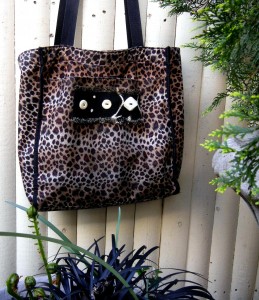 Click here for another fashion foray in mud cloth for you all. And, if you want to visit Mali and see for yourself how mud cloth is made, then you can do no better than to keep in touch with my friend Janet Goldner.  Janet is an amazing artist, sculptor, writer, photographer who frequently visits Mali– sometimes as an art tour guide. Not to mention, well, here I go mentioning—a passionate activist. And an inspirational model for how white chicks like me can get away with dressing African style! That's the global trend, friends, for the utmost in style and sophistication.  Read the fashion mags, rags, and you'll see, it's clear as, well, mud.