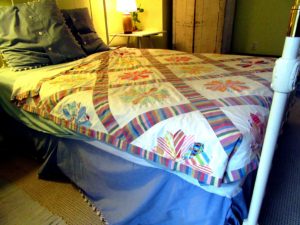 It's called a Summer Quilt because it has no batting. Just an appliqued top with a backing; quilting in the ditch to hold the layers together. I bought it for a song many, many years ago, and I'm guessing it's not quite as old as I am. Circa 1950s or 60s.  I've always loved its retro style: Dresden Plate patches include corduroy, flannel, homespun, and wacky prints. Best of all, that on-point setting with stripped lattice is fresh and kicky.
Because it's so light, it makes a wonderful summer bed-cover. All except for one thing. You guessed it. Old quilts were not made for queen-size beds. So in order to enjoy having my vintage find on the bed, the husband and I are always fighting for covers, pulling the quilt to his side, or mine. And when the bed is made? The effect loudly proclaims: SKIMPY and CHEAP.
But not anymore. I added borders–or rather, panels that break for the bed posters, to the sides and foot of the quilt. Shopped all over for a fabric that would work, and found it in Kaffe Fassett's Millefiori print, which had all the colors in the Dresden Plate motifs and striped lattice. While contemporary, it felt in keeping with the era and mood and the small scale meant it didn't fight the vintage piece for attention. I backed this fabric with strips cut from an old mint-green cotton tablecloth, which probably dates back to the same time as the Summer Quilt.
The husband and I sleep well at night now.