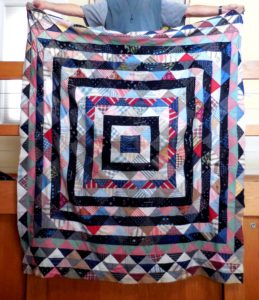 You gotta love the direct hit to the heart that this Square Bulleye quilt top delivers. I sure did, when I bought it for not very much money about 10 years ago. I think it was on the table of a very reputable dealer at a quilt show.
For a long time, it was part of my trunk show for Quilters Who Dared. And daring it is, with all that precision piecing. Waaay beyond my patience level.
Now, however, my presentations feature more wonky and imprecise performances in patchwork. Inspiration for quilting out of the box, and daring to break the rules.
And now this beauty is the perfect target for remaking our home, our bedroom, and yes, our bed!
I was gonna do this the easy way.
Our bed is a queen, so step #1 was adding borders to make it overhang the edges generously. Finding a timeless, black pin-dot was easy. And a repro extra-wide quilt back–E-Quilter has a great selection. After washing to pre-shrink these new fabrics, I cut same size lengths from the black pin-dot, and stitched them to the edges of the quilt top all around.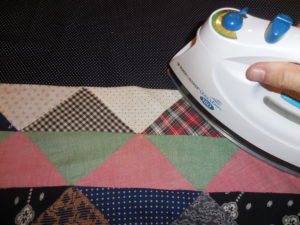 Then took the expanded quilt top and backing fabric right over to a wonderful long-armer.
I know a lot of great long-armers in my area, but chose Donna Laing of North Star Quality Quilting because of her experience with traditional, antique quilts.
I just adored working with Donna to choose a quilting design for this beauty. I thought that a traditional Clamshell, or Baptist Fan would be true to the era of the fabrics. The coolest thing was how Donna lay a window of Plexiglass over the quilt, and used a washable marker to audition continuous line quilting patterns. Wish I'd taken a picture of that.
Also wish I hadn't left Donna with a lot of extra work. See all those triangles in the patchwork design? The outer edges are all bias. Stretchy bias. I should have stay-stitched these edges; even sewn a fabric ribbon tape along them to keep them in gear. Instead, my borders followed these edges, and were a hot mess of ripply distortion. Donna saved the day, making tucks in each border by hand. Next time, I promise she won't be biased against this customer.
I picked up the quilt but alas, it was another few months before I got to the binding and this Bullseye made a beeline for our bed.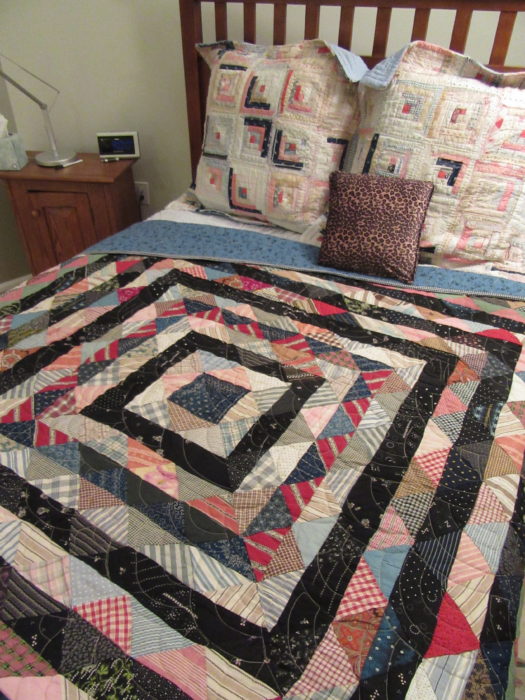 Makes a real statement, right? Nice overhang, yes? So the husband and I don't fight for the covers.