More luminous than any night so far this year:  this Saturday, May 5. Yup, we can all party heartier and longer for Cinco de Mayo, and after the Kentucky Derby.  Why? Cuz NASA predicts a Super-Moon: as much as 14% bigger and 30% brighter than other full moons of 2012.
Like everyone else, but especially women, artists, poets and songwriters, I get moon-struck, moony-eyed, over-the-moon-thrilled with a big, beautiful moon. It always makes me wax eloquent!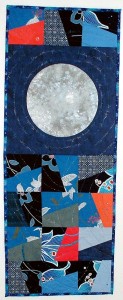 And I'd like to say that was enough to inspire me to make the quilt shown on the right. Alas, sheer desire just ain't enough for this busy broad.  I had two impetuses (impeti??)—Take Two: I had two compelling reasons to make "Blue Moon" (which BTW means the second full moon in a month).   One: The Blue Moon auction to benefit one of my favorite causes: my local Planned Parenthood. And two, a place to complete work done in a workshop— a once-in-a-blue-moon opportunity to learn from the amazing Roberta Horton.  Roberta calls the class Japanese Patchwork, and it involves Yukata cloth, but for my mooney, er, money, it's visionary—and fun— in terms of working with any large-scale print.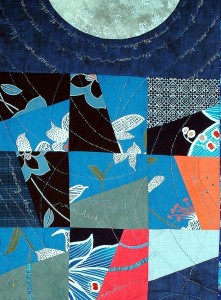 To extend and complement the patchwork, I made a great big circular applique. Starting with a mottled gray fabric, I sponged and stamped white and slate fabric paint to suggest craters and valleys. I cut out a perfect circle from thermal template plastic, and cut the painted fabric 1/4″ larger all around, then pressed the edges under with my iron. Almost as rare as a blue moon: me doing needle-turn applique!
My patchwork sections asymmetrically bookending the moon, I was ready for my favorite phase, other than lunar:  free motion quilting. Around the moon: song titles and lyrics referring to the moon. Elsewhere, phrases of a word-play  lunatic: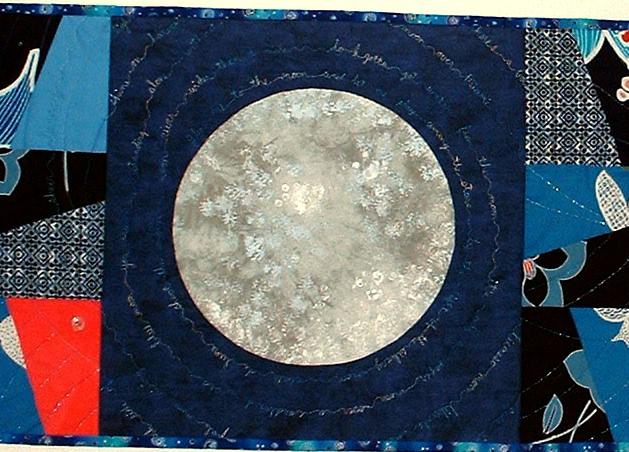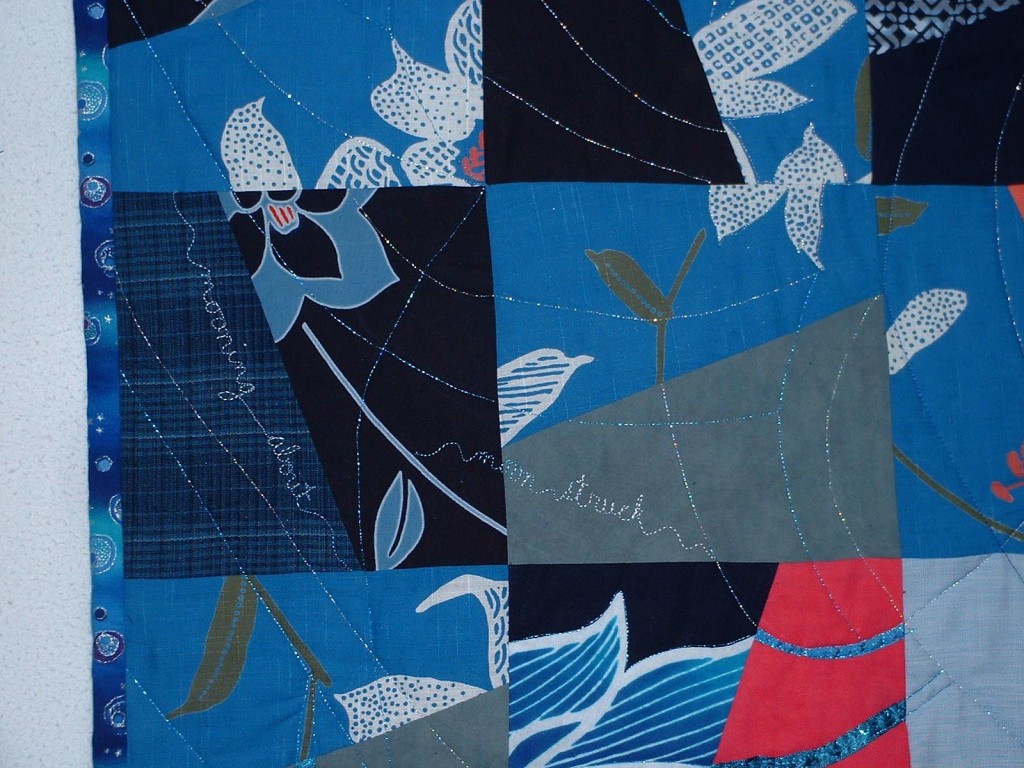 It was worth the frustrating struggles that glitzy thread often poses!
Another frustration was that auction: The auctioneer didn't know enough to describe it in lustrous terms and started the bidding at an embarrassingly low figure. Attendees were left in the dark as to the amount of work, detail, and  customized connection to the cause.  My husband was willing to up the bidding and even win the piece, but that seemed looney or smacking of bad-sportsmanship. The following year, this quilt did only slightly better: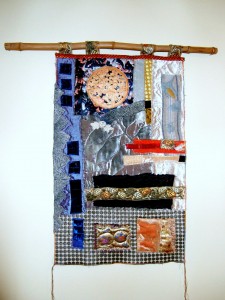 Ah well. Winsome, lose some. In quilting, I am an amateur—a lover of quilting who doesn't sell her work. Charity auctions—especially annual ones—have me working in a series, trying out new ideas, and open up a way of assessing the value of my art. I say, if you don't have what it takes (read, millions) to be a philanthropist, at least you can contribute a quilt!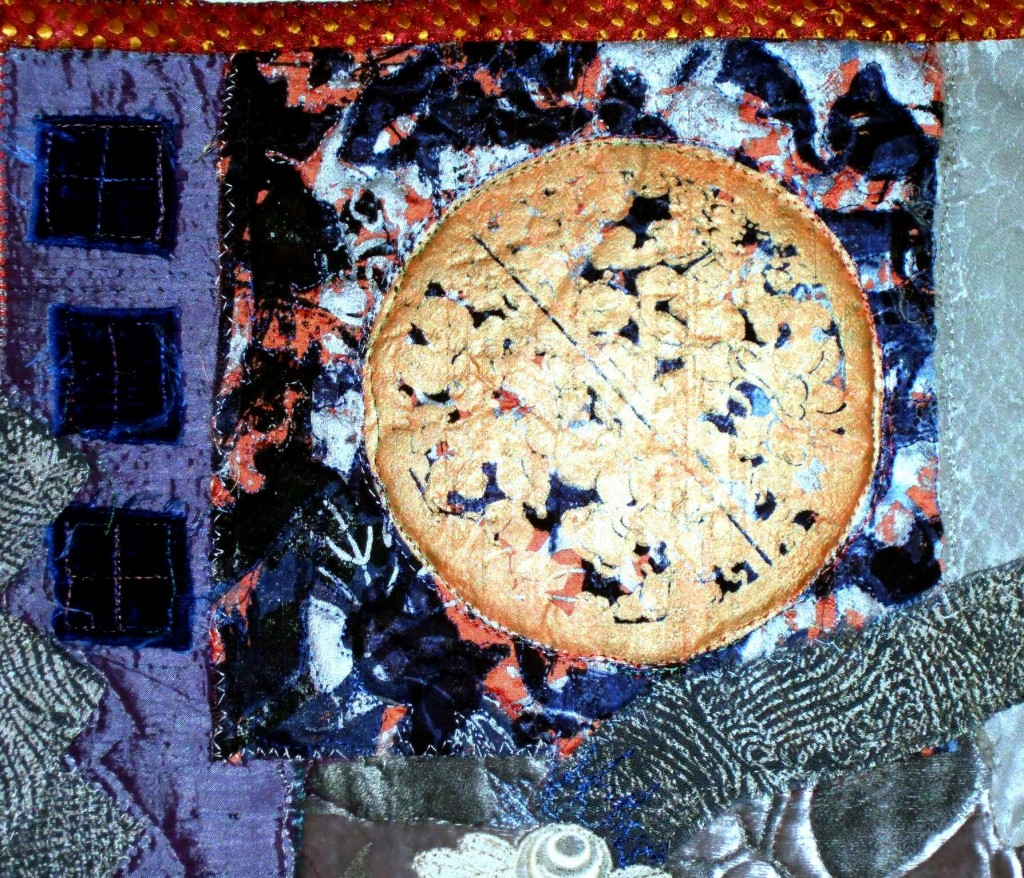 That's my seque into my current project: Just started my quilt entry for the Alliance of American Quilts 2012 contest. This year's rules require a house shape…and my piece just might have a moon in the window! It's a great cause, and a good way for those who lack confidence in the value of their art to be a star, show their work to very appreciative, supportive viewers, collect "votes" of confidence , and get a sense of value in what you do, and a sense of achievement, too.  The deadline is June 1, so we all better hurry! When the next full moon in June occurs (the 4th), it'll be too late.
Oh, I forgot to mention–there are incredible prizes for the contest winner. I'm gonna shoot for the moon. How about you?