Happy Earth Day! To those who made comments on the posts of April 12 and 20: YOU'VE ALL WON a FREE copy of my book, UNFORGETTABLE TOTE BAGS! Email me–ELevie@comcast.net with your name and mailing address. If you do not live in the contiguous United States, we'll "talk."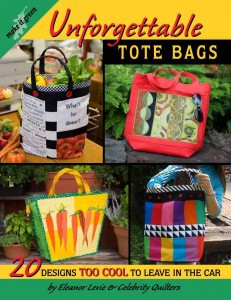 I'm so proud to share designs by this amazing collection of quilting celebrities. And I know YOU'll be so proud of yourself and the bag you'll make using the ideas and inspiration in this book. This is one bag you won't forget when you go shopping, 'cause it'll be, well, unforgettable!
Let me tell you, I've had books published by AQS, Martingale, Harry Abrams, Workman Press, Rodale, and more. But in keeping with the green theme of this book, I just had to self-publish it, choosing a top-quality green printer in the US that used recycled paper and non-toxic inks. I'm really glad I did it my way, the green way.
I gotta confess, though, I had to dip deep into my savings to do it.  It was hard, and I don't expect to come close to breaking even. Soooo I hope you don't mind my suggesting some ways you might thank me for this gift— only if you like it, of course!
•    Write a review on Amazon: http://www.amazon.com/Unforgettable-Tote-Bags-Celebrity-Quilters/product-reviews/0615317502/ref=dp_top_cm_cr_acr_txt?ie=UTF8&showViewpoints=1
•    Ask your local or regional quilt guilds and quilt shops to check out my presentations:https://www.eleanorlevie.com/speaker-topics.php
and workshops: https://www.eleanorlevie.com/speaker-topics.php
and invite me in for an unforgettable program. I'll work with neighboring groups to schedule trips that keep the travel expenses affordable for everybody.
•     Buy this book—and other books-—from my website. Good prices, great gifts, and personally autographed for you or the person at the receiving end of your gift. If you're a sewing, quilting, or art teacher, why not teach a tote bag class—or series of classes!? Contact me for incredible prices on books in multiple for all your students.
•     Stay in touch! Keep me–and all of us–green, smart, and on-trend or ahead of the curve!  Share your news and views. Bookmark my quilting blog, "like" my Facebook page, Inspiring Quilting. And watch for my next book, Quilt Blocks Go Wild!, coming out in August.
With all the best from me and Mother Earth!