Grabbing another chance to share some of the highlights of Fiber Philadelphia 2012–still going on in many venues. Just in time for Earth Day on Sunday, I'm shining light on a few innovative works by artists who celebrate nature with wit and innovation.
And you, dear reader, get to grab another chance at m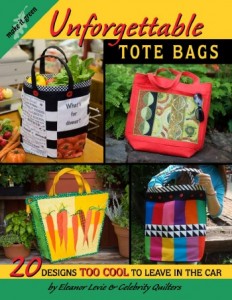 y giveaway: On Earth Day, April 22, I'll be giving away 22 of my make-it-green collection of Unforgettable Tote Bags: 20 designs too cool to leave in the car. With designs by Virginia Avery, Karen Eckmeier, Kaffe Fassett and Liza Lucy, Diane Gaudynski,  Judy Hooworth, Jean Ray Laury,  Lonni Rossi,  Jane Sassaman, Susan Shie, and me, you'll be getting a lot of ways to avoid paper, plastic, or those made-in-China mystery-fiber reusable grocery bags. Me, I invariably carry a hand-made tote bag that doubles as purse and carry-all. To check it out, click here. To get in on the deal, leave a comment on this blog!
On to eco-friendly fiberart. First up, friendly fauna in diminutive crochet, by Carol Eckert. These delightful pieces in cotton over wire are on view at the Wexler Gallery in Philly; Silent Invocations and Snakes for Fish:
From fauna to flora, get a load of "Leaf Fall, Fragments var. 3" by Barbara J. Schneider—photo transfer on fabric. It's a stunner among the Art Quilts Elements master works at the Wayne Art Center:
You want flowers? Joan Dreyer, whose work was on view at the Crane, made the light and lyrical Still Life/Daisies. Look closely and guess what those petals are made from…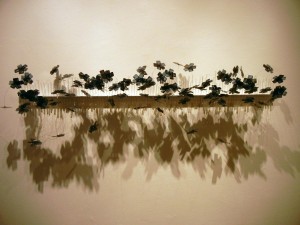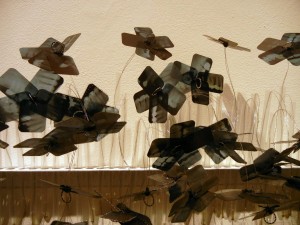 Were you able to sink your teeth into that challenge? They are dental X-rays, darlings!
Finally, above, a word to live by. This is "Chance Encounter," by Gyongy Laky, part of the instructors' exhibit at the Crane. Fiber was never as expansively defined—or as exciting—as it was at this venue.  You want more recognizable  forms of fiber—something closer to quilting? Enter the giveaway and get inspired to make an Unforgettable Tote Bag. Just leave a comment here: What do you think of these pieces? How are you going green in your creative expression?