Having fun working small. As in, postcard size. And yeah, I've backed one with paper, wrote a message, and posted it to our son in Denmark. Postage was $1.33, by the way. Course, it's been two weeks, and he still hasn't gotten it…or at least, true to form, hasn't communicated that he has, nor has he been directly in touch at all (hint hint).
Other postcard-size quilted minis, I've set into a shadowbox frame. Amazing how a little postcard is suddenly transformed into a small work of art! How-to's are easy to understand and cheap—just like me! See them on my website's Free & Fun link, here.
The two that follow are part of a gallery show, Summer Orbits, in a studio above the Da Vinci Art Alliance in Philly: Galactic Donuts, and Life, Mapped Out.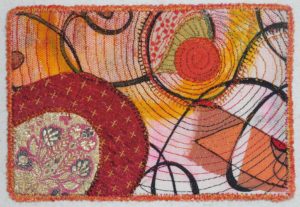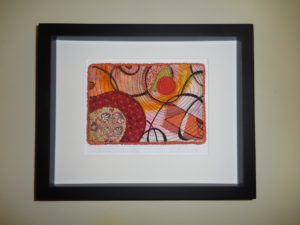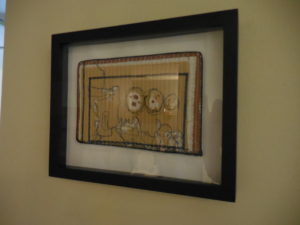 A black and metallic fabric swatch with gingko and character felt Japanese, so I named this piece Asian Pear. It resides alongside many other pears, the subject matter of art I've collected by various painters and photographers.  It's the pear as body shape, natch. Just like me!