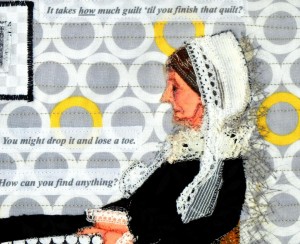 Two days late for Mother's Day–but two weeks early for the deadline of the annual Quilt Alliance contest, exhibit, and auction. Not too shabby. I especially grooved on the theme this year: "Inspired By…"
The organizers originally presented a few classics from the pantheon of patchwork and applique masterpieces, and one of my faves was there. So even after the contest was opened up to "Inspired By…" ANY of the quilts on the Quilt Alliance's Index and S.O.S. (Save Our Stories) sites, I couldn't get this one out of my mind: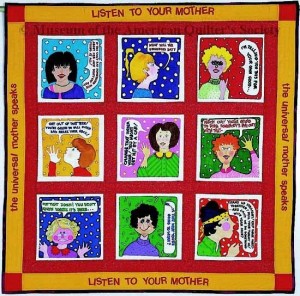 The maker of this silk screened quilt, made in 1997, was Jean Ray Laury. For almost 50 years, Jean was a pioneering, rule-breaking heroine to quilters. The gentle humor behind her folk art gave special resonance to her messages. Who doesn't hear her own mother echoing from the nine patches of Jean's silk-screened Listen to Your Mother? Or recognize the love behind such neurotic exclamations?
I offer a Not for Mother's Day Only lecture–and am often invited to present such fare at an April or May quilt guild meeting. I invariably show an image of this quilt, and read the panels out loud to the audience:
What will the neighbors say?
If you can't say something nice, don't say anything at all.
I'm telling you this for your own good.
Change that underwear! you might get hit by a car.
Get out of that tree! you're going to fall down and break your head!
Watch out! You're going to poke somebody's eye out with that.
Put that down! You don't know where it's been.
Uh…is that what you're going to wear?
Stand up straight! Keep those knees together! Pull your tummy in! And can't we do something with your hair?
Forced to choose only one universal mother, I borrowed Whistler's: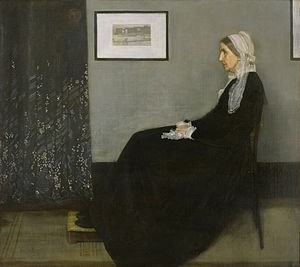 I directed her admonitions just to quilters. Typed and photo-transferred onto white cotton, these are the rules our quilting fore-mothers passed down to us. Equally well-meaning as the teachings of Jean Ray Laury's universal mothers, these statements tell of how one is supposed to quilt.
And out of laziness or rebellion or time constraints, these are the quilting rules I frequently break!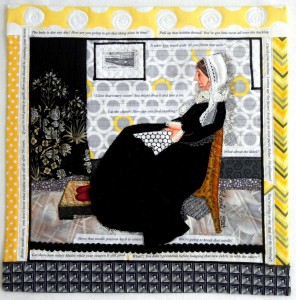 It takes how much guilt 'til you finish that quilt?
What about the label?
The baby is due any day! How are you going to get that thing done in time?
Pull up that bobbin thread! You've got little nests all over the backing.
Better needle-turn; you don't know what fusible web will do after 50 years.
What?! You didn't preshrink before lumping that new fabric in with the others?
Get those new rotary blades while your coupon is still good.
If you're not going to quilt, then you should be cleaning your house.
You're going to use that for the binding?
Move that needle position back to center! You're going to break that needle!
Check your tension! Loosen up! Go faster! Keep to an even pace! Relax! No pressure!
What "rules and regulations" do you ignore in your quilting? Please leave a comment to let me know what to put on the next quilt! Whatever it is, you know that wonderful, inspirational rabble-rouser, Jean Ray Laury, will be smiling down from heaven!
PS–The deadline for the Quilt Alliance's challenge in June 1, the size of your "Inspired By" must be 16″ square, and your piece should have 3 layers stitched together. Some rules you gotta follow–it's for a good cause!