I have a passion for little things in life. Dollhouses, tiny dolls, miniature villages and train displays, demitasse cups, bonsai, newborn babies—who isn't captivated by these wee charmers?
Those were the words that introduced my book,  Marvelous Miniatures, part of the Rodale's Successful Quilting Library Series. And years before that my first book ever came out: Great Little Quilts: 45 Antique and Doll-size Quilts with patterns and Directions (Harry N. Abrams). Another book I authored is Creations in Miniature: 101 Tiny Treasures to Stitch & Craft (published by Krause). See a little trend here?
Yup, I love quilting and crafting miniatures…especially when they are quick. As gifts, they can be very personal. And no risk: unlike a big quilt, they can be displayed anywhere at all.
Here are three gift minis that arose out of creative playtime. The first one is quite recent:
1. Mini Cactus Garden
This year's Christmas gift for dear friends who travel and therefore cannot water houseplants regularly and who adore their springer spaniel.
Materials:
Cactus pot from my local Lowes, tiny jalapeno peppers, black heavyweight thread, two old paintbrushes, iron vintage look dog figurine, engraved and plain polished stones.
How-To Tips:
Thread peppers onto black thread, making knots to keep them separated. Tie ends onto paintbrushes and insert into pot. Set figurine and stones in pot.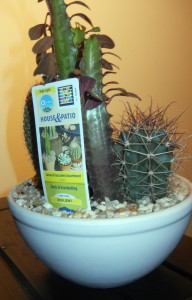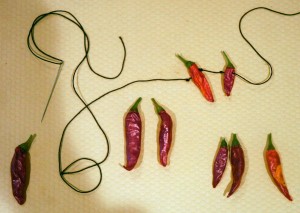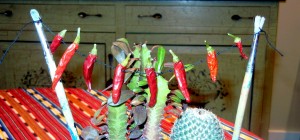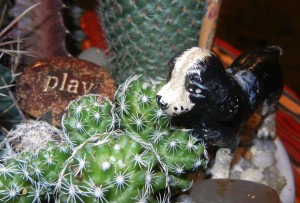 2. Alice-in-Wonderland Treasure Chest
For a wonderful, witty, and fabulous BFF, a Lewis Carroll fanatic and a high-powered NGO advocacy leader in Washington DC, who lives an adventure filled with comic characters, changing scenes, and strategic challenges.
Materials:
Small wood chest/jewelry box, photocopies of illustrations from Alice Through the Looking Glass, vintage-look tissue paper, decoupage medium, mini, 3-legged "table" to keep a box lid off a pizza, green leprechaun's hat from a St. Patrick's Day cupcake, a playing card, plastic miniatures–dresser with mirror, perfume bottles, Alice doll,  playing card, Happy Birthday confetti, bits of lace, ribbons, ribbon rose, watch works, stickers, glue dots and hot glue.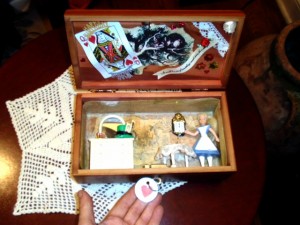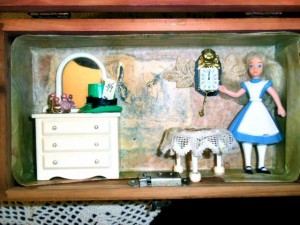 Note: That special Lewis Carroll quote I printed must surely resonate for my friend, and for all of us:
"It would be so nice if something made sense for a change…"
How-To Tips:
Different adhesives performed different jobs in this assemblage. Brushing decoupage medium under and over photocopied illustrations–torn or cut–and tissue paper, I decorated the insides of the lid and box. Using tweezers to keep fingers from getting burned, I hot-glued the heavier playing card, plastic figurine and other assorted items in place. Glue dots came in handy for the tiniest items, and stickers stuck as expected.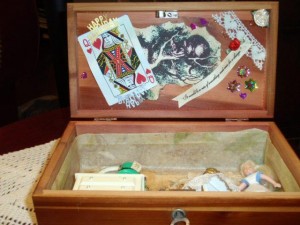 3. Box in a Box in a Box
This gift was inspired by a niece who'd just received her PhD in archaeology. After wrapping a piece of jewelry by a local artist in a small box, I incorporated the gift box into a larger, personalized scene. Invited the hubby and son to add their congrats, then packed it off, well-padded, in a slightly larger box.
Materials:
A cigar box (chosen as my niece's name is part of the brand name), text pertinent to Marcie's dissertation, which concerned pottery in ancient Greece, typed and printed out on old, scroll-look paper, hand-made ceramic buttons, ribbons and twine, currency, an engraved stone, and a Playmobil figure with relevant accessories.
How-To Tips:
As described above with number 2, various adhesives did the necessary securing of objects. The little gift box, wrapped in the same text document as the background, was too camouflaged to be seen. That's why I had to direct attention to it, with a little OPEN ME post-it.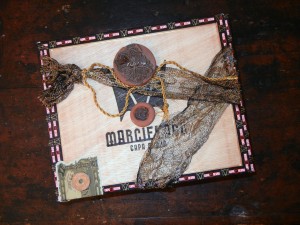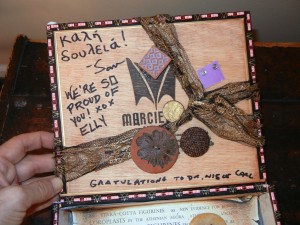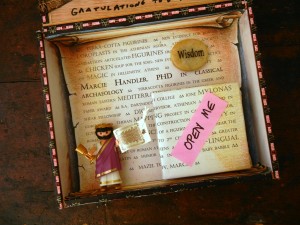 Last-Minute Friendly?  Not so much!
Stay on the lookout all year long for inexpensive little items that speak to a loved one's interests. Neighborhood tag sales and garage sales nearly always include minis, from Happy Meals to games with only some of the playing pieces. Buy polished rocks with a little saying at museum shops and gift stores.  Whether you send handmade gifts,–whether it's quilty or crafty, or just participate in the packaging and wrapping of gifts…it's an impressive show of love. Keep it fast and fun. And make it  personal. Such touches make these gifts that will be kept and cherished!
Please leave a comment before the year ends, telling me what you pursue in the miniature creative realm. I'll award a copy of my book, Creations in Miniature, to each of three lucky mini-lovers! Be sure to subscribe, and you'll get wind of new postings—approximately two per month.
Hope your holidays are hugely enjoyable, and may all your problems be miniature ones!