When I was growing up, aprons had a really bad rep.  They were the pitiful junior high school Home Ec project meant to be your maiden voyage into Sewing-Machine Land. I was fortunate to have a mother who sewed, and who had taught me the ropes back when I was in fourth grade.  I already knew how to insert zippers, make buttonholes, fit sleeves into armholes.  I had skirts, dresses, and jumpers to sew. I had no need for aprons.
From college on, I was a feminist set on making my mark, if not saving the world. Aprons symbolized "the little woman"–submission, domesticity, a denial of your strengths and talents.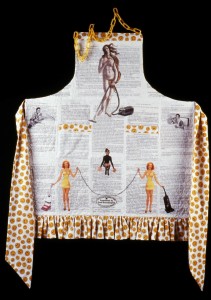 In the '90s, I certainly identified with Cynthia Myerberg's tongue-in-cheek Kitschen Help series. She used the apron shape with all its demeaning meaning. And photo-transfers from 1950s advertisements that brainwashed women into believing that domestic life could be so joyful, as long as you had the right appliances.  Plus chains as the occasional neck strap. Cynthia's aprons, which I originally saw at the juried exhibition Art Quilts At the Sedgewick (AQATS–now Art Quilt Elements–more on that show soon!), were the delicious attire of satire. [Check out more about the advent of art quilts in America in my book: American Quiltmaking: 1970-2000, available elsewhere on this site.]
But just when you thought we'd all string aprons up by their, well, apron strings, flash forward to the new milennium.  Vintage aprons suddenly have panache.  They're collected–I couldn't resist buying a few sweet ones at flea markets myself! They're oohed and aahed over at the quilt guild show 'n tell, worn when hosting coffee klutches with your quilting friends, hung as charming valances in retro kitchens.  Young women in Modern Quilt Guilds make them up in contemporary fabrics and wear them everywhere, layered like tunics or back-wrap dresses over tank tops and skinny pants. Very cute–if you're young.
Well, ladies, tonight I saw the humble apron rise on up in respectability–way past cute.  Launching the Fiber Philadelphia 2012 weekend events was my very own synagogue, Congregation Rodeph Shalom. There, we were treated to a spectacular one-person show, The New Sacred: Ritual Textiles by Rachel Kanter.  Rachel is a young, innovative fiber artist, yet she seems incredibly secure in her traditional family roles as grand-daughter, daughter, sister, wife, mom of 3 young children. But it's her Judaism that pervades her life and her art. Once she decided she wanted a tallit–prayer shawl–for herself, she set out to create a uniquely feminine one. On her website RachelKanter.com and in person, Rachel explains that her inspiration is the four cornered robes worn by priests in biblical times. However, in using vintage apron patterns from the 20th century for her designs, she finds "a means of connecting her story as a woman with her story as a Jew."
My favorite piece in the exhibit was this apron/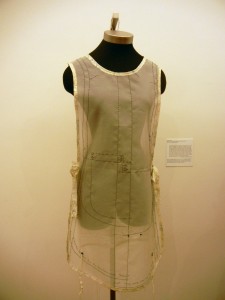 tallit with stitches outlining the demarkations on patterns for darts, shortening and lengthening the shape. Like all the ritual aprons, it has the knotted fringes common to every tallit, with a knot or twist for each of the 613 commandments in the Torah.
Called God's Aspect, it's made of sheer fabric, so that God's image may be glimpsed in the wearer herself. (Rachel's preaching to the choir on this one: for me, God is definitely female!)
Other aprons depicted the environs of Jewish female farmers. Huh? Who knew they existed in America today? Nice to see that environmental and ethical concerns color their lives, as they color these pieces. Especially nice that one of the farms is a wind farm!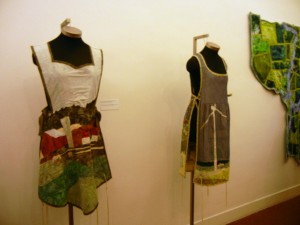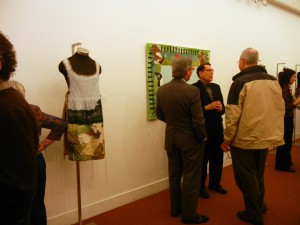 (See the  pole and blades of the wind mill on the natural linen apron.)
Rachel's art in this exhibit extended to wimpels and mikvehs, themes of binding together, of renewal, of family and community. I snapped the artist in front of one of her ritual tablecloths (below). She elevates the kitchen table to altar-status by appliques of cherished family objects, imbued with food, feasts, conversation, and memory.
She accomplishes the same thing with the lowly apron, don't you think? Still, you wouldn't wear these out in public, let alone to a worship service. Progressive Judaism relegates "Sunday Best" –or in our case, Sabbath Best–for the High Holidays.  Rachel herself admits that she doesn't wear these tallit-aprons, at home or in synagogue. She's successful as an artist, and her work is widely exhibited. Wouldn't do to get them stained. So these aprons will remain as ritual objects…the new sacred.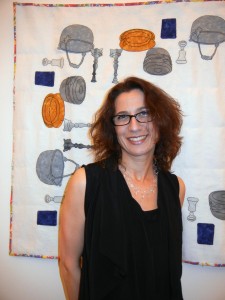 Rachel Kanter, in front of her Mikdash Me'At, a ritual tablecloth in the exhibit.