Yesterday, the hubster wanted to take a walk, and take in one of the last warm and gorgeous days of the year. Seeing how the gingko in front of our townhouse and the maple in back of it had just turned gorgeously golden, I ran to get my camera. Soon, I had a bad case of Yellow Fever: I couldn't stop snapping wherever lemon, butterscotch, or canary turned up.  And Hubby was soon beating me to the Hello Yellow moments, pointing out the best shots, whether mellow yellow or mighty yellow.
Not all the yellow was flora, mind you. Still, the color endowed any item–no matter how mundane or humble–with zing.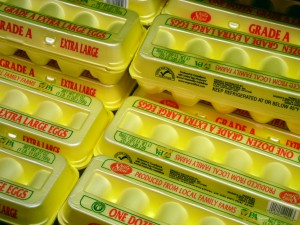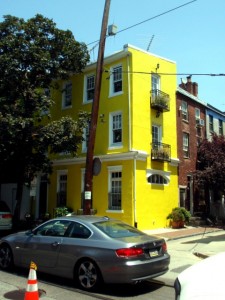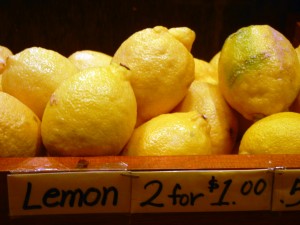 Didja get a load of that BRIGHT yellow house in my 'hood? (How could you miss it?!) And at the risk of inviting more yellow puns or yolks, er, jokes, folks, it's time to apply the Glad packaging of yellow to quilts. Here's what that fab colorist, Kaffe Fassett does with yellow; this is Nona, from his book of a few years back, Passionate Patchwork: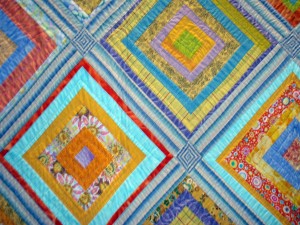 And here's Bouquet, by the wonderful, always thought-provoking folk artist, Ginny Smith: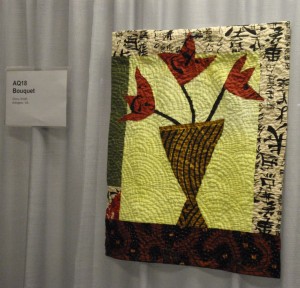 The late, great, Jean Ray Laury knew a thing or two about yellow, as shown in this quilt she made of her commercial fabrics: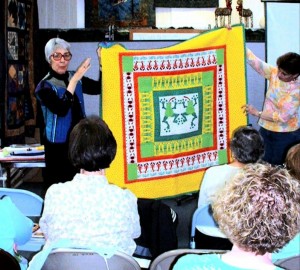 Here's a sensational bit of whimsy from Jack M. Walsh III's collection, as seen at the Morris Museum a few years back. Doesn't the background color (ad)dress the happy dilemma faced by the artist's daughter in getting dressed every morning? I seem to recall that the embroidered text repeats, "Does this look good on me?"  I truly regret that #1, it's not in good focus, and #2, I don't remember who created it…Can someone help me fill in the appropriate credit? And maybe I can get a good image from the folk artist, one that does this piece justice.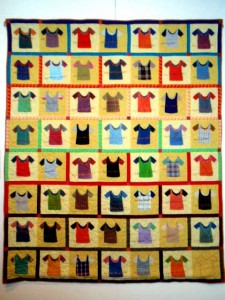 Let's sashay on down the yellow brick road to my work. BIG surprise, and humble, yellow-bellied confession: I don't look good in yellow, and even standing near it makes me look jaundiced. Sooooo, I have actually used yellow startlingly little in my quilts and my wearables! But since black and white makes ANY color rock, I did make a big yellow taxi tote: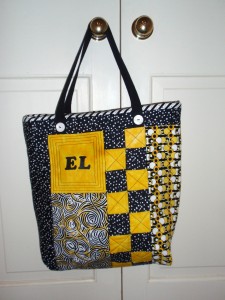 Here's where you can find the free directions. 
Or, take inspiration from any of the projects in my book, Unforgettable Tote Bags: 20 Designs too cool to leave in the car.
Or, bring me to your guild or local quilt shop to teach the workshop, Unforgettable Tote Bags. (You don't have to use yellow.)
By now, I bet you've figured out the secret to using yellow. Even a little adds a dash of fun, joy, hope, cheer, sunshine. Pair it with its complement, purple (or lavender) to make it sing. Rev it up with red; cool it down with aqua. Go natural with shades of cream, or ramp up the star power with metallic gold and copper.
Here's a couple of pillows I made for gifts –to bring some shine and sunshine to a comfy spot.
Anyone who has seen Sunflowers knows Van Gogh's favorite color. Hey, skip the Van, Go Yellow! We all live in a Yellow Submarine, a Yellow Submarine, a Yellow Submarine…Now to dive into my next quilt project…and pick from among my photos to create an upbeat piece of quilted art. What's your vote?