Can't make it to the Dairy Barn in Athens, OH, where the incomparable juried venue for art quilts, Quilt National 2015, is on view. (dairybarn.org)  But got the catalog, and immediately fell in love with the quilt on the cover.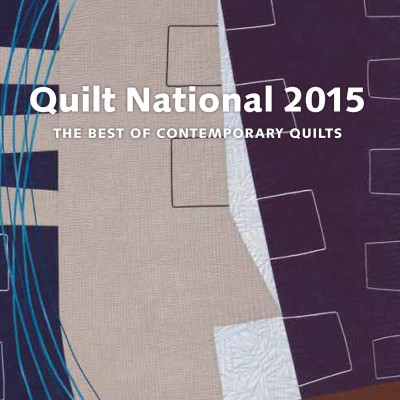 I've got extraordinarily good taste: the piece, shown below in its entirety,  justifiably won the Best in Show award.
As any quilt lover will tell you, an image is a far-distant second to seeing a piece in the cloth, aka up close and personal. So I was thrilled to take a road trip to the Black Rock Art Center in Germantown, MD (near Rockville and Gaithersburg), where I could see several pieces by Karen Schulz. This one commands the space:
Also from Karen's Schapes—er, Shapes series, are these somewhat smaller pieces:
Sorry if the spacing is crazy in this post–I'm struggling with technology here! Derry of Gloderworks will no doubt come to my rescue.
Getting back to the important spaces: Notice how vibrant color blocking in one work is followed with subtle, sophisticated hues in the next. No matter the color palette, the hand-dyed fabrics are warm and rich. The shapes are monumental, angular, powerful. Quilting patterns—whether thin lines or free-motion zigzags alternately on the horizontal and on the vertical, deliver  smart, modern textures that perfectly complement the shapes. And taking the minimalist work to another level entirely:  A counterpoint of comparatively delicate, sketchy lines–couched, embroidered, or quilted. A lyrical dance on a stage of massive columns and platforms. Or, as Karen describes her her process on her website, "I am drawn to the tension created by the simultaneous holding of opposites. Circles and squares, stasis and movement, light and dark, the flat plane and three dimensional space; each is needed to highlight the other."
Here's the third one of the series, all of which certainly beckon my attention:
Smaller pieces that rock my core:
The title of this last piece aligns with the fact that the artist is a clinical social worker who only recently gave up her private psychotherapy practice treating children, families and adults to devote full time to her art. Bend, as in, stay flexible, be willing to change and grow. Or, as in, that Eleanor Levie is really 'round the bend. Just kidding.  No really. Well, I am crazy about Karen Schulz's current body of work. If you are, too, mark my words:  Given recent awards, this art quilter's prices should surely be on the rise. Art collectors, this is the finest in contemporary art… in the medium of quilting. In my book, that means all the rich color of painting, and all the rich texture of sculpture, plus all the rich associative evocations conjured up by fabric, thread, and quilt history. Would one of these works by Karen Schulz look good in your home?
Yup, Karen Schulz is my new favorite artist. And that's before I saw her picture on her website, www.karen-schulz.com. Wait: I know this person! She was in a Sue Benner class with me at QSDS many years ago. She was warm, composed, quick to laugh, yet determined to apply what she learned to composition with expert crafts(w0)manship. And clearly, in the intervening time and with the same deep integrity, she has learned to bend shape and line into extraordinary, masterful compositions. I'm proud to know her, and to have this opportunity to rave about her art quilts!