about - photocrafting
quiltmaking
| photocrafting |
crafting & needlework
|
bibliography
|
resumé
|
personal stuff

Short Bio:

(feel free to use for bulletins and class listings)


Eleanor Levie has been sharing her passion for needlework and crafts as an author, editor, and book producer for dozens of books and magazines since 1977. Recent family trips to Australia and Oaxaca, Mexico are commemorated in scrapbooks with loads of pictures and quilted covers.

As a PR consultant for Fujifilm since 2004, Eleanor Levie produces fun, family photo crafts. These quick and easy-to-make projects combine photo prints with innovative applications for celebrations, gifts, and home decorating. Many of the ideas are archived on the company website; search for photocrafts, and download free instructions for the ideas shown below, plus lots of other cool crafts.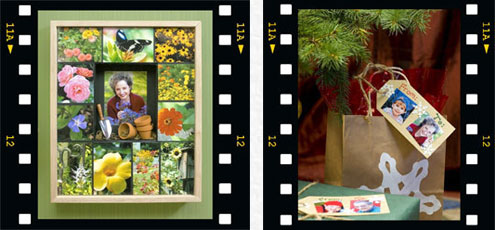 The shadowbox shown above on the left celebrates my love of flowers, but you crafters can highlight any personal passion with your own photos and a couple of miniatures. Consider cultivating a shadowbox for a special gift. Above right: Make the gift-giving unique, personal, and fun---especially for the holidays! Picture gift tags are easy enough for everyone in your family to create and "read," so that even your littlest Santa's Helpers will be eager to pass out the holiday gifts. Photos by Donna H. Chiarelli Studio.