My mother taught me to sew my own clothing when I was in 4th grade. (Thanks, Ma!) For the very first time in 55 years, the insides of a garment don't look quite so wrong. I bought a used Baby Lock serger a few years back, struggled with it, put it away, took a class on serging, put it away, and finally brought it out to use. My inspiration–er, task-master, was some gorgeous hand-blocked fabric from the now-out-of-business Textile Workshop, some smart, dotted linen purchased at a SAQA conference last year, and Pattern #11212 from the Cutting Line Designs, by Louise Cutting. Warning: Directions include tips and tricks for really fastid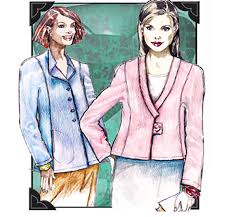 ious finishing. And for once, the Queen of the Quick & Dirty, aka yours truly, did due diligence, and serged all the raw edges, then topstitched them, first from the inside, then from the outside.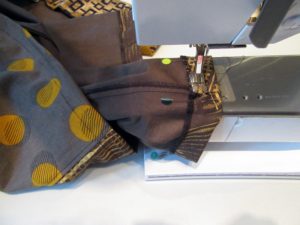 I mixed features from both View A (collar) and View B (longer length, pockets). I included a buttonhole tab, using bright African fabrics, but the jacket ended up bigger than I expected, so I ditched the tab in exchange for a belt. Until I grow into it, which seems highly likely.  Or even more likely, give it to a larger  person who can carry off the fullness. And then, I'll add that tab back in…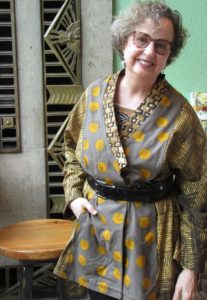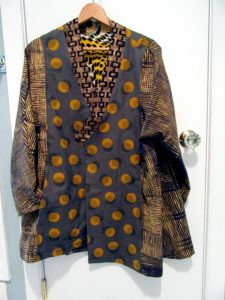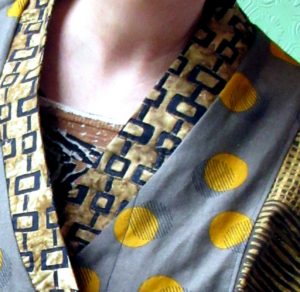 And oh yeah, because this blog is about quilting, check out the collar. A soft interfacing used for firmness provided the middle layer for free-motion-quilting, following the chain-link lines of the batik fabric.