Be still my heart, when one art form or expression is interpreted in a different form, and the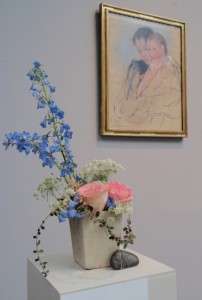 results bring honor to both:
*A religious prayer  as expressed in classic east Indian dance
*The myth of Pygmalion, where a sculptor falls for his creation, as expressed in the musical, My Fair Lady
*American blues, gospel, and work songs translated into the opera, Porgy and Bess
So you can imagine my rapture when the husband and I went to the Pennsylvania Academy of Fine Arts for PAFA in Bloom. Floral designers were challenged to do an homage to a work of art, and the result was exhibited beside it.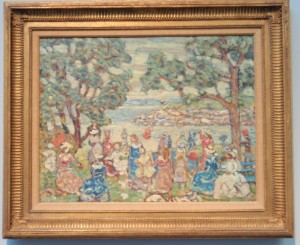 I could go on and on!
There were more than 40 such pairings, with wide ranges of interpretation, from the literal–like the ship of orchids paired with a tall ships scene, to the metaphorical, like a Peaceable Kingdom interpreted with a variety of flowers, from the very raggy and wild to the tight and symmetrical.
Is this not exciting stuff?!!
Similarly exciting is the wonderful online class I'm taking with the extraordinary quilt/folk artist Pamela Allen of Canada. The first lesson asked us to translate a celebrated painting. No, not in flowers, but as a fabric "sketch." Like many of my classmates, I chose a piece from that exuberant colorist, Henri Matisse. This one is called Anemones in a Chinese Vase, and it's from the Cone Collection at the Baltimore Museum of Art: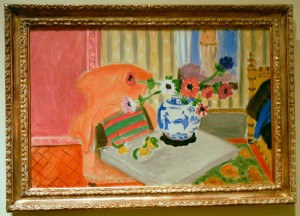 Here is my fabric sketch, tweaked in just the right way by Pamela: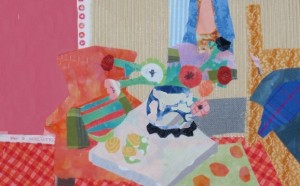 And here I've used the same fabrics to translate another lively scene–the wine and seder plate at our Passover celebration.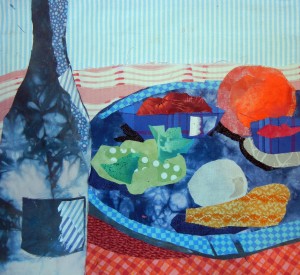 Hope this blog post has sparked your creativity, encouraging you to find a fine art masterpiece that inspires you to "paint" with flowers or fabric.