welcome!
Psst: Look for me on Quilting Arts TV this fall!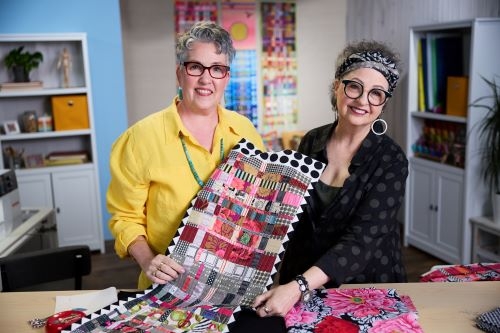 I shared my techniques for weaving and bottle-sleeve vases (see Free & Fun) with host Susan Brubaker Knapp. Another segment, making Skinny Quilts, will air in 2024. Check your local PBS station for scheduling information!
CALLING ALL QUILT GUILDS:
I'll come in person if you're within a 2 hour drive from Philly, PA AND if you book a workshop as well as a presentation.
Otherwise: I do 3 PRESENTATIONS ON ZOOM

which are LIVE, REALLY LIVELY, INSPIRING, & DOWNRIGHT FUN!
1--ROCK YOUR QUILTING! 12 ways to put your personal stamp on your work.
2--A MAGICAL HISTORY TOUR! American quiltmaking from 1970-2000. We've come a long way, Baby! See the iconic quilts of our lifetime, and hear the secrets behind them. If your guild is celebrating a big anniversary, you need this presentation!
3--NOT JUST FOR MOTHER'S DAY! Oy vey and mamma mia, it's historical and hysterical. And we nurturing types know, it's relevant for ANY DAY.

Check out a preview of my programs on Zoom:
My MOST POPULAR WORKSHOP is also available on Zoom:
Here's a taste of what this workshop is all about:

"Honestly, this was as good as any in-person workshop. The pace was perfect. The instructions and videos, excellent. The breakout rooms to get personal guidance, also excellent. Oh, and sharing the experience with my friends was very much a joy during these pandemic times." -- Dawn C., Four County Quilt Guild of Mt. Airy MD
"You are an excellent Zoom instructor! Thank you for your knowledge and professionalism. I absolutely loved your weaving class!" -- Jeanette S., Cumberland Valley Quilt Association, Franklin, TN
Guild Program Chairs,

contact me

and let's discuss how I can bring my warm, wacky, and inspirational programs your way!
Piece & joy,