workshop
Hello, Baby!
Spell out a little one's name on a banner, OR individual lined pockets. Soon enough, this will be a great reading readiness toy!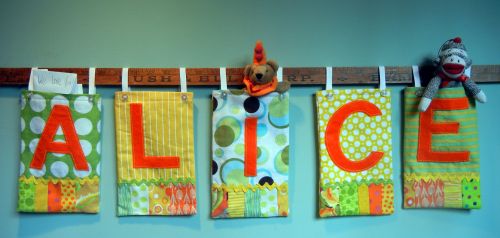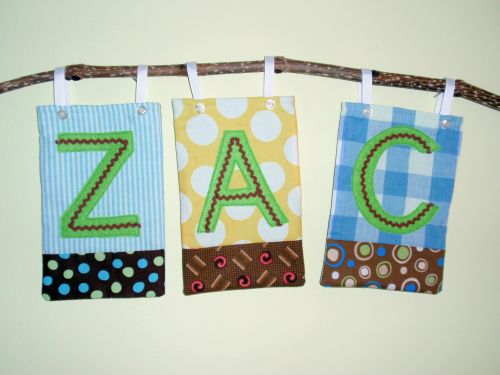 Each pocket, which you can fill with messages or gifts, measures about 5" x 8". String pockets together so the little one can re-arrange them. Choose a variety of prints to match baby or toddler's room, and add kick with rickrack.
Or, add simple appliques, such as flowers, birds, fish, or cars. Personally customized and brimming with fresh style: what could be more fun?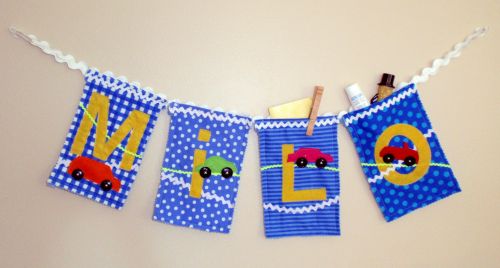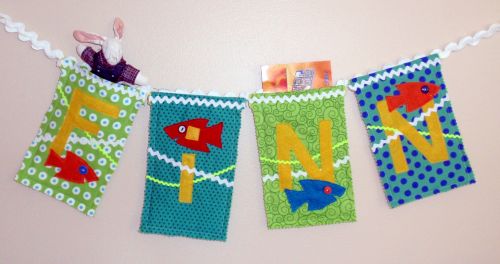 Oh, and if you like to piece, why not consider one colorful banner to spell the name? Or, turn your name into the centerpiece for a fabulous baby quilt?

During this workshop, I'll guide you in selecting a successful combination of colors and prints to accent your little darling's decor.
For a half-day workshop, no sewing machines necessary. Just bring small amounts of various colors and prints of fabrics, plus a 1/2 yard of flannel for the lining or backing. Oh, and good scissors, rotary-cutting supplies, pins.
I'll provide patterns for the letters, and an assortment of felt.
For a full-day workshop, bring those sewing machines, and let's complete this baby!