workshop
Nine-Patch Goes Wild!
"THIS IS ADDICTIVE!"--Phyllis, Milford Valley Quilters' Guild
Escape from the Quilt Police! Let loose with color!

This class is pure play-time. Put a spin on one of the oldest forms of patchwork. Start with just two fabric squares and quickly dash off two wonky and completely unique blocks, simultaneously! Play with color and pattern, then feature your blocks on whimsical potholders, a modern table runner, or a quilt of any size.
As a wild 'n wacky woman, I will guide you in this innovative technique, and show anyone who wants lots of ways to add complexity--stacking, slicing, crazy-piecing, string-quilting, adding wonky star points, snowball corners, secondary patterns, reverse appliqué, and more.
Above, Anne Sigler with her gorgeous, completed Nine-Patch Skinny Quilt. I challenge you to find her among the photos below in the process of creating this stunner!
You'll love the process, sharpen your skills for design and speed-piecing, and leave with wildly exciting quilt blocks for a project you can't wait to finish!
As shown in my book, Quilt Blocks Go Wild!, two squares of fabric quickly turn into two Nine-Patch blocks gone to pot (aka potholders).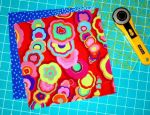 Below, little runners each contain two pairs of wild Nine-Patch blocks, with the mate to the center block sliced in half. Spacer bars and halves joined at the ends make these modern, dynamic, and easy-peasy!

Supply List--Below, and here's a link to the pdf you can print and hand out.
Pssst: If you know how to machine-sew a straight line, you are eligible for this class.
If you are a seasoned quilter, play hooky from tradition and enjoy a real out-of-the-box adventure.
Supply List of Materials and Tools (Worry not, we'll have extras of everything!)
• 4 to 8 fabrics that contrast strongly with each other in color and/or pattern -- at least 9½" square
• Rotary cutting supplies: 45mm rotary cutter; acrylic rulers: Ideally, a 9½" or 12½" square, and a rectangle at least 12" on a side; cutting mat, 12" x 18" or larger
• Sewing machine--straight stitch is all that's needed, so featherweights are fine; neutral thread to work with your fabrics, thread snips or small scissors; a few straight pins
• Optional: Iron
See how Celia of the Genesee Valley Quilt Club got a great start on a wall hanging to go above her bed... in no time flat!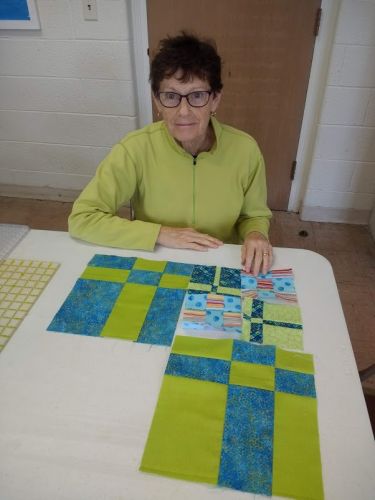 The First Dutchess Quilt Guild, in the Poughkeepsie, NY area, went wild with this technique!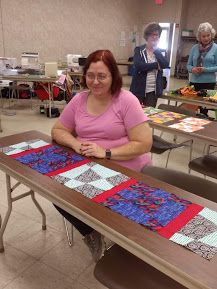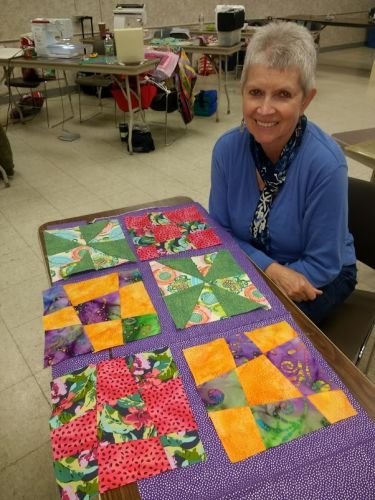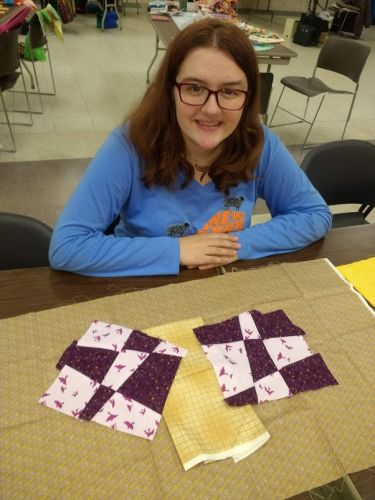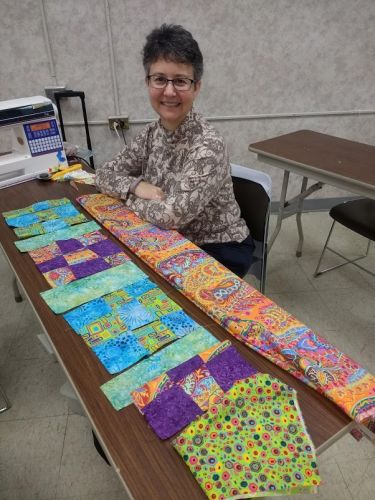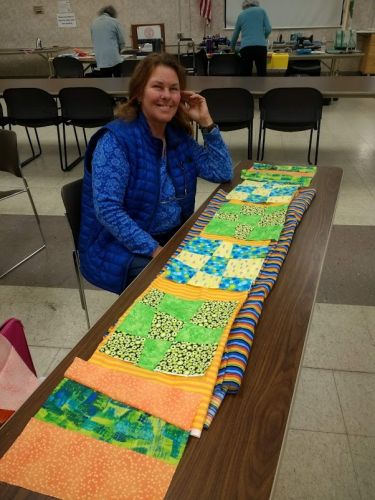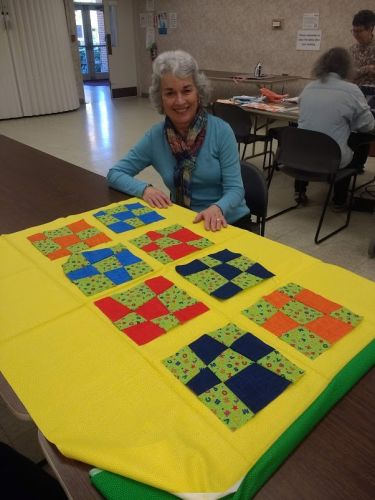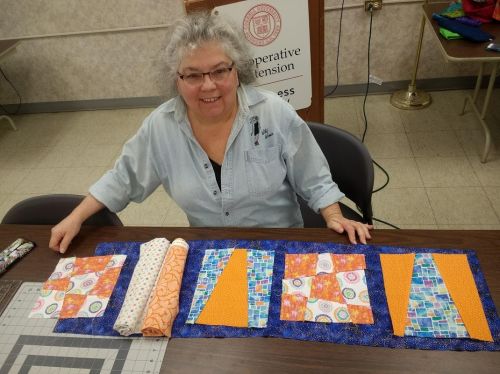 The Columbine, CO Quilters columbined fabrics with art and whimsy!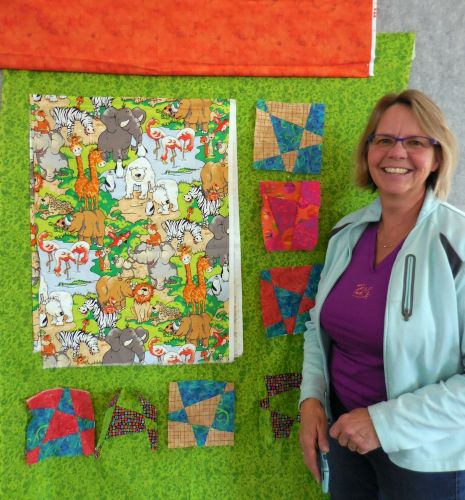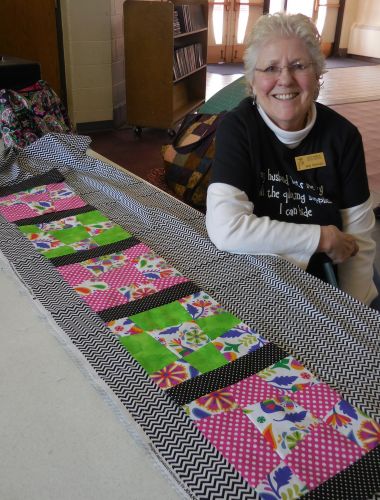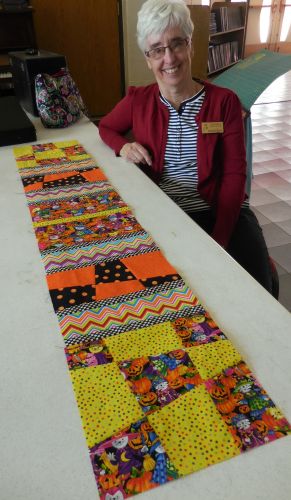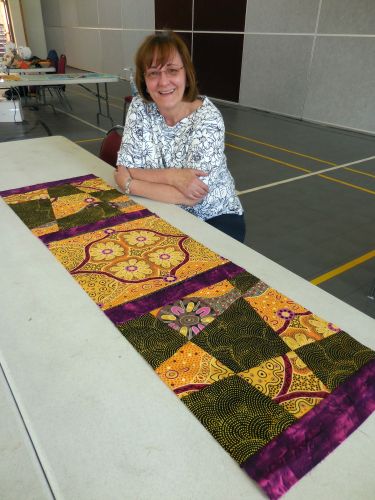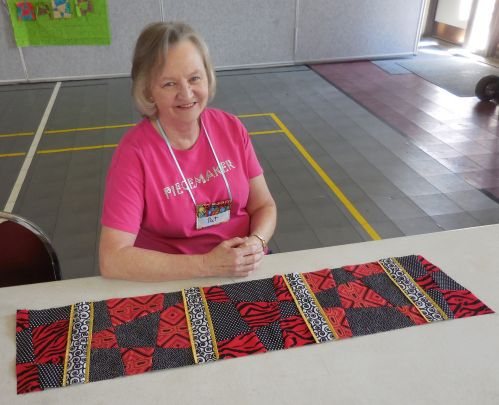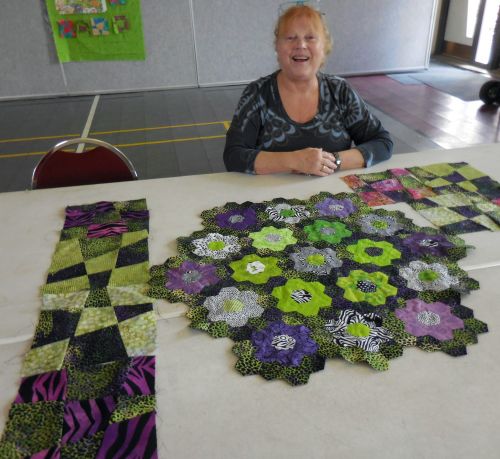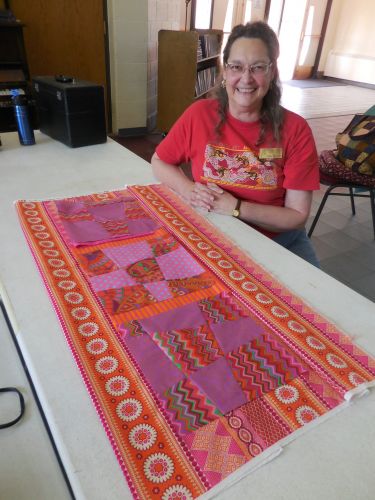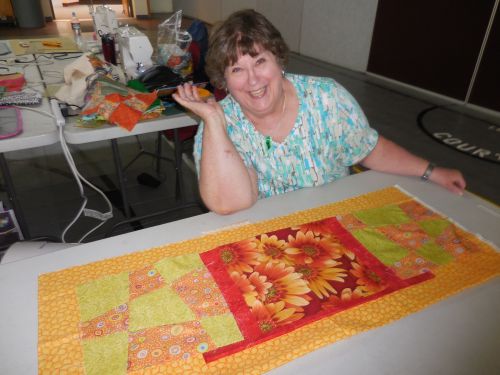 Which way should Dianne go with her wonky Nine-Patch possibilities? A fresh, modern look, or a color palette in sync with her decor??
The Berry Basket Quilters, of Medford, NJ, played with basket-fuls of great ideas!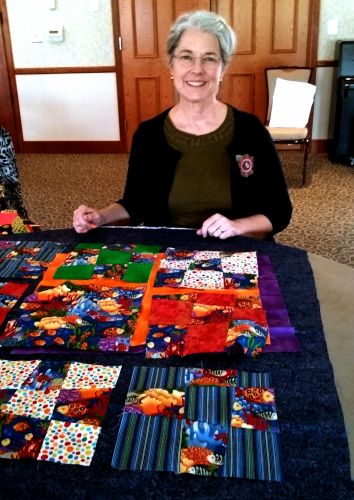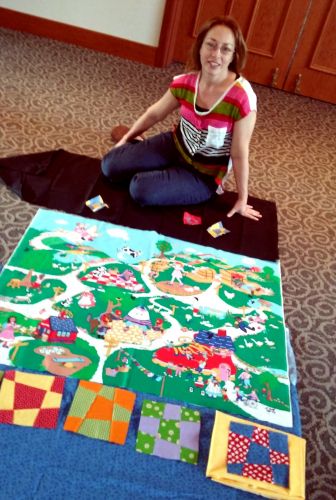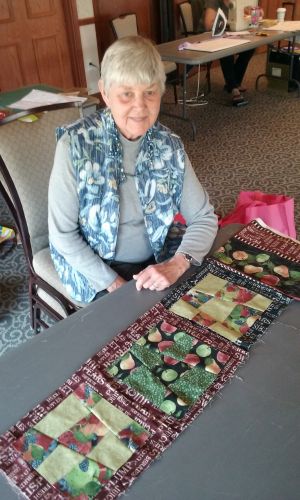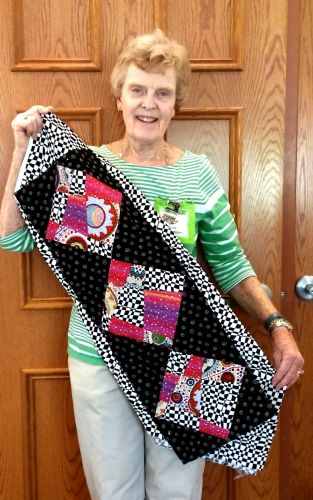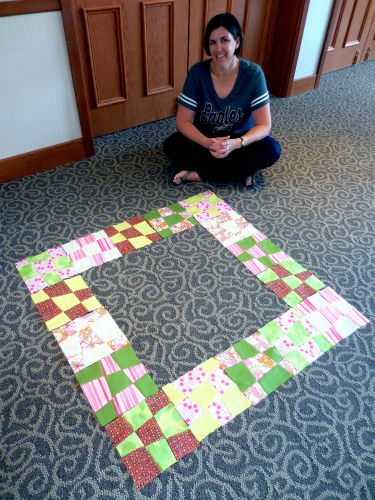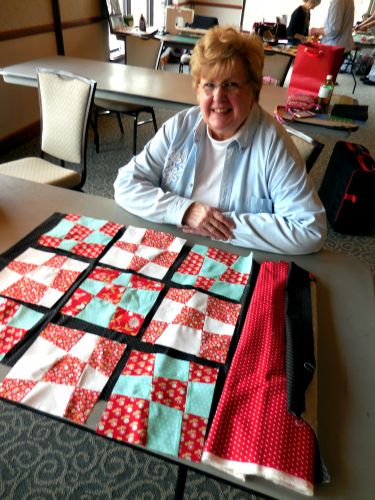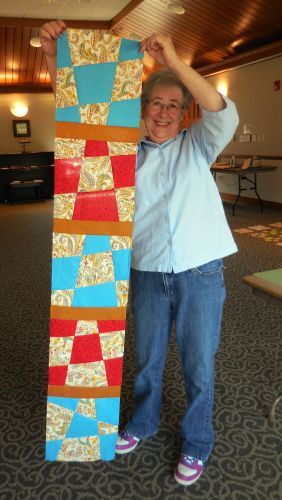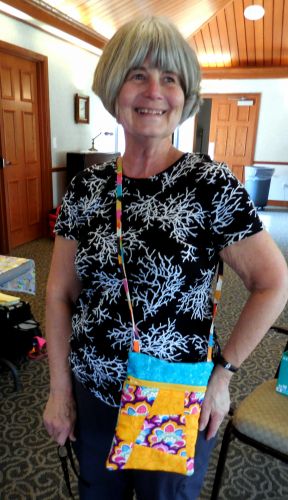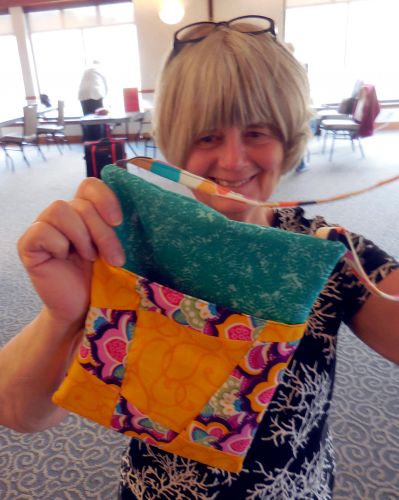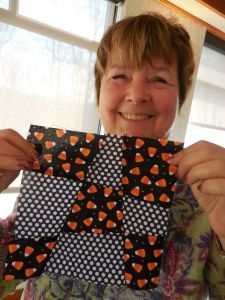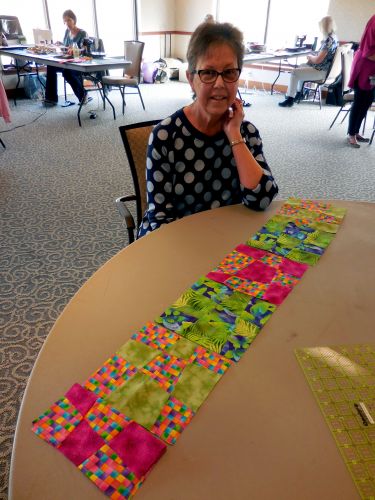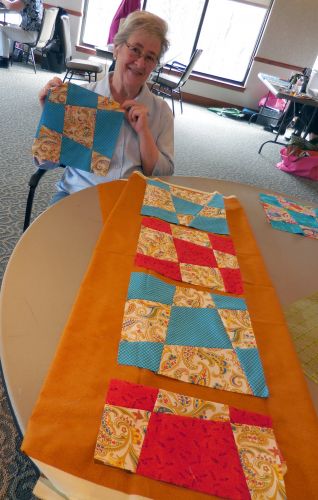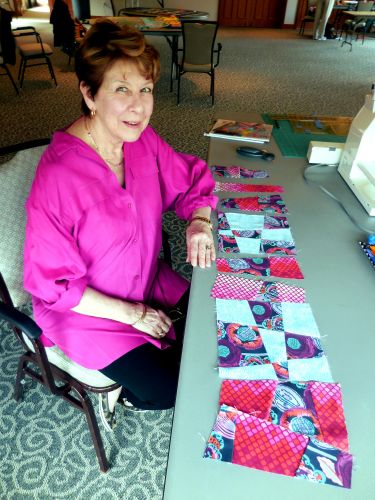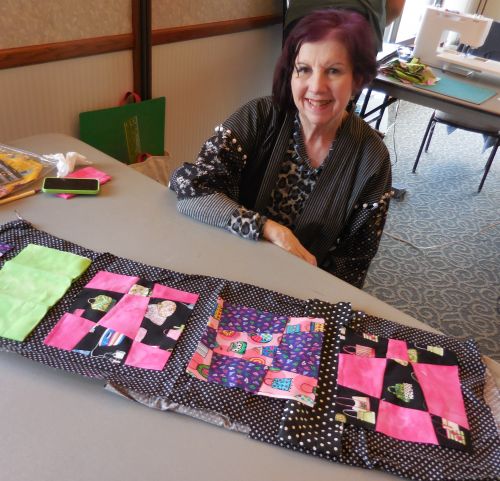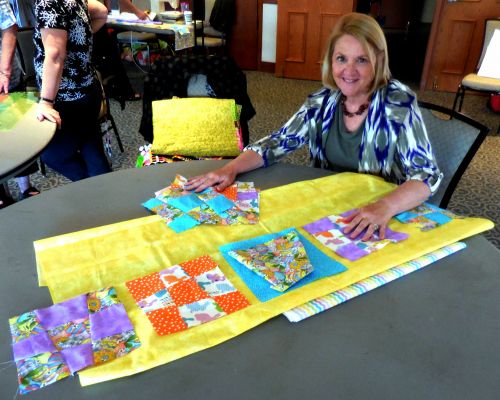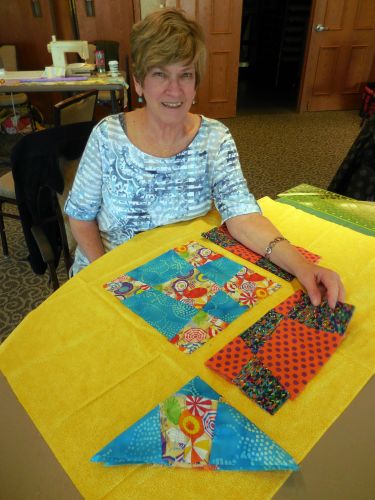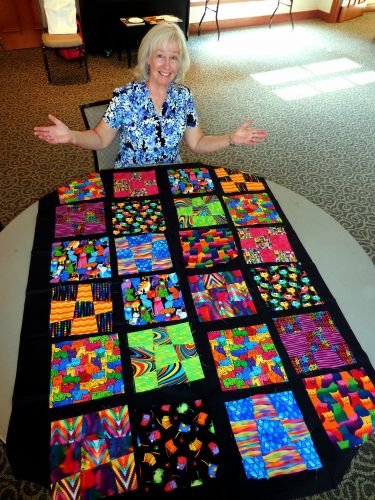 In Sarasota, FL, Say It with Stitches customers celebrated Valentine's Day with my "I [heart] a wonky Nine-Patch" workshop. Freebies included personalized, machine-embroidered heart pins, raffle prizes, coffee and candy, and cukes. (Somebody's neighbor had dropped off a crate of them.) Oh, and a chance to try out the latest, greatest Berninas!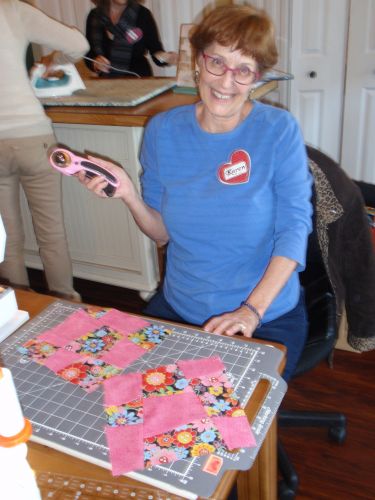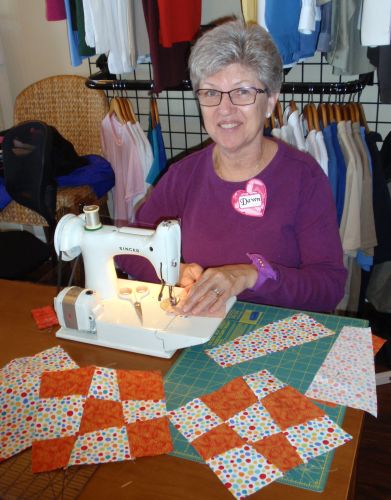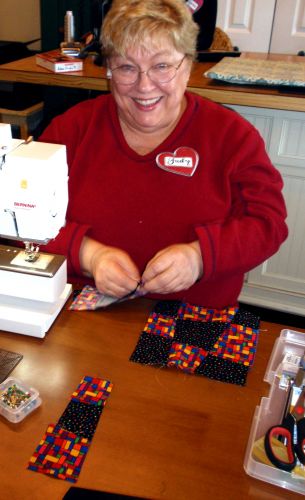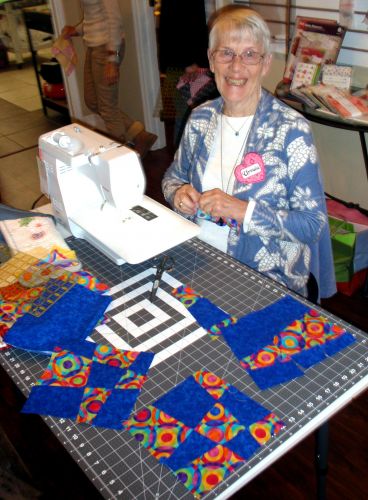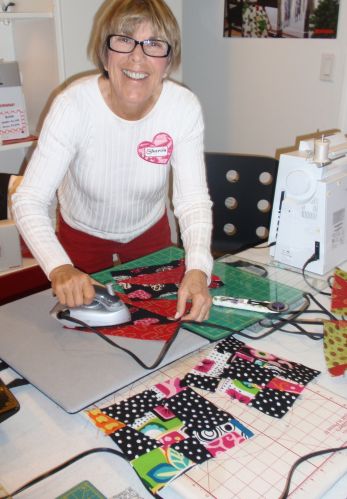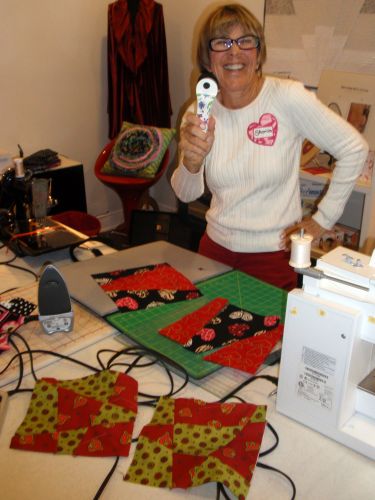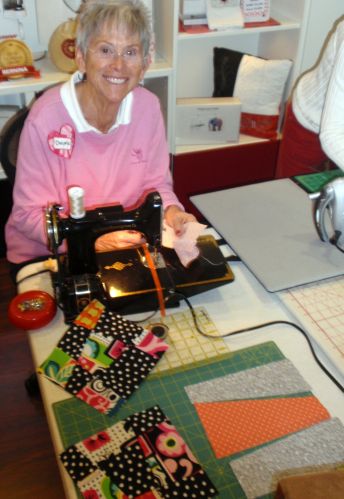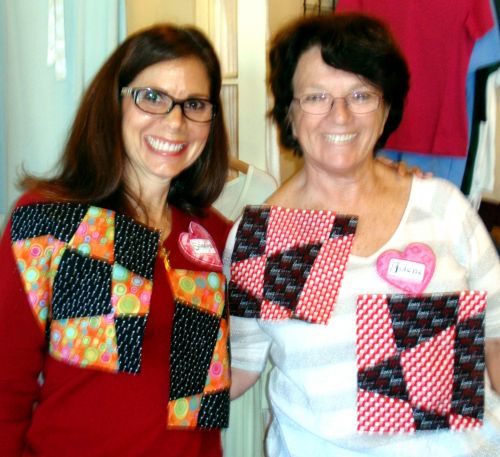 Look what the Quilt Guild Of The Villages did to put Verve into the Nine-Patch!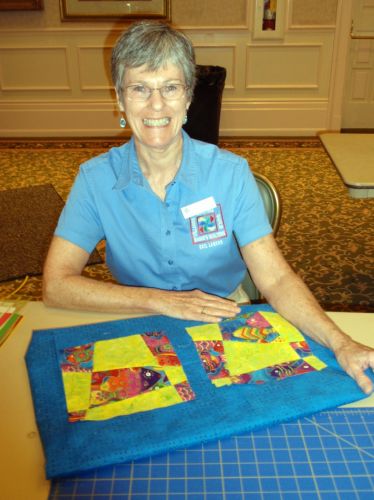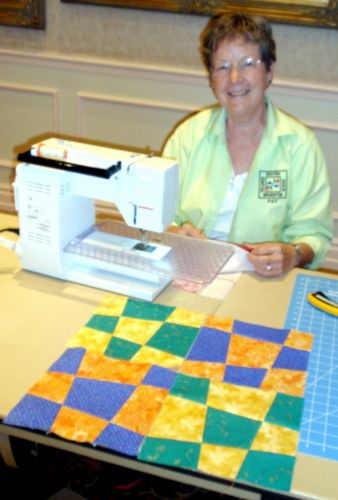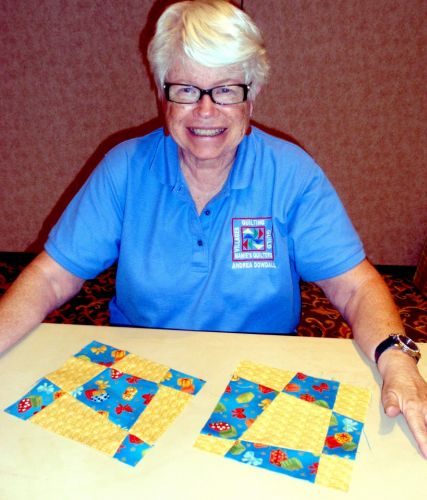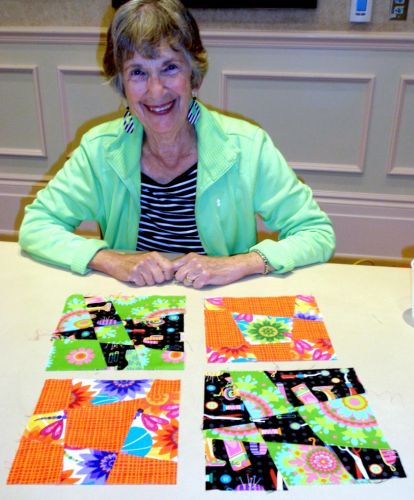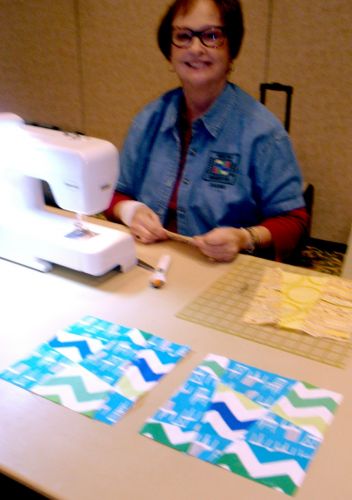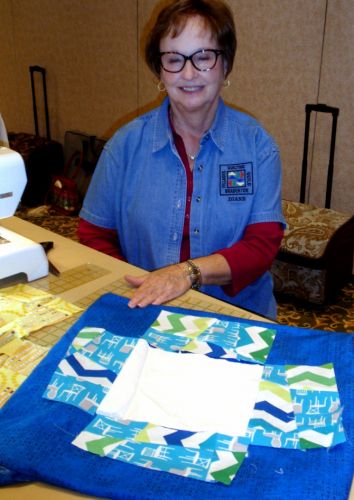 West Pasco Quilters' Guild (New Port Richie, FL) wowed me with their wild and wonky Nine-Patches: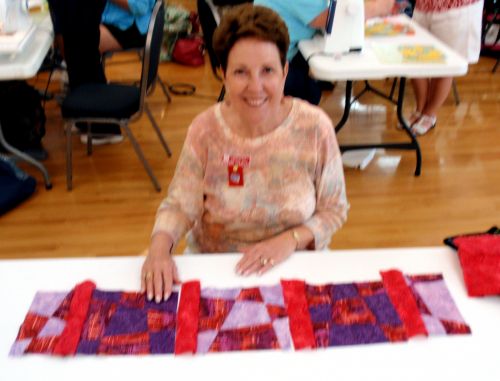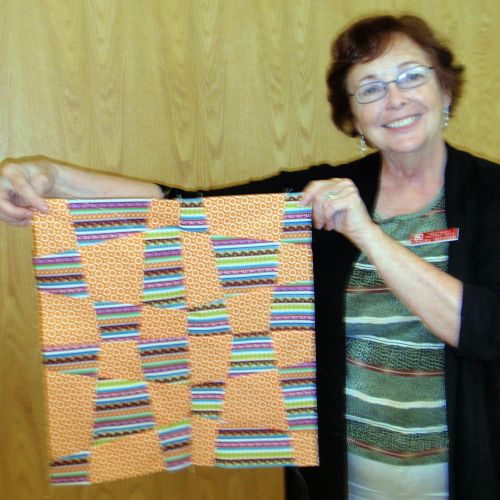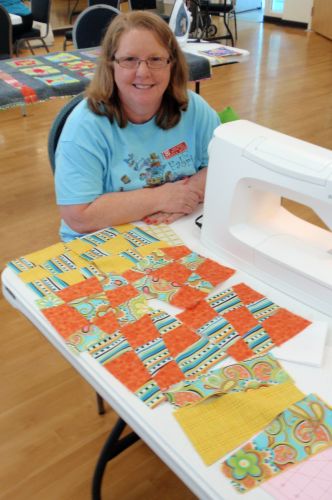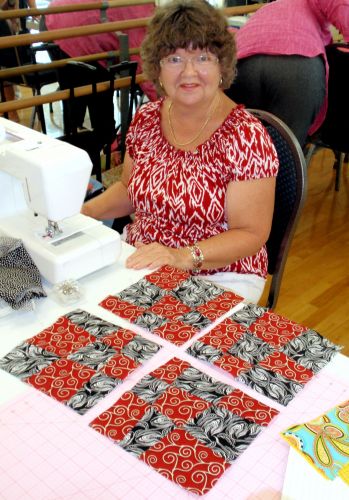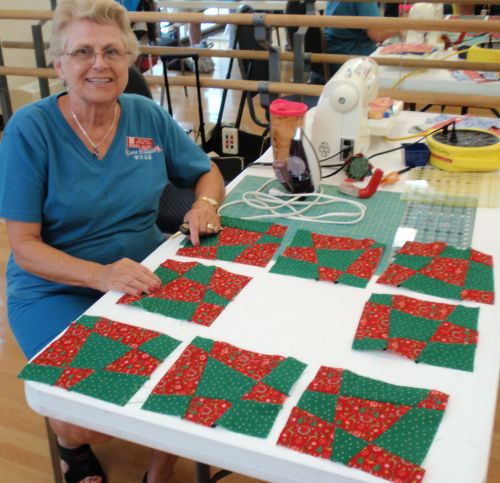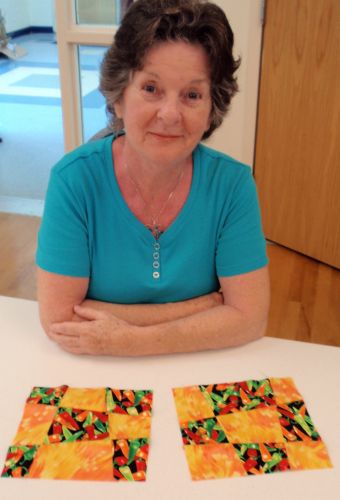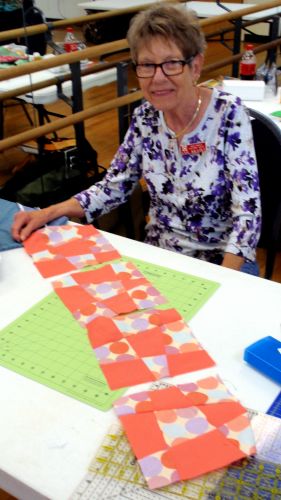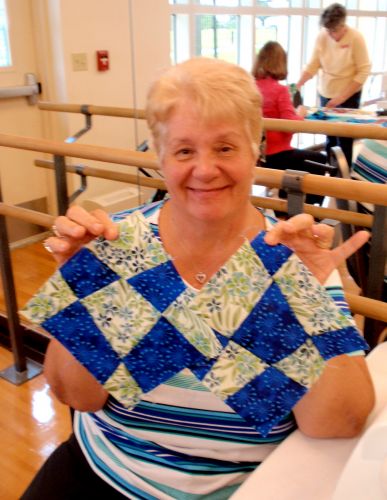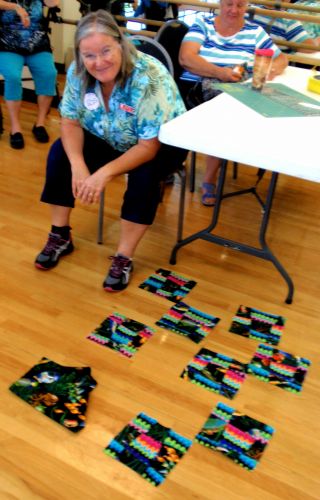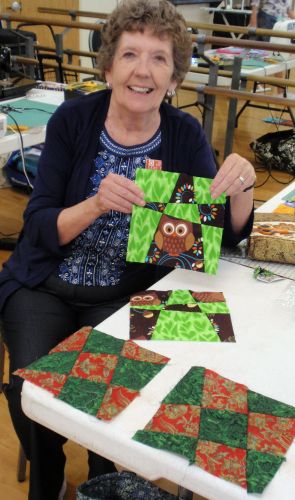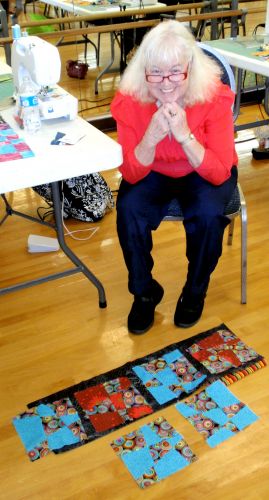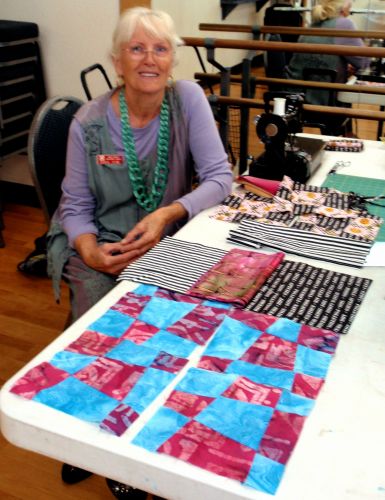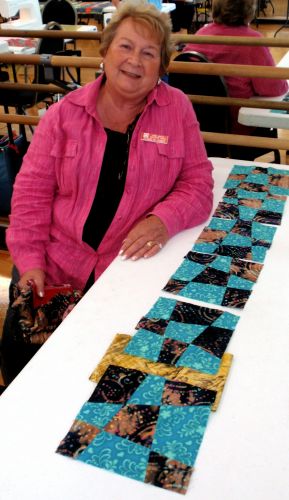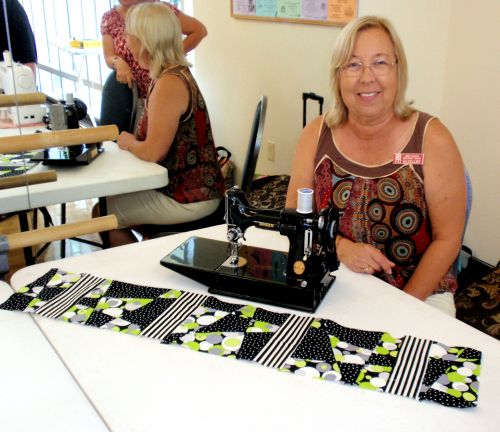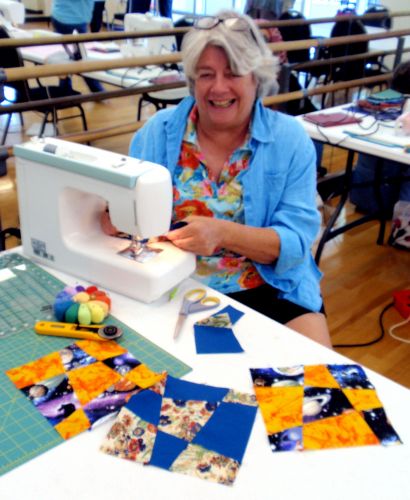 Cape Coral (Florida) Quilters captured the wild spirit!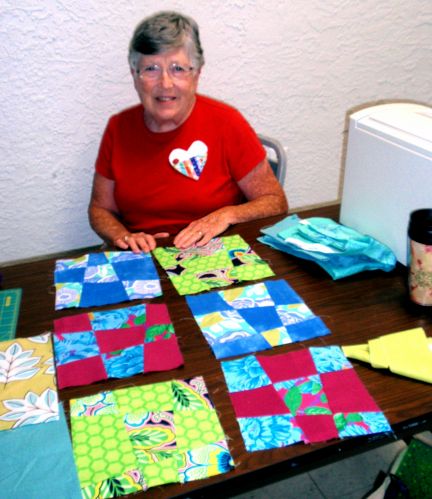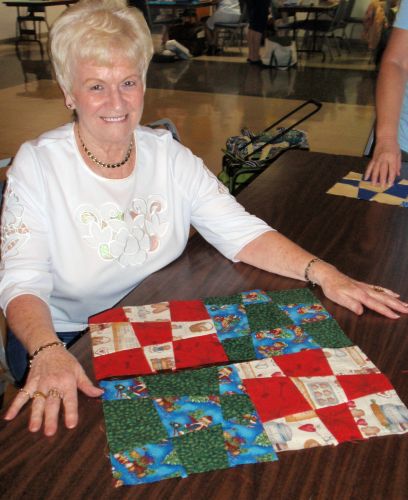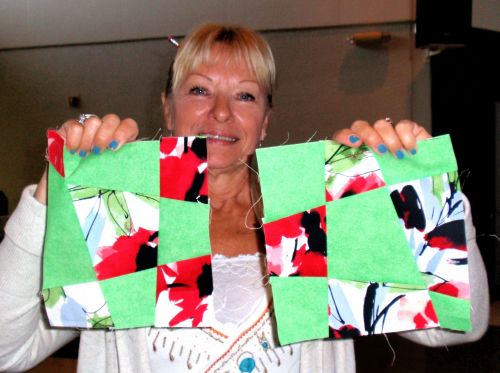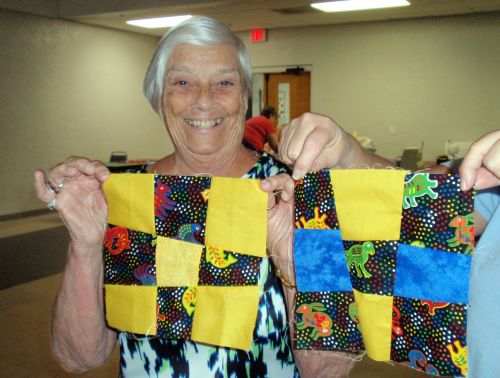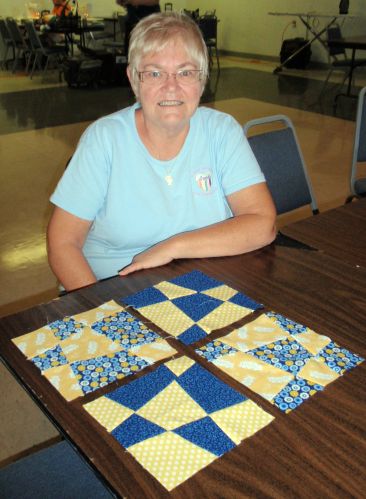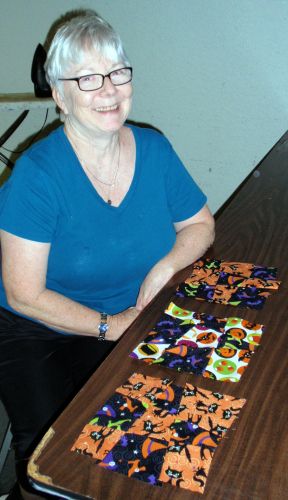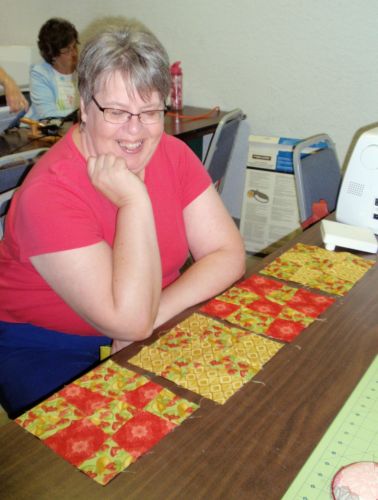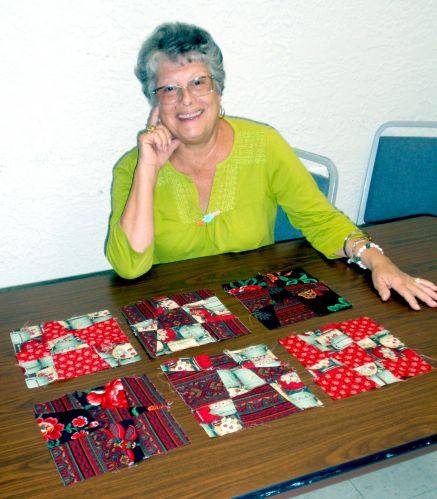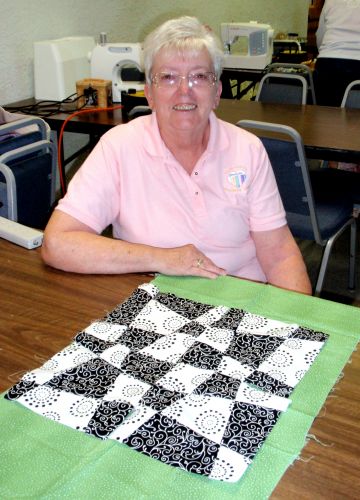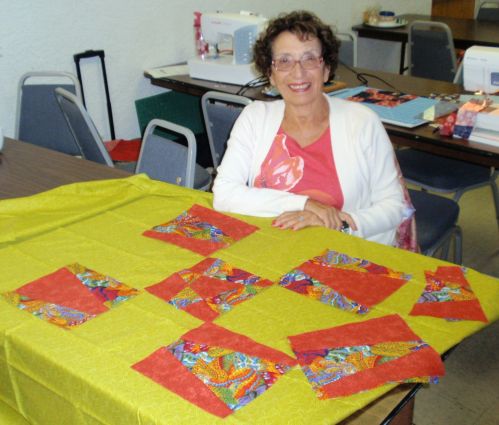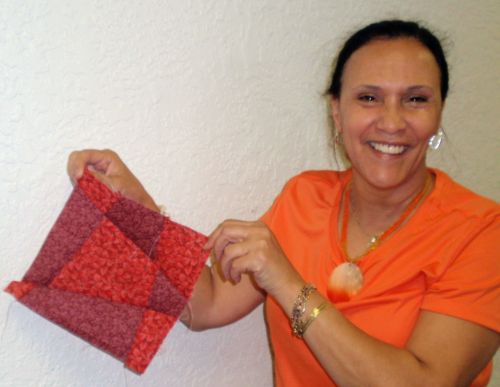 Quilting on the Line (Fawn Grove, PA), used line and color and balance and rhythm to make their Nine-Patches do line-dances!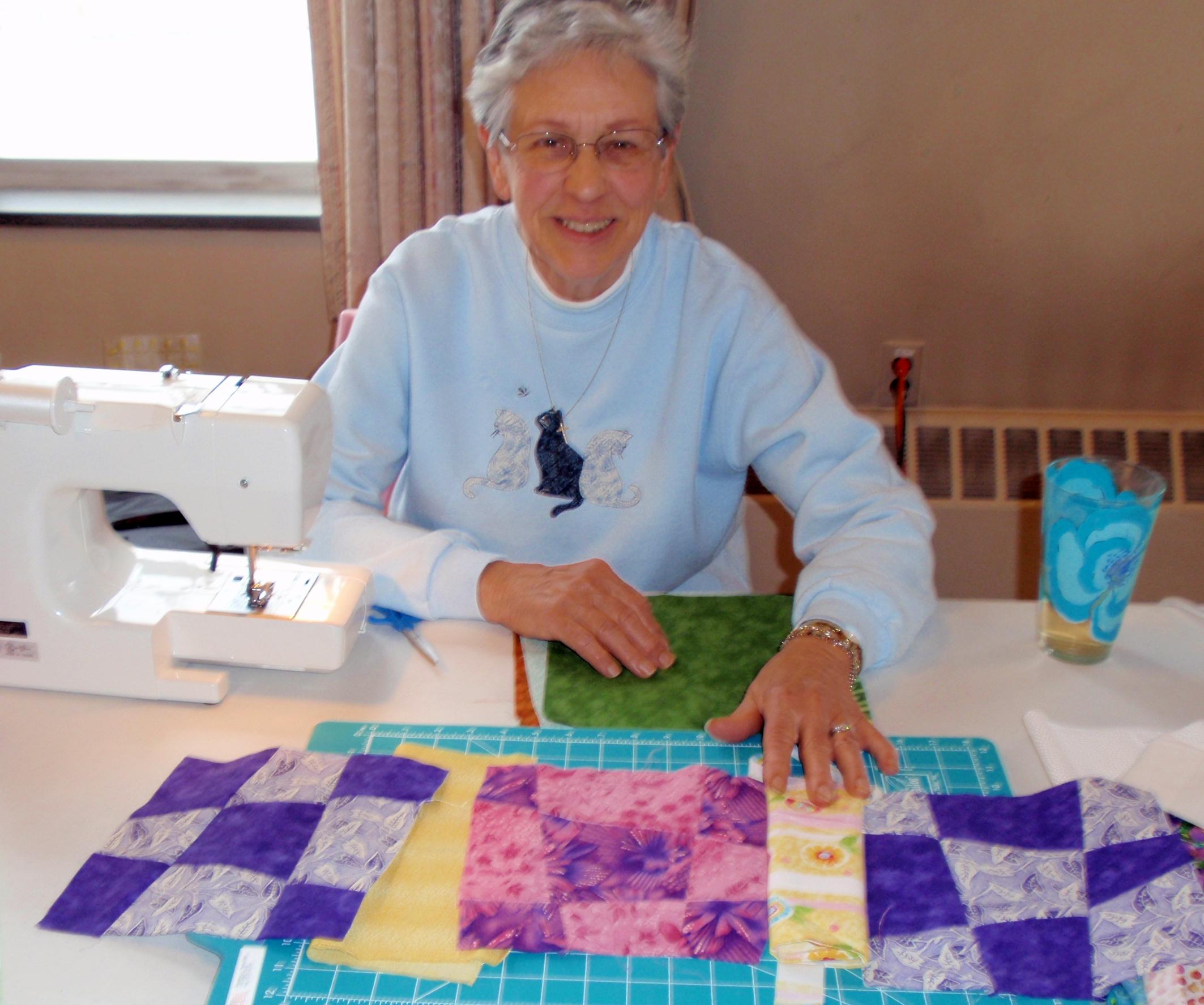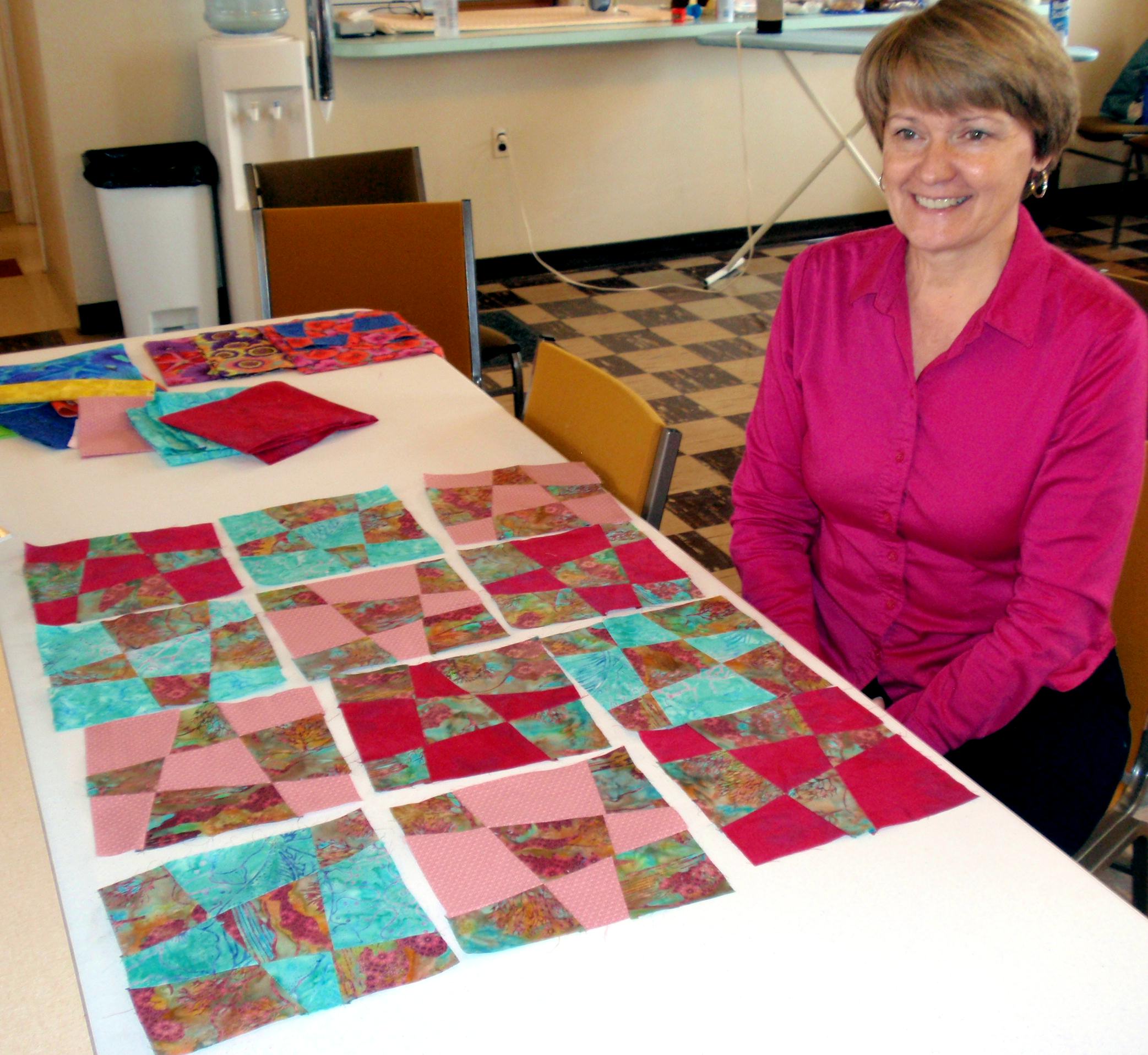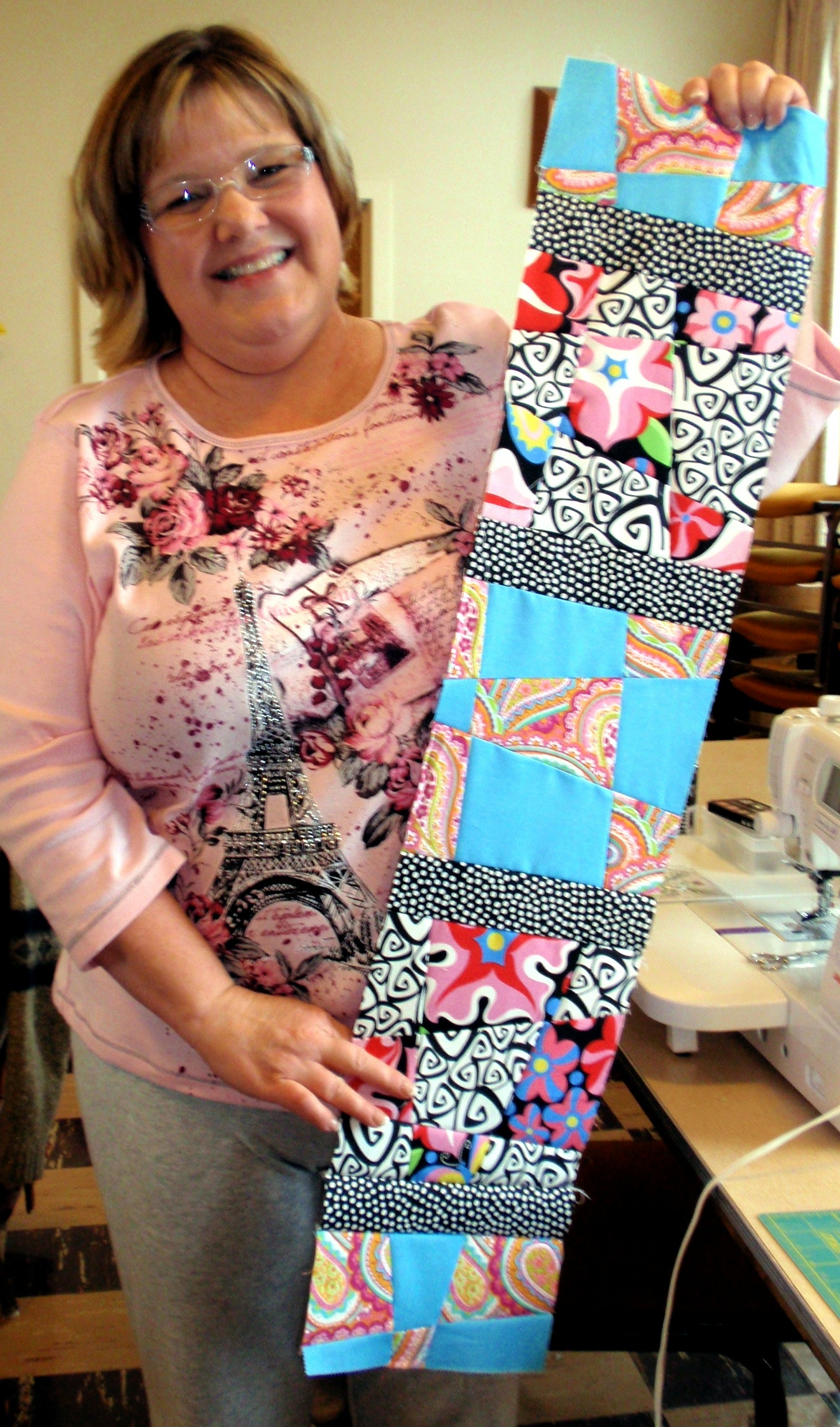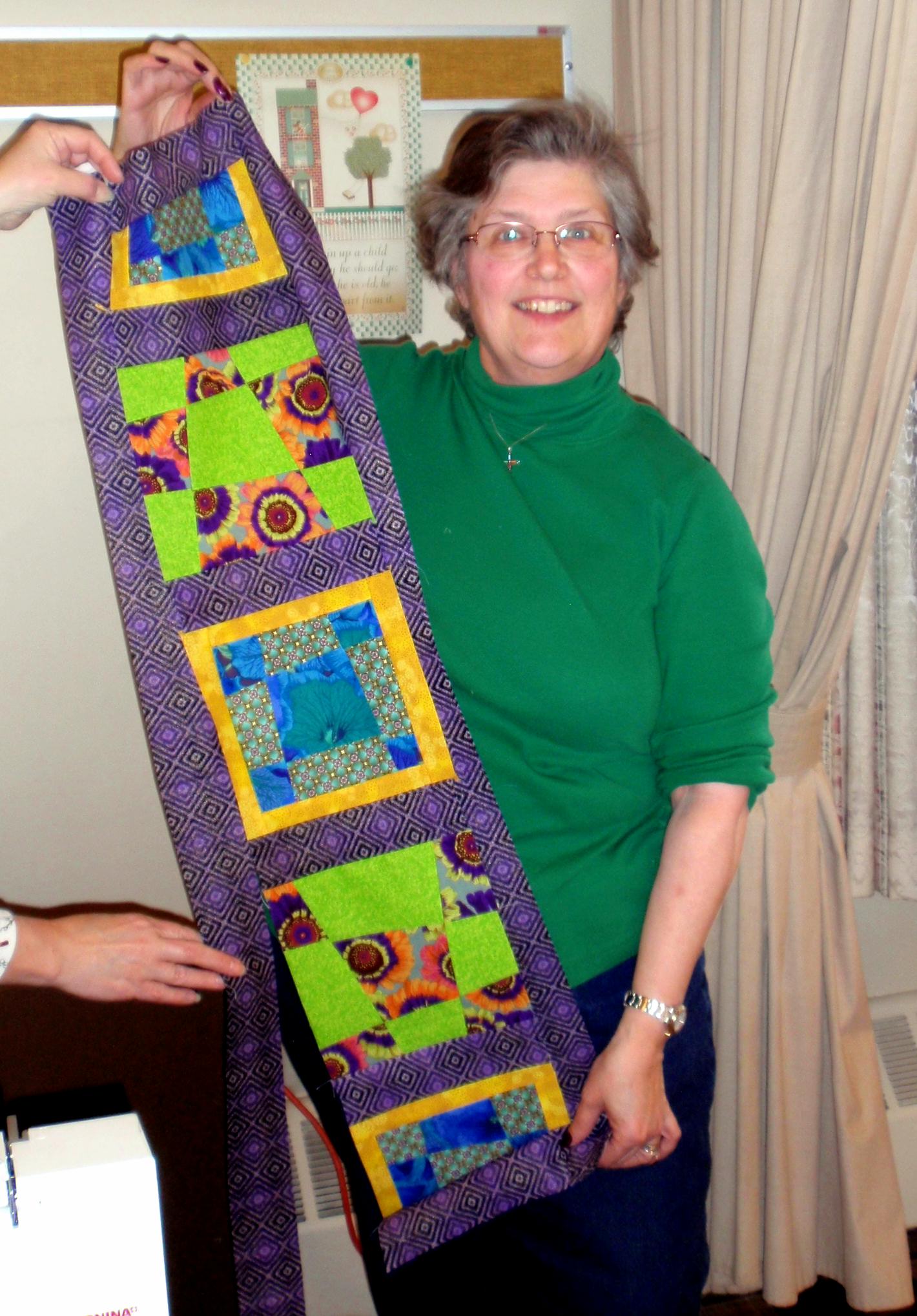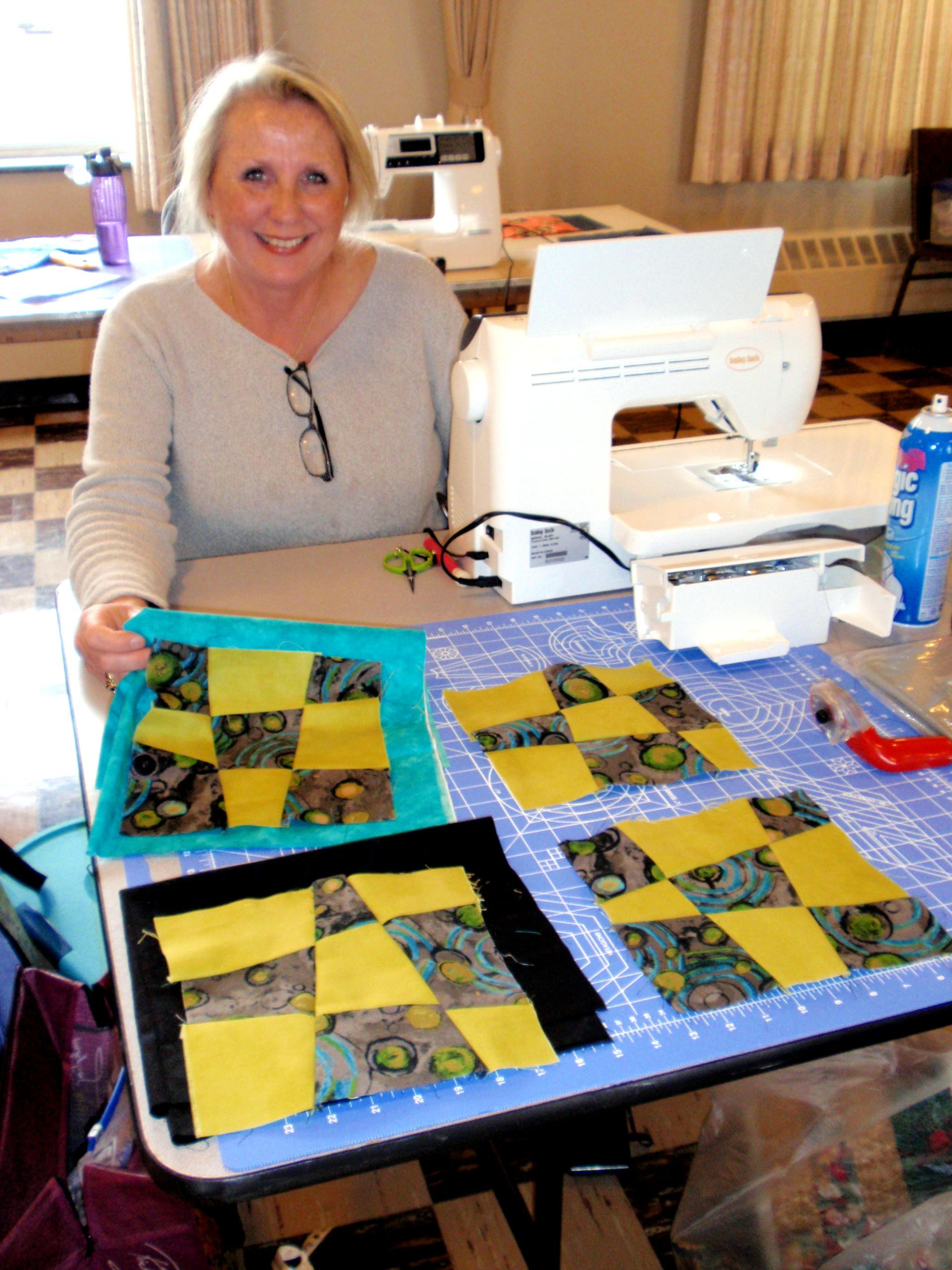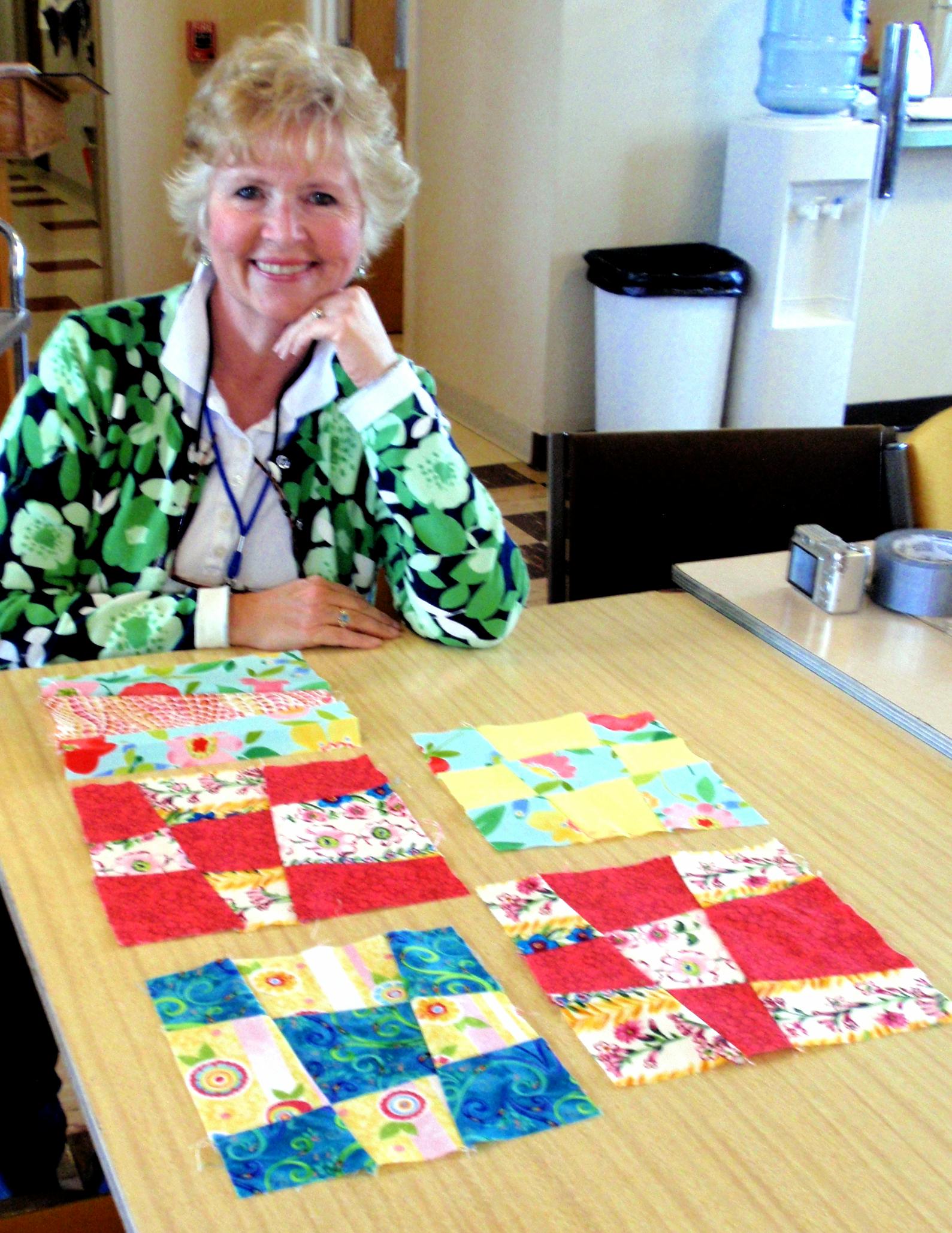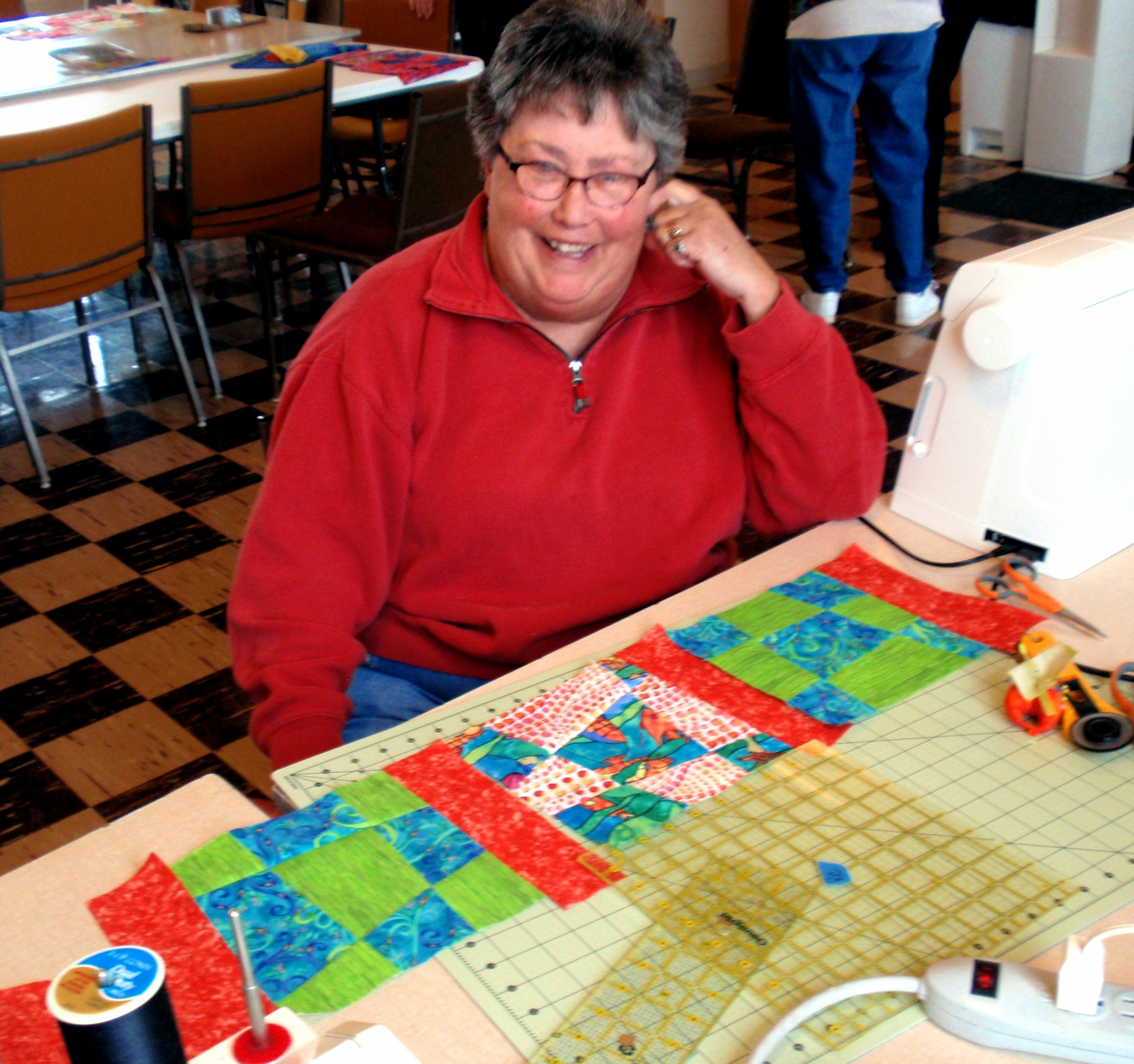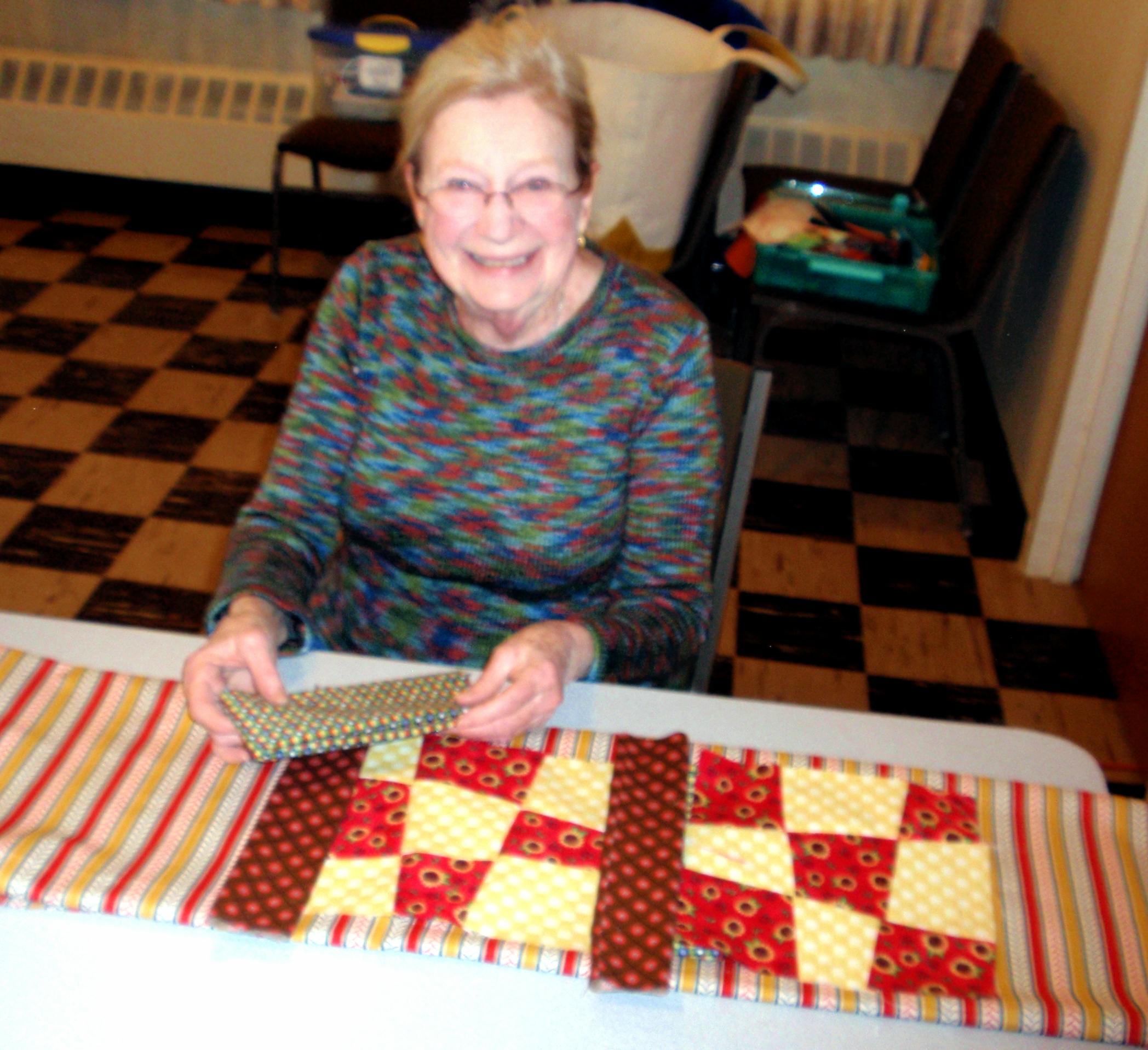 Bayside Quilters on Maryland's Eastern Shore sure went wild!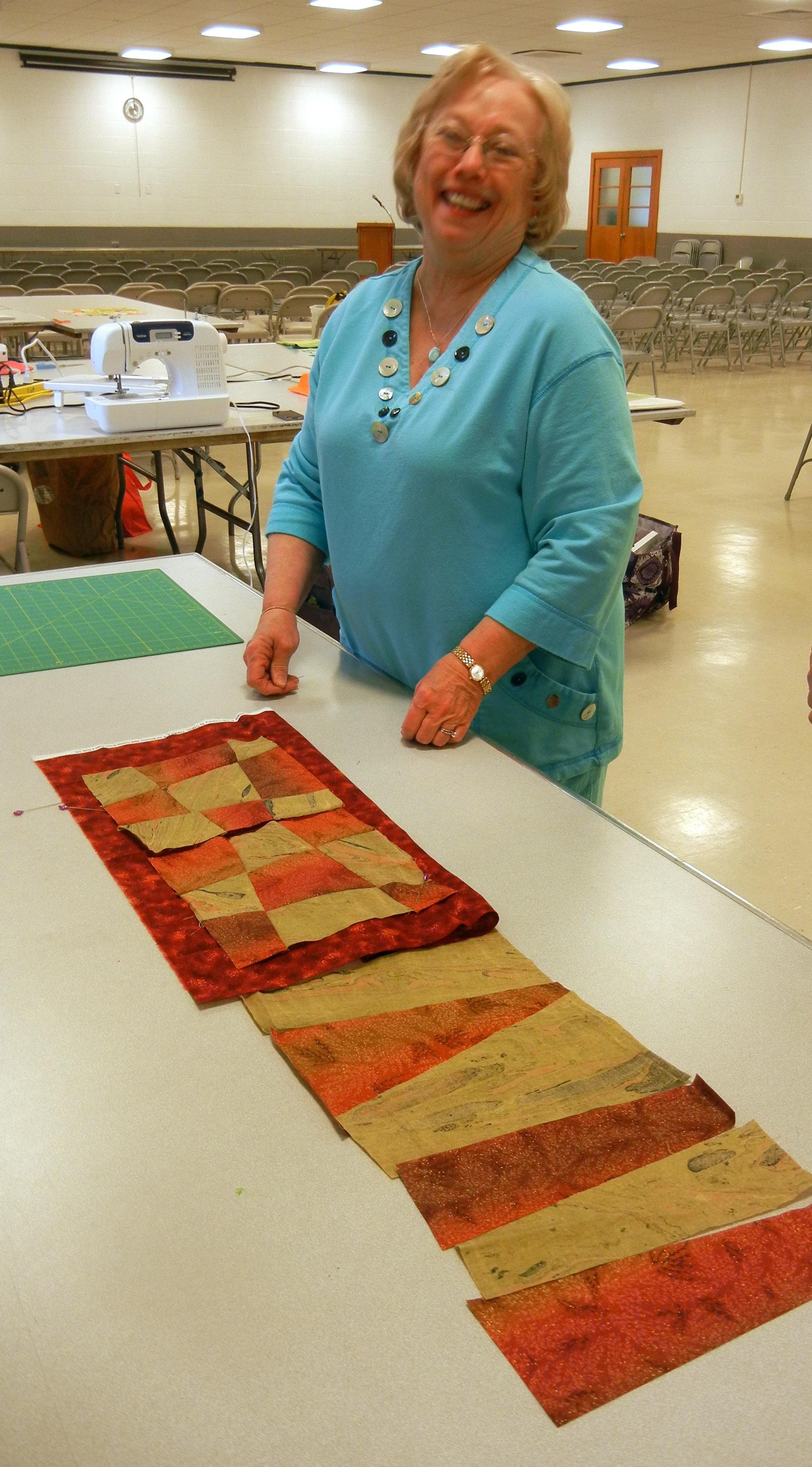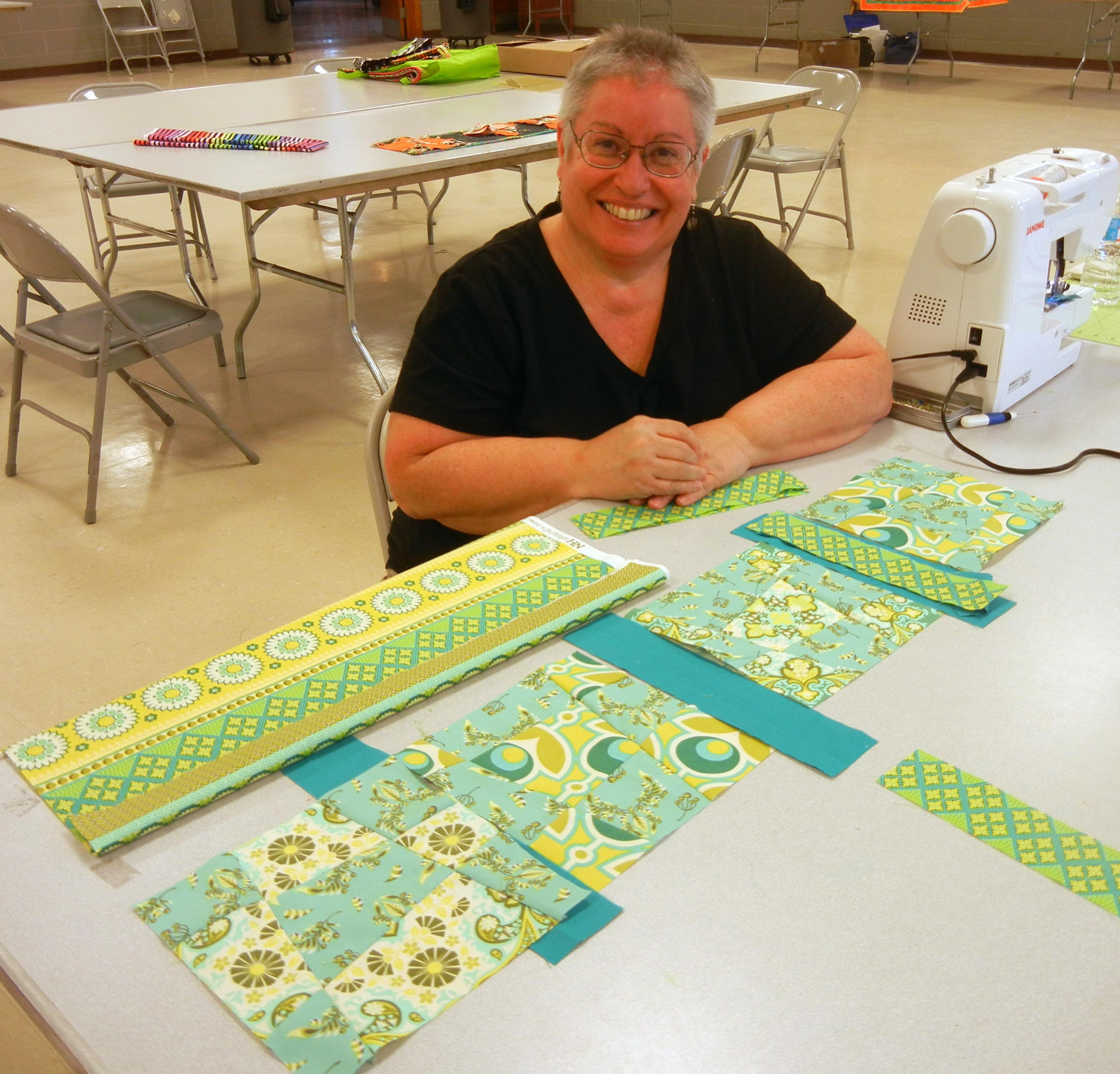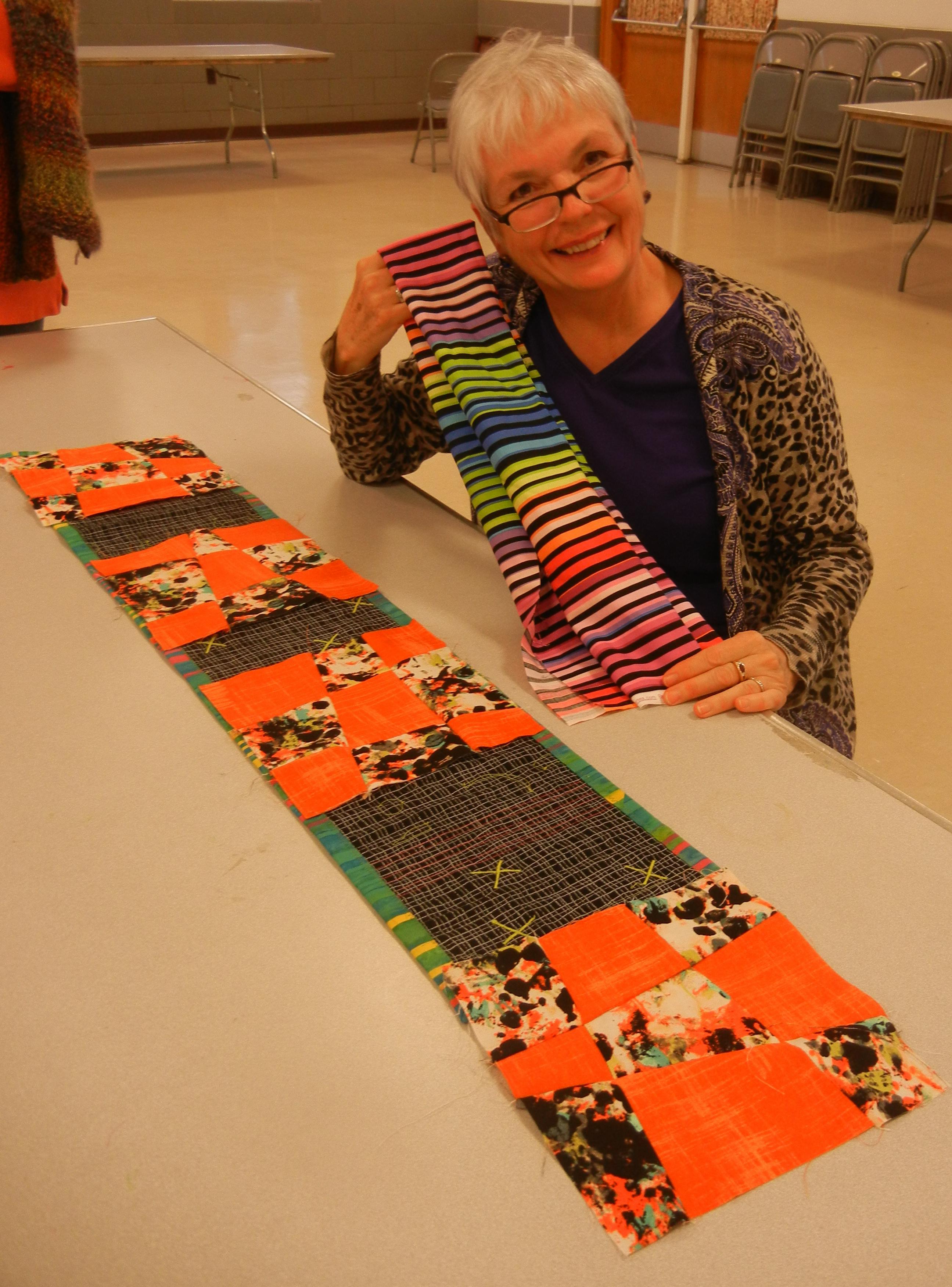 Marty tried a bunch of arrangements before settling on the one that won her approval: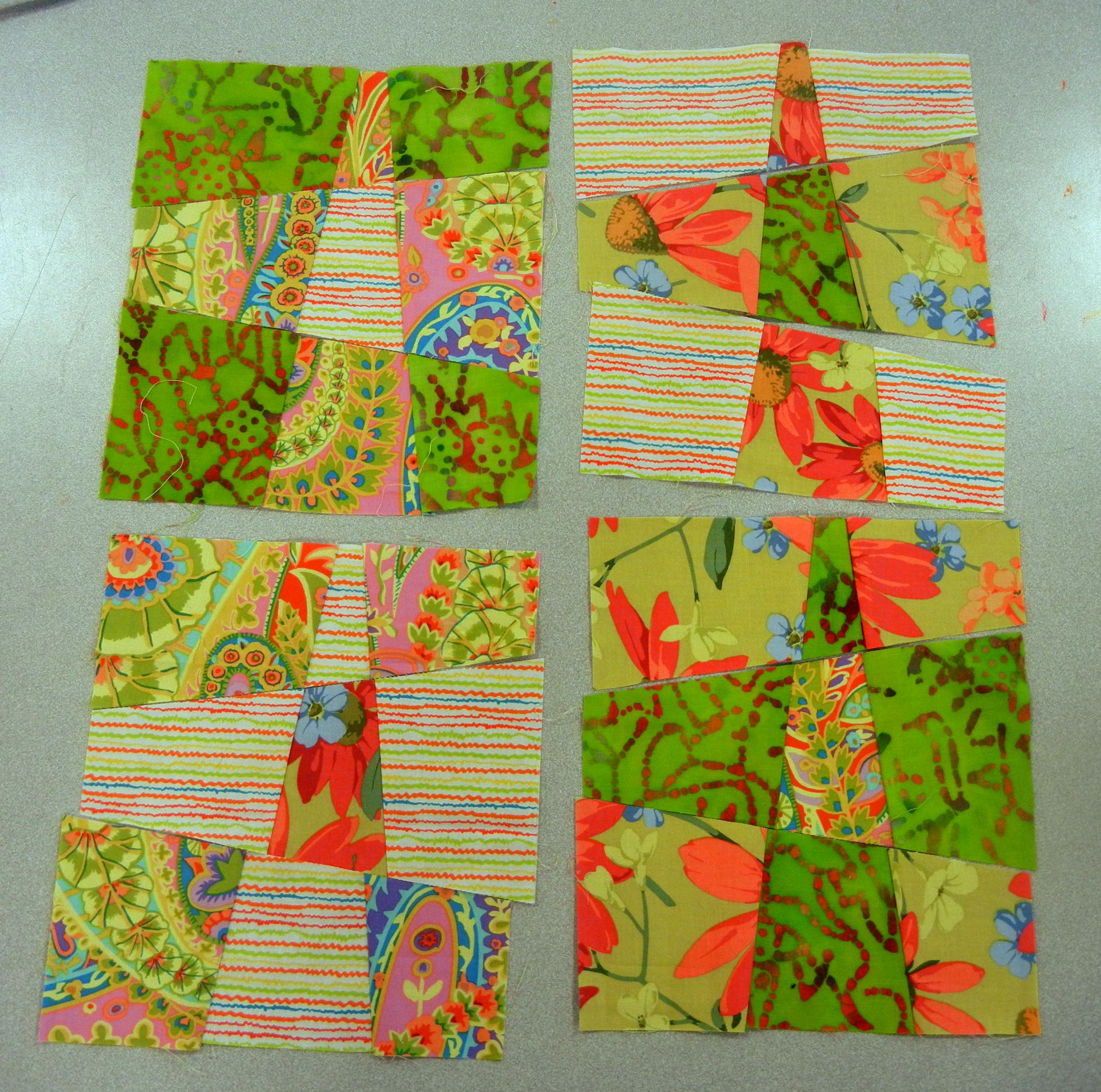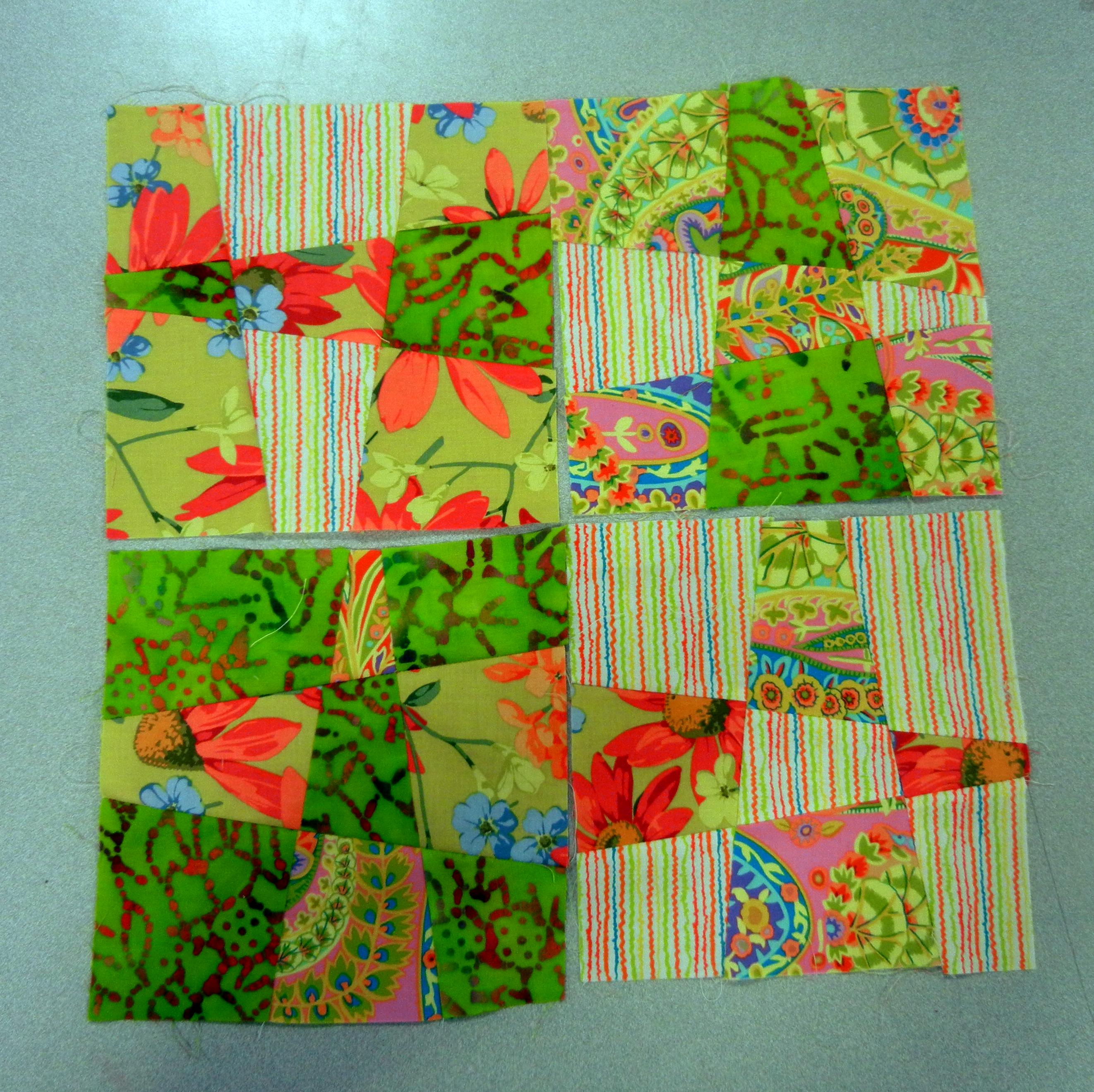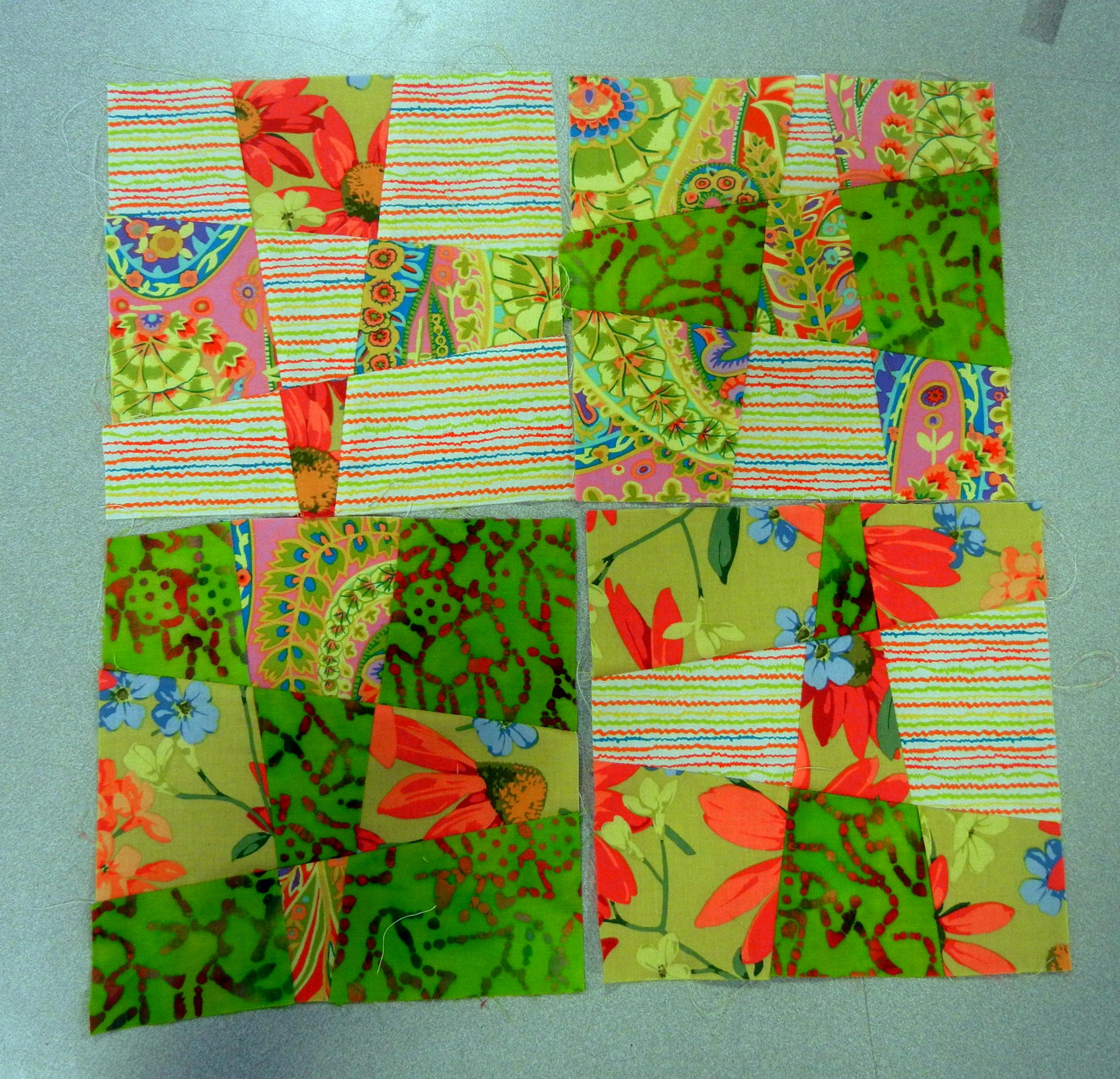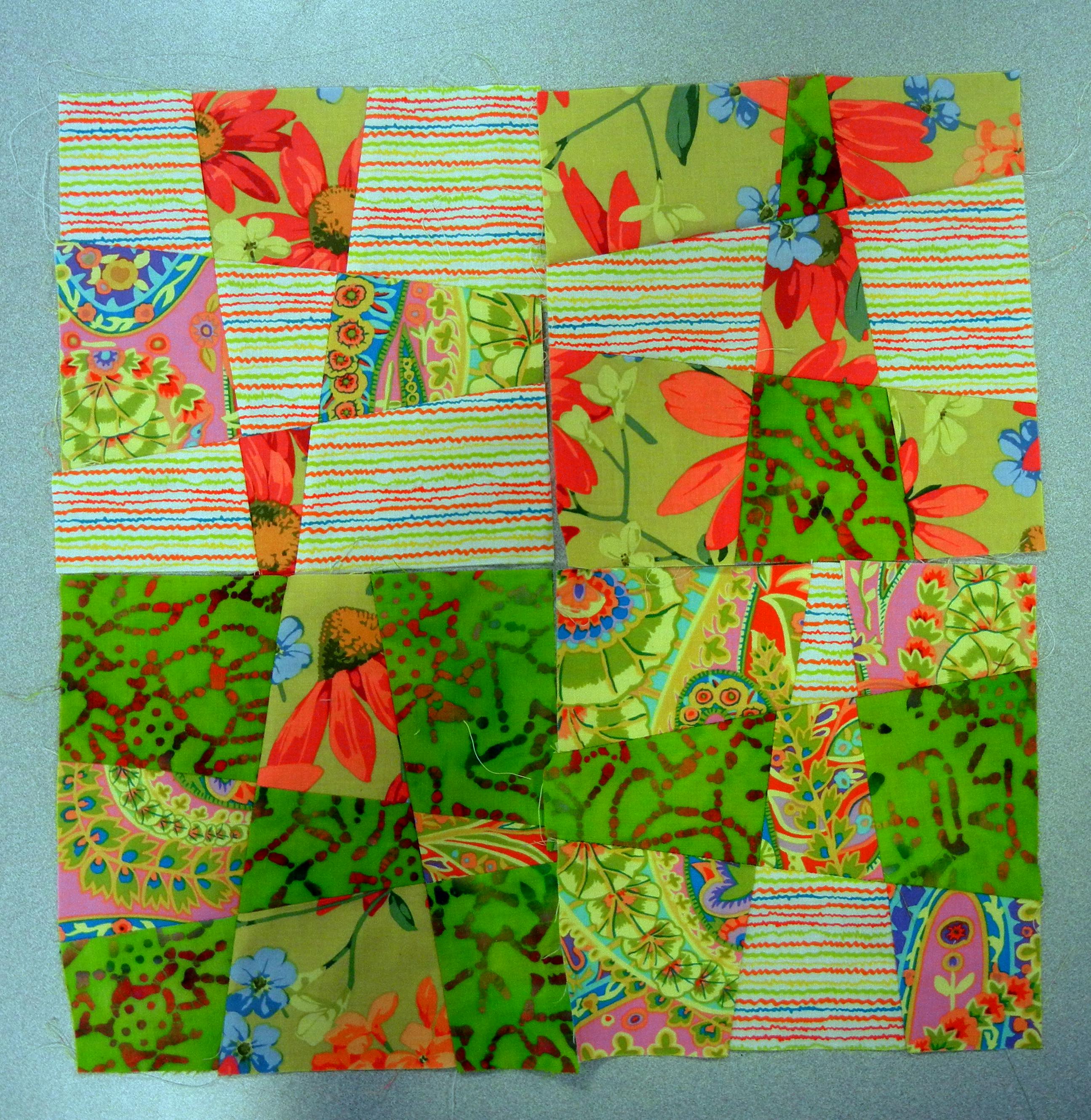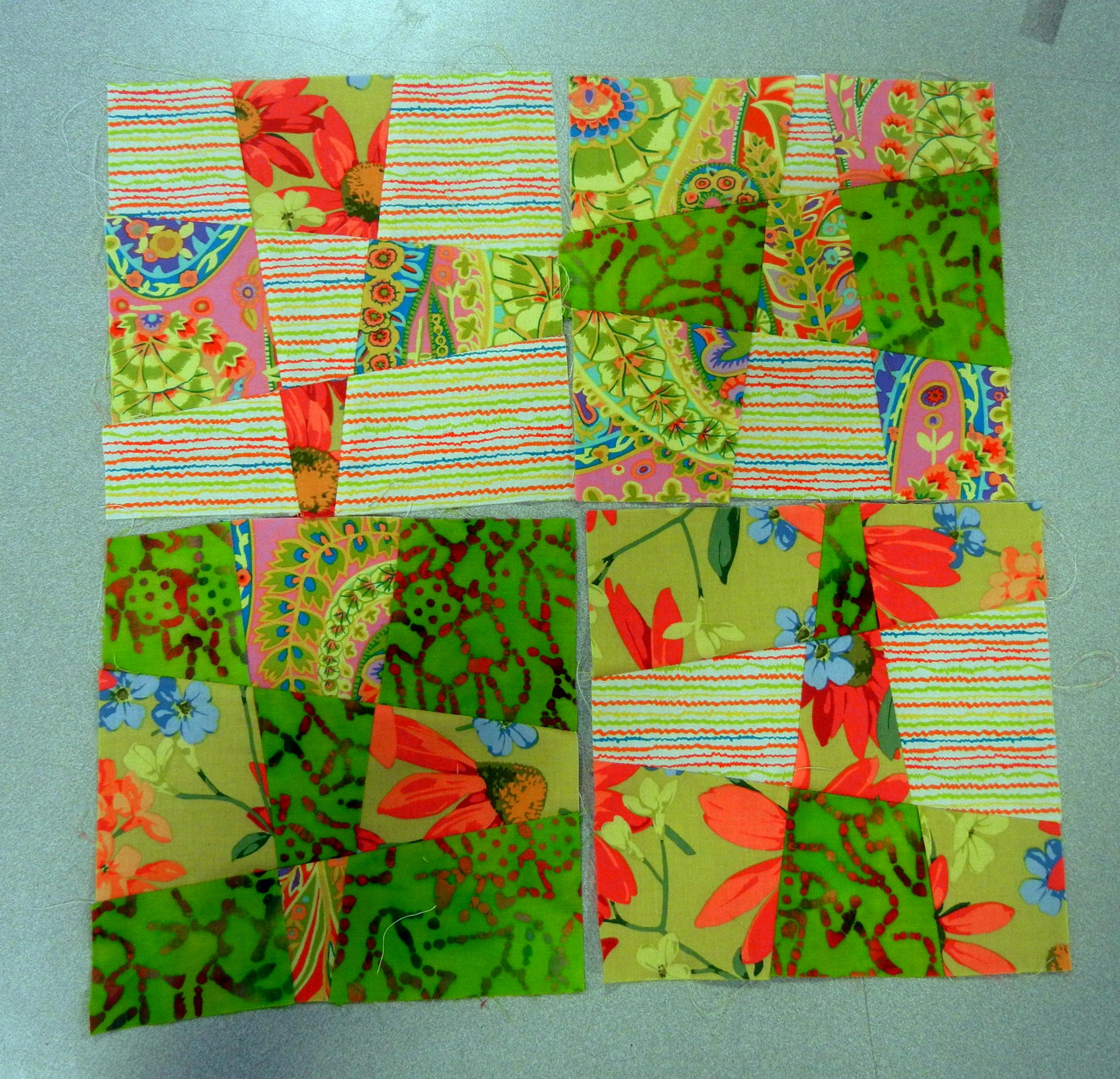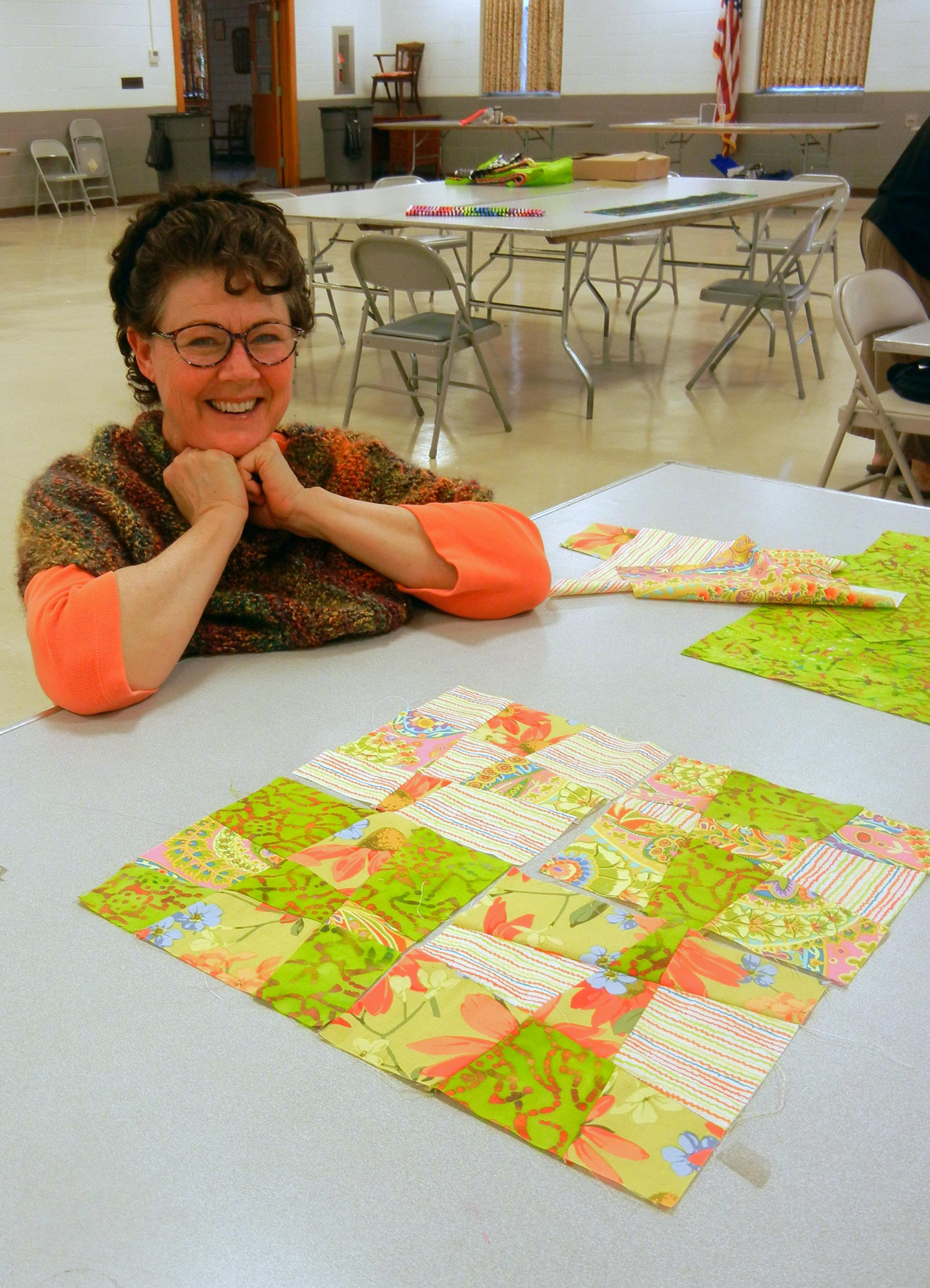 Milford Valley Quilters' Guild Goes Wild!
Thanks to Phyllis and Nancy for sending me pics of the finished Skinny, wonky wonders!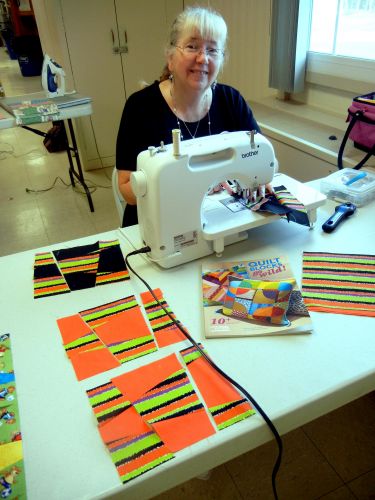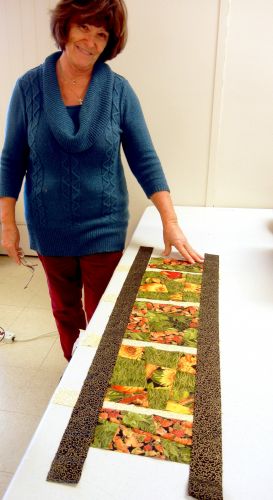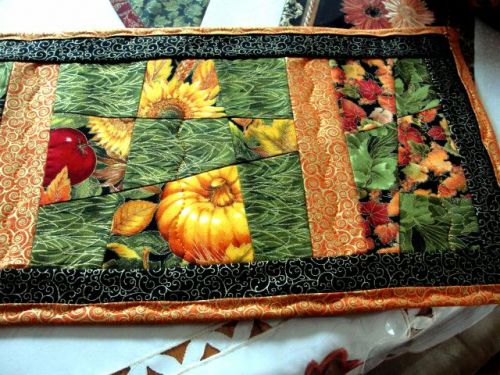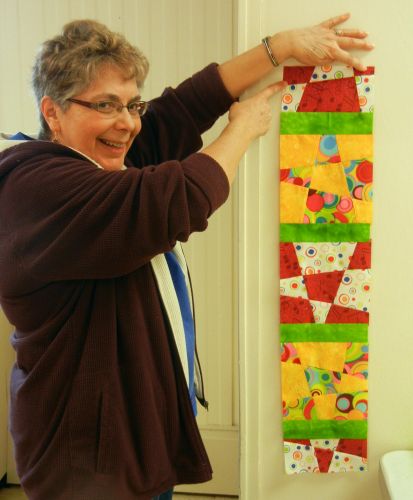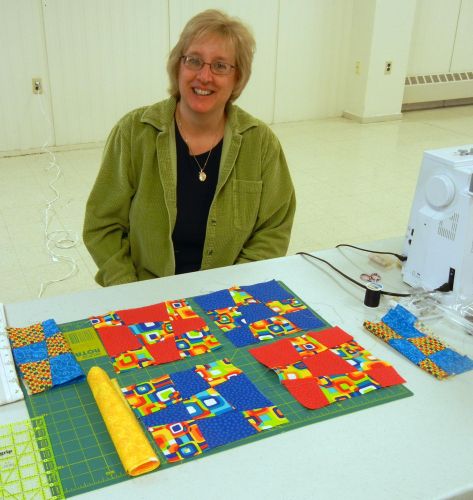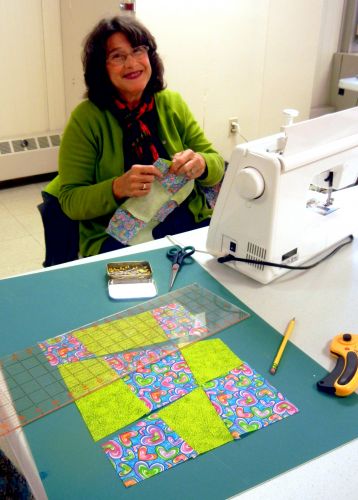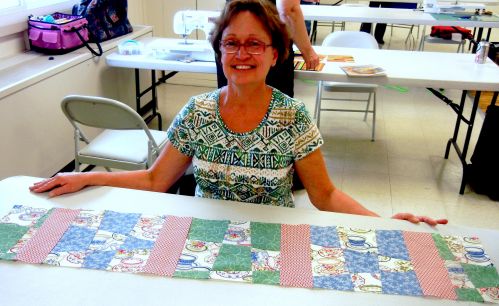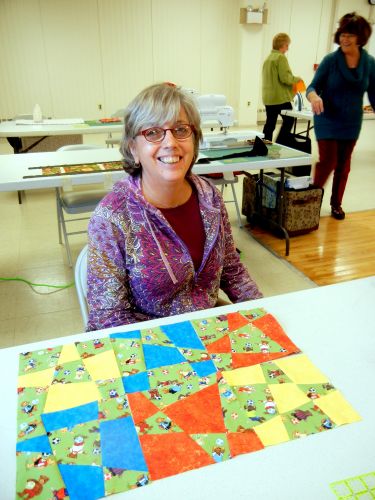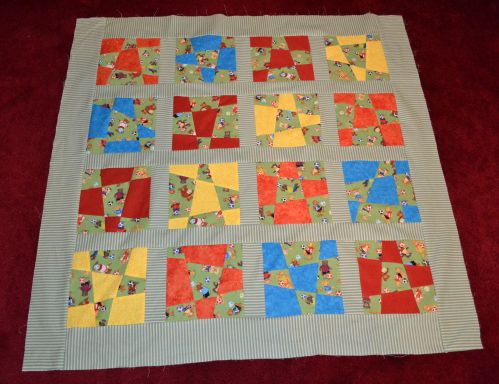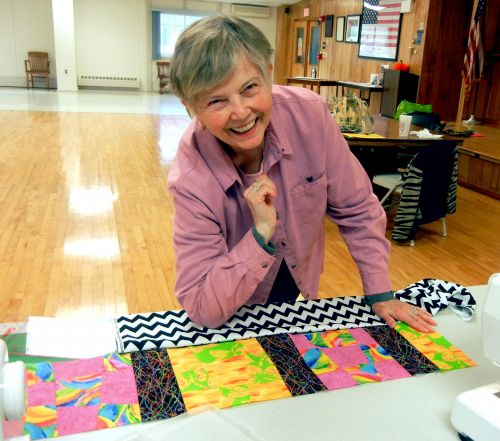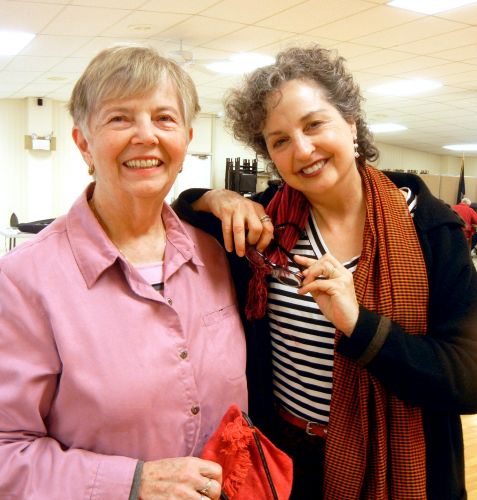 Wings Falls Quilters really took the technique and soared!


Lookie, lookie, Linda went right home and finished a reversible runner. One side for Fall, the other side just for Halloween!



Quick & Slick for Warwick Valley Quilt Guild workshop participants! Very effective, imaginative, and outside the box!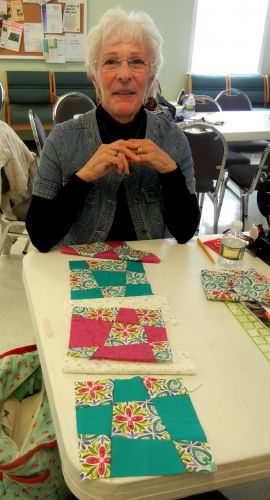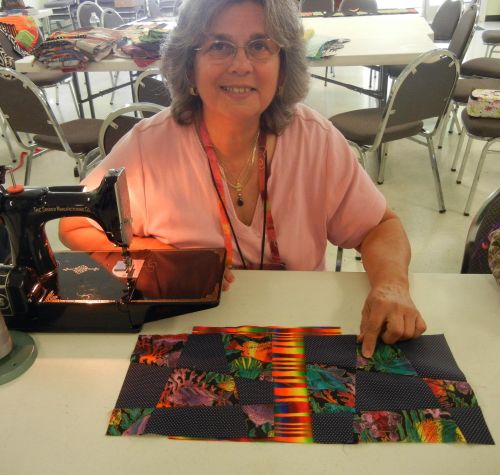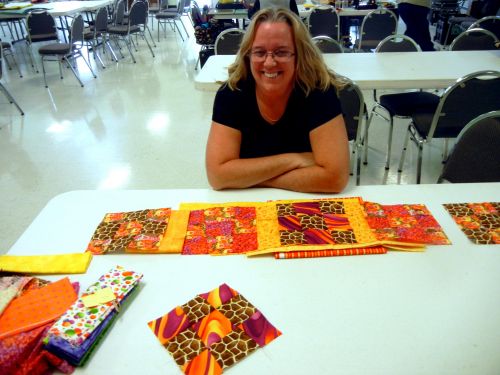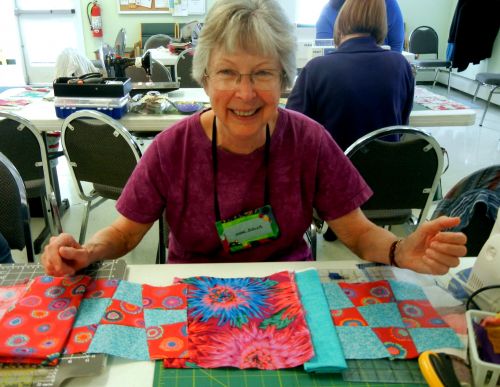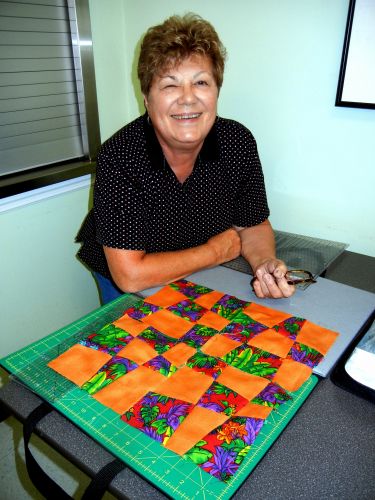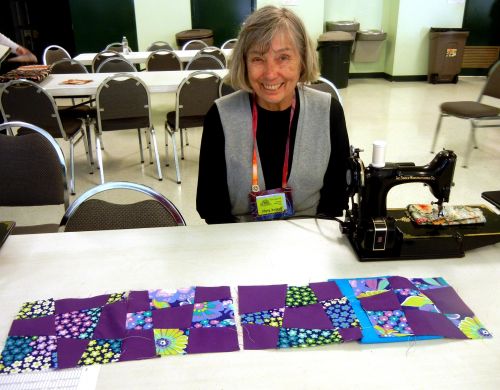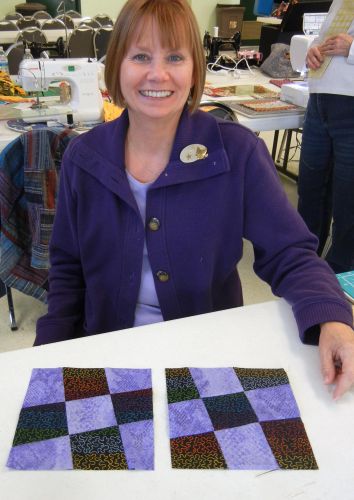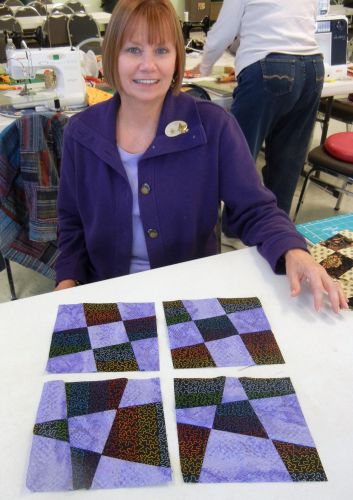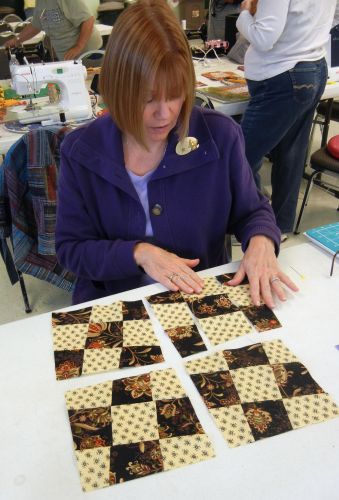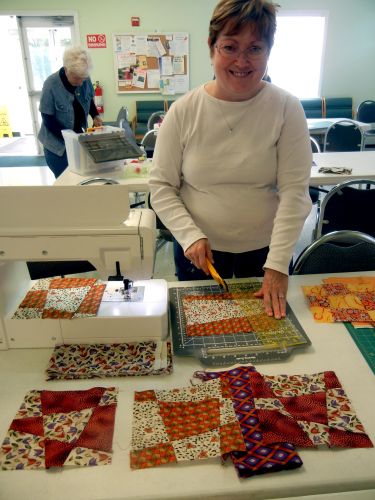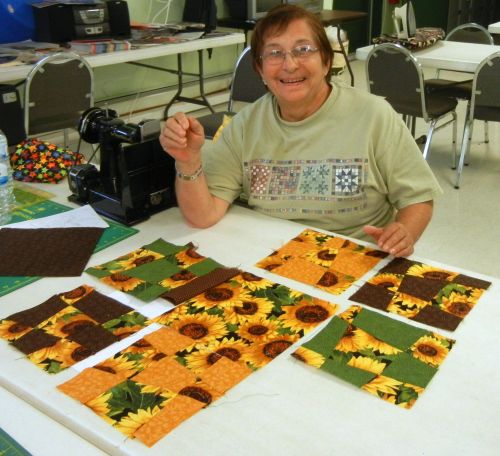 News flash!
The Chugach Mountain Quilt Guild in Eagle River, Alaska, went wild with Nine Patch!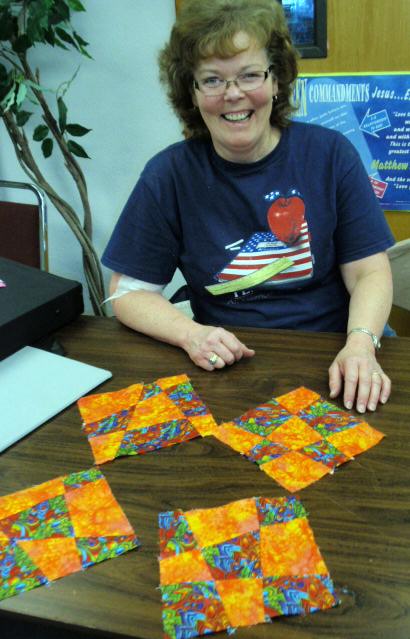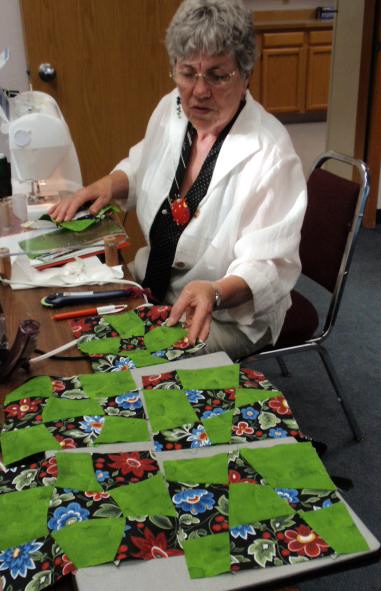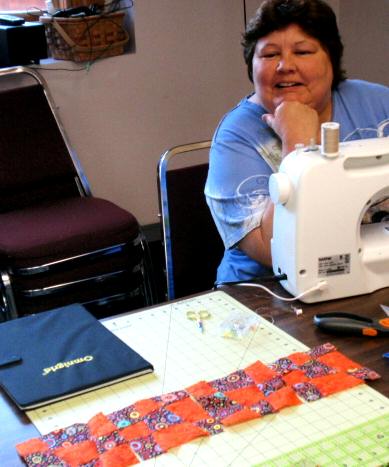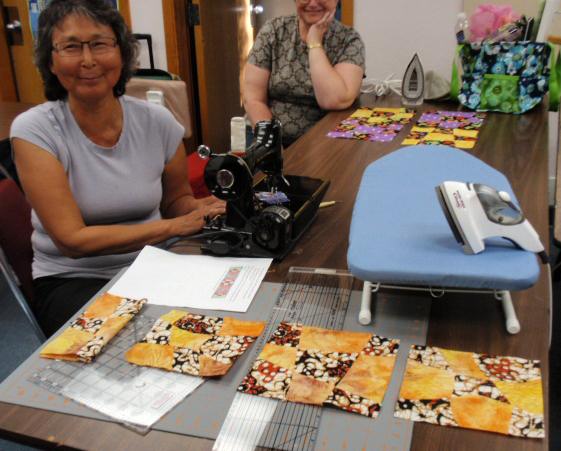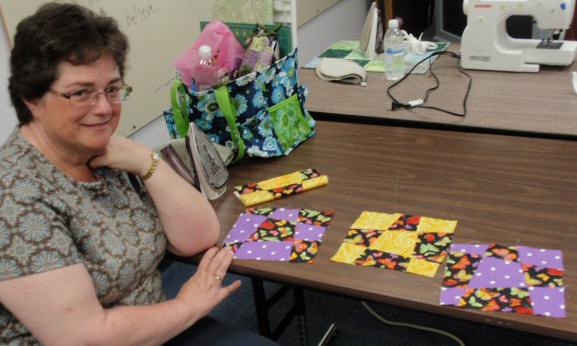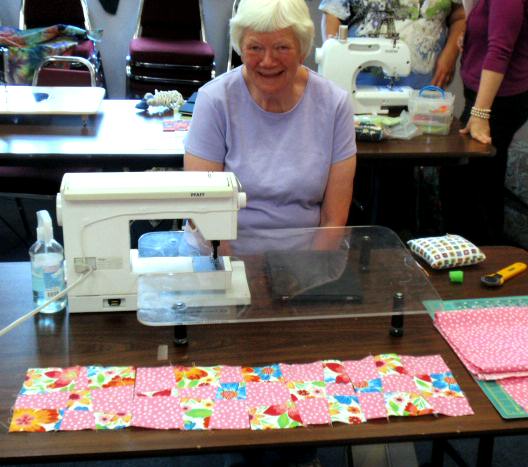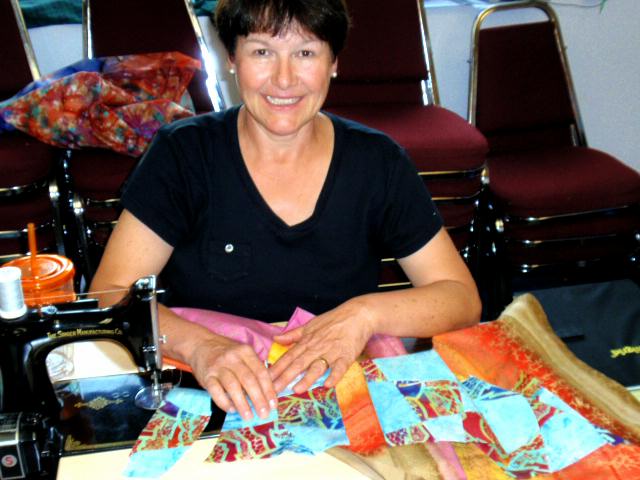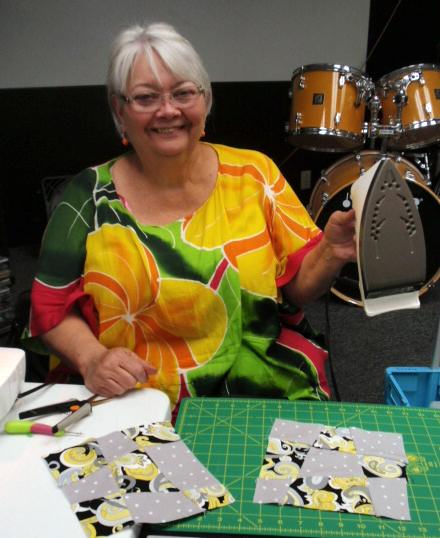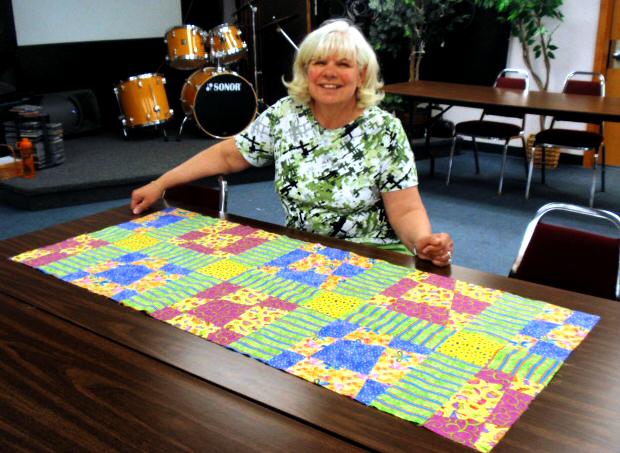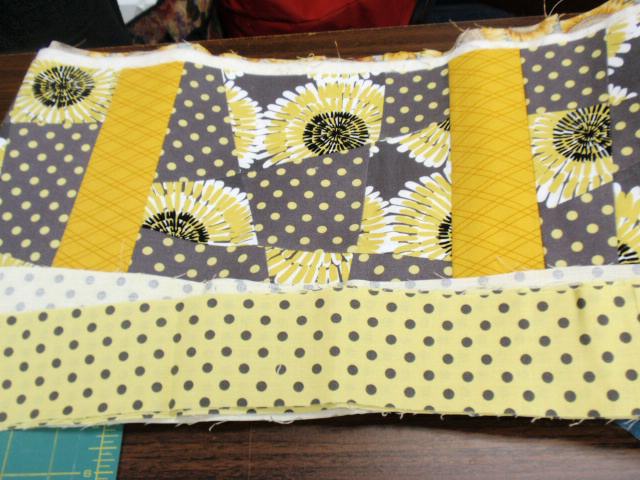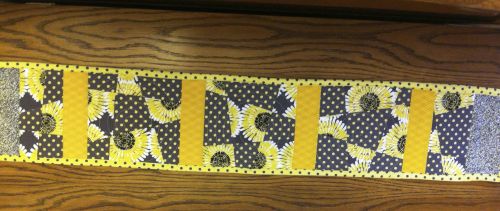 (Thanks, Tammi, for sending me the jpeg for this sunny stunner, done!)
Above and below, you might notice that a few clever women ventured further than the teacher, and used snowball corners or curved piecing to great effect!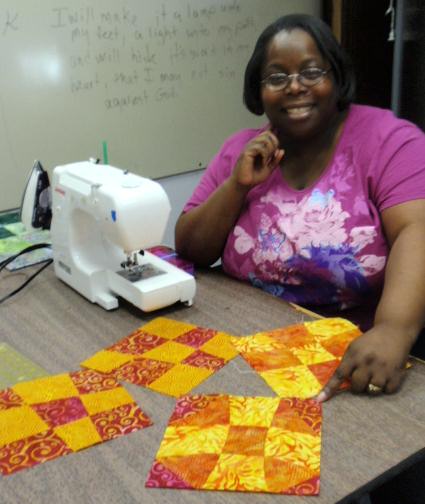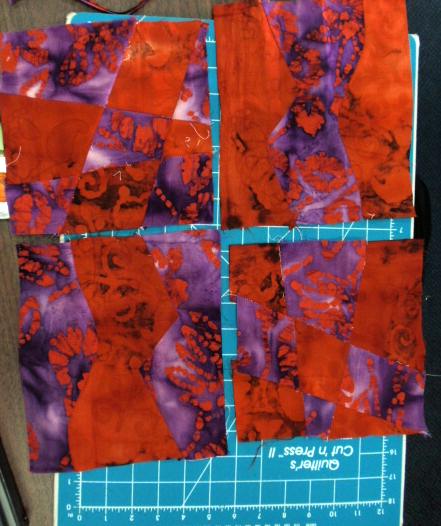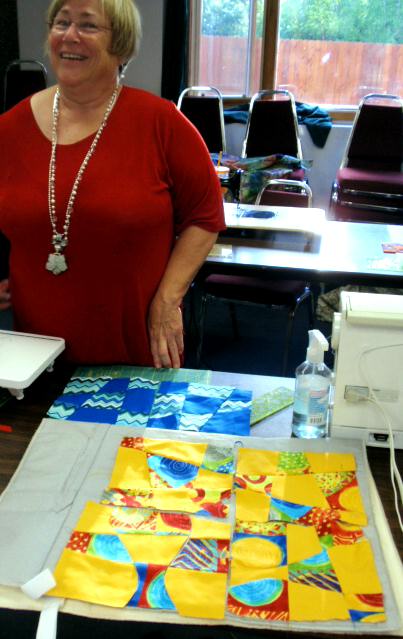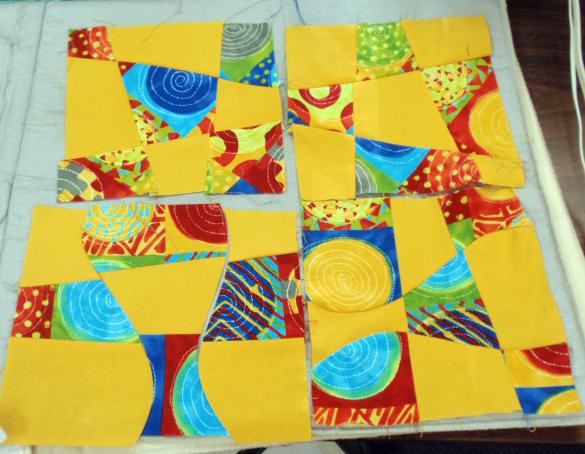 Oh what fun we had at the Cozy Quilt Shop in El Cajon, CA: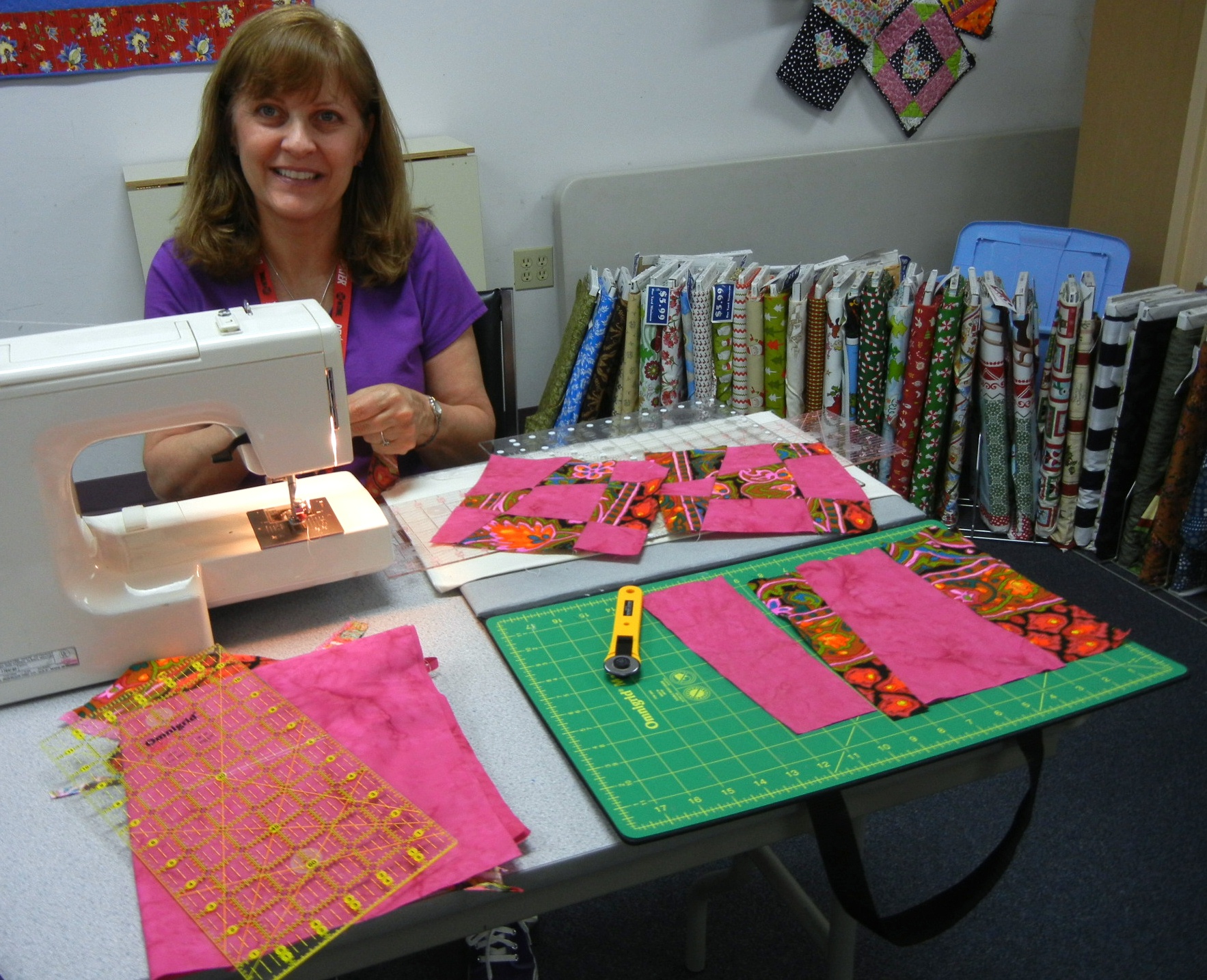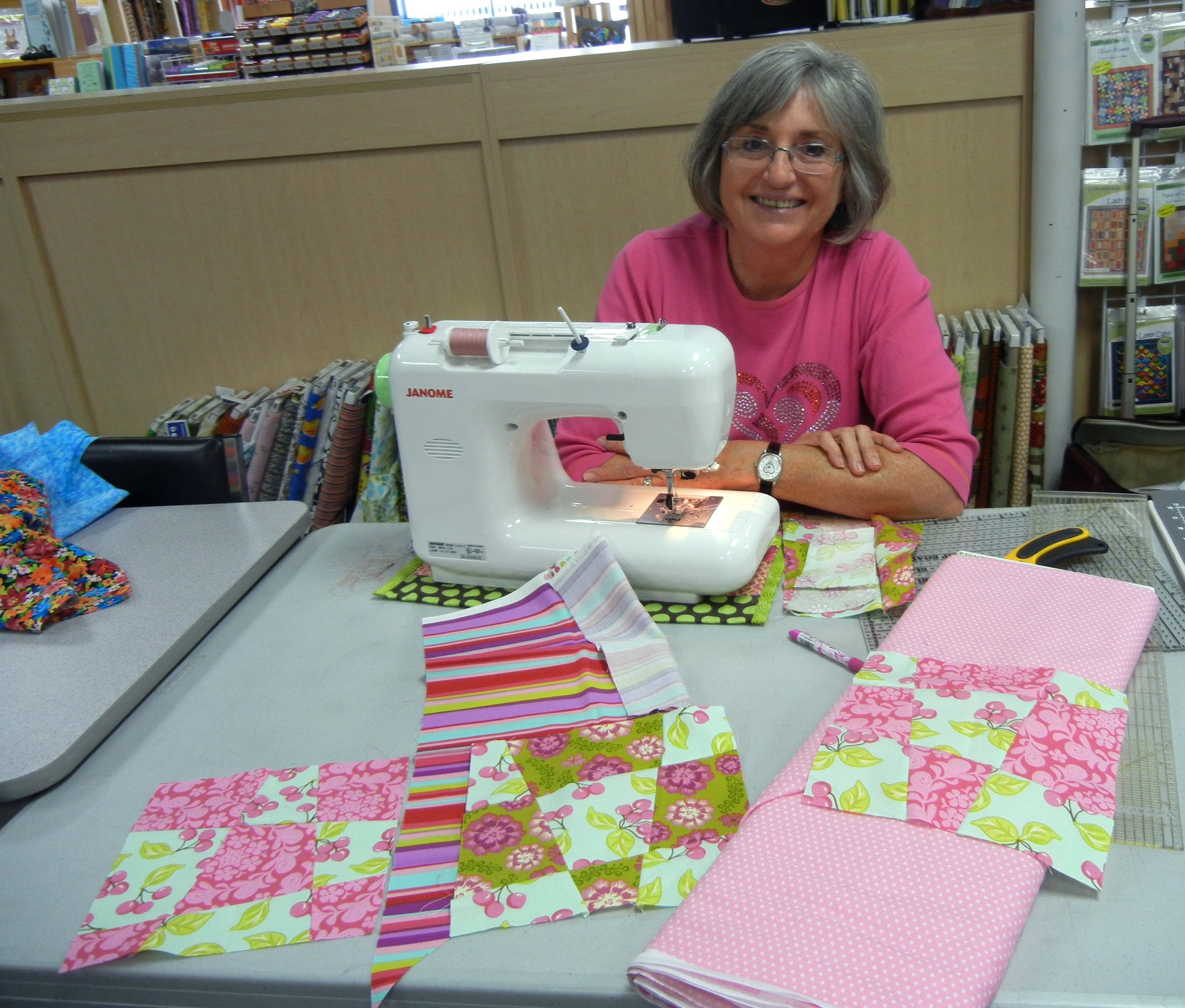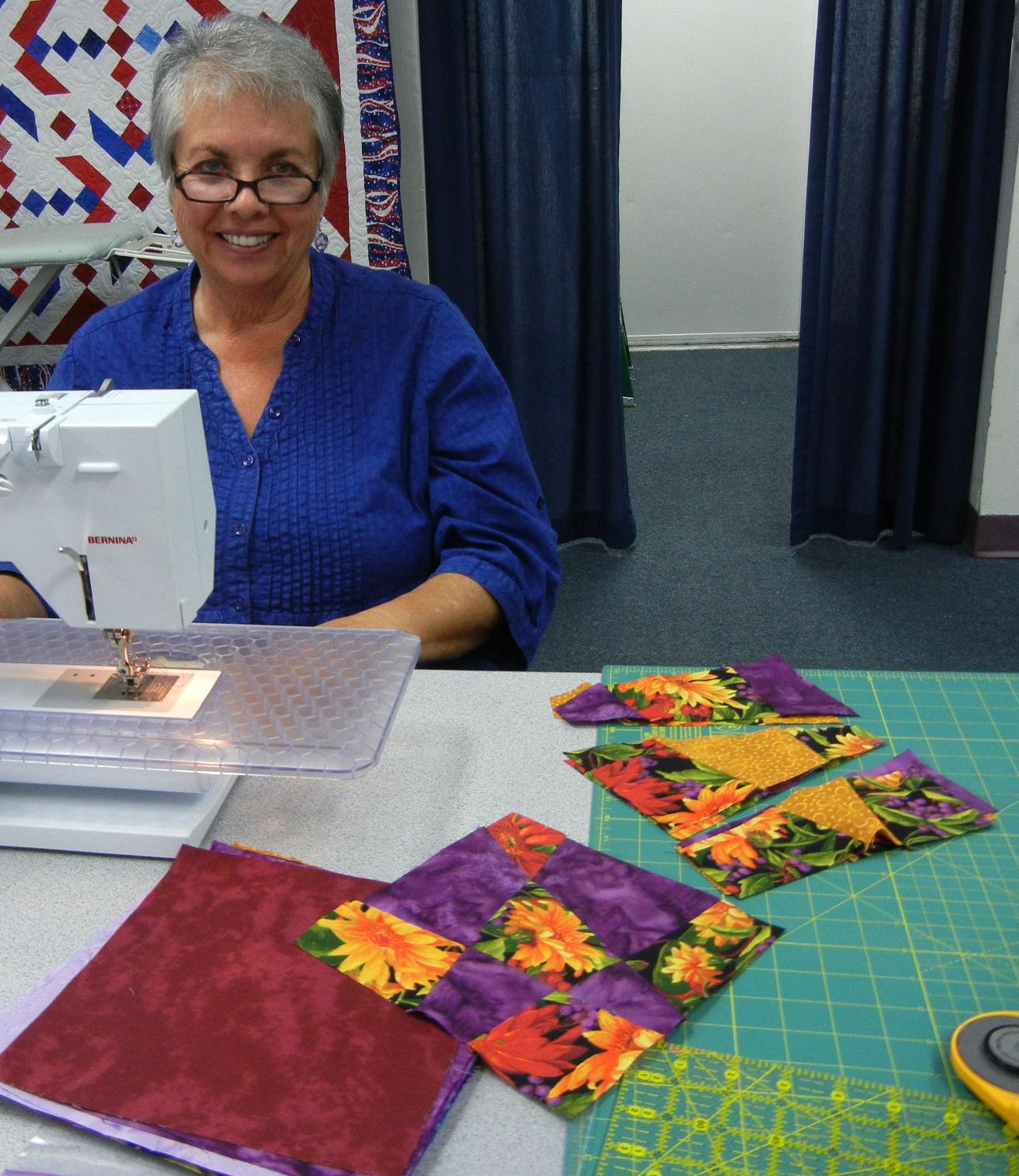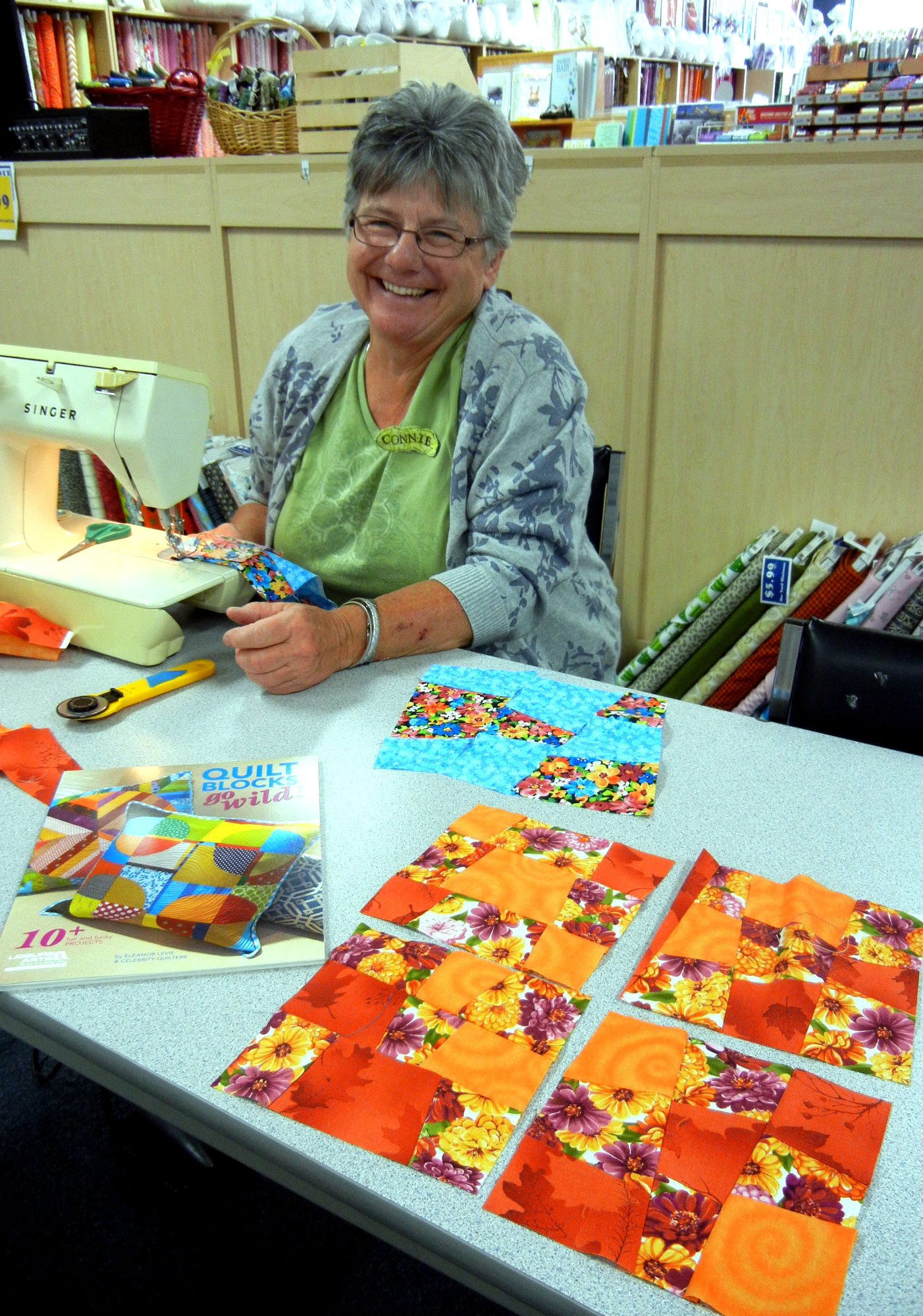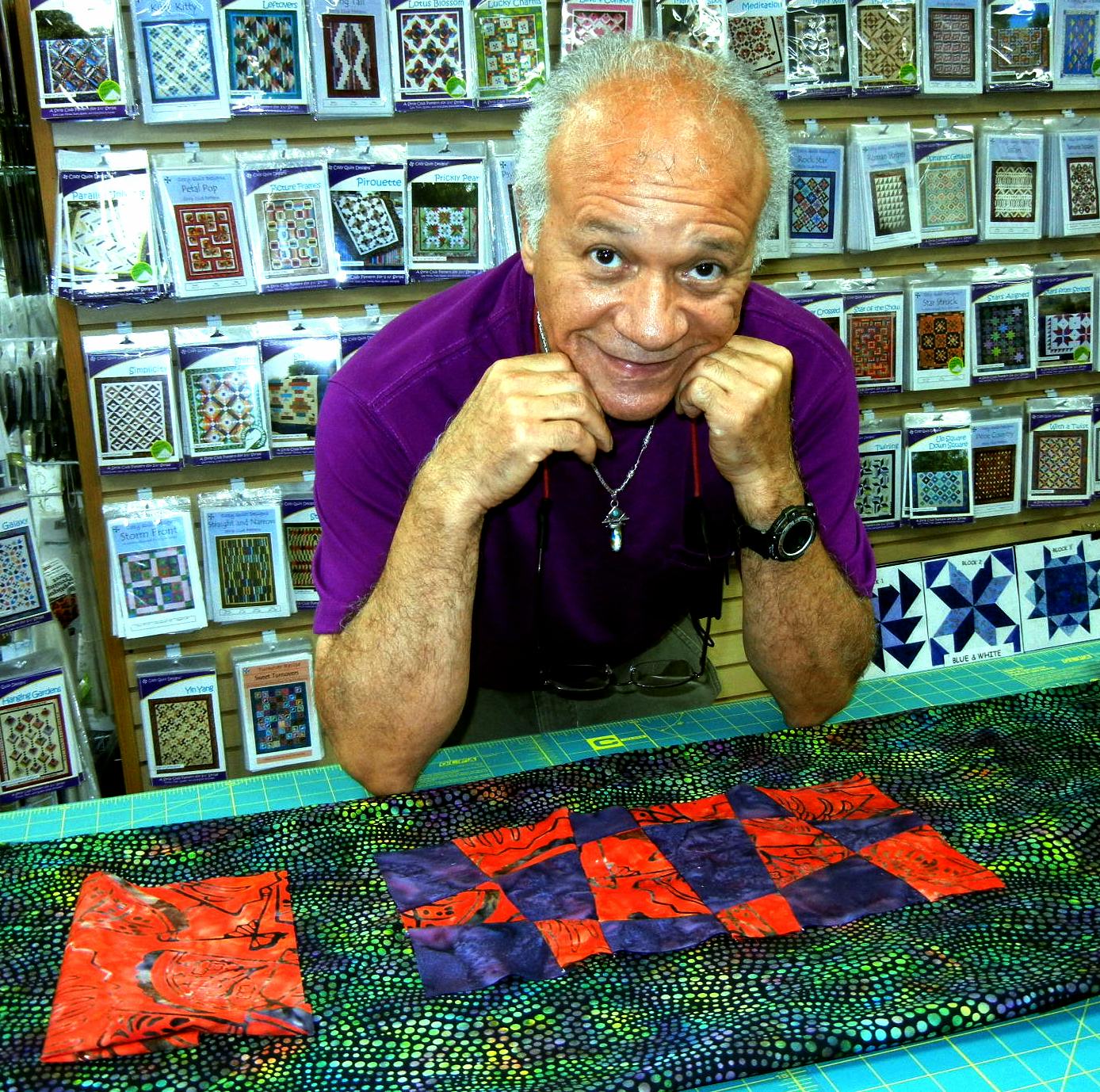 Check out what a wild time was had by the Olde Kent Quilters of Chestertown, MD making wonky Nine-Patch blocks: