workshop
Weave a Giant Quilt with Me!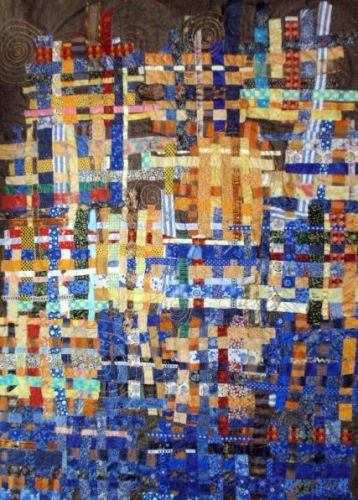 Work together on a large quilt top suitable for an art wall hanging, and simultaneously learn a new technique you can apply to masterpieces of your own. No sewing machines needed, only a spirit of adventure!
Before the class, we'll agree on a color palette for our group quilt. Participants and teacher will all contribute fabrics, ribbons, lace and braided trims. We'll choose from the collection, adding an occasional zinger or touch of gold or silver. Then, students will learn "pin-weaving" and create individual weavings. Next, we'll audition various backgrounds and arrangements that use our finished, woven blocks, and decide on and fuse the final preference. In the process, we'll discuss and develop our senses of design and composition, value and color, movement and shape, balance and rhythm.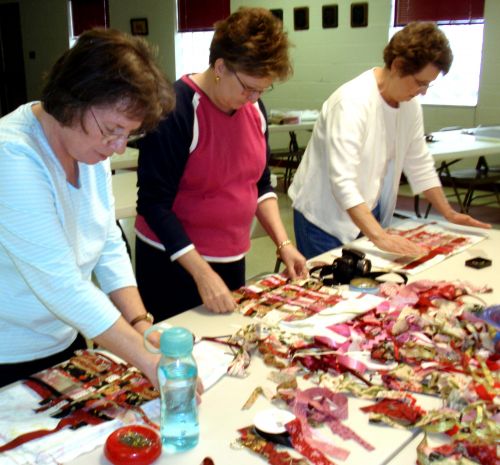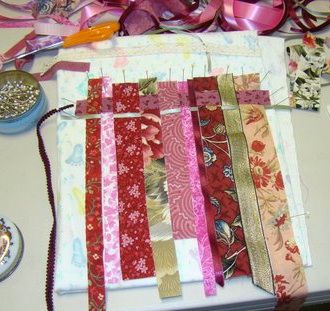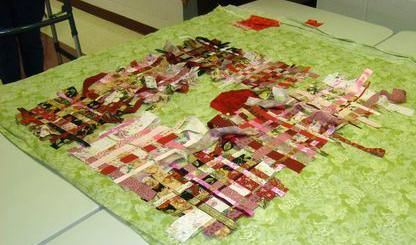 "I really enjoyed the recent "Weave a Quilt" workshop you held in Lancaster. I was intrigued with the concept, but couldn't envision the method you were going to use to coordinate the fabric and ribbon offerings of all 8 participa
nts. I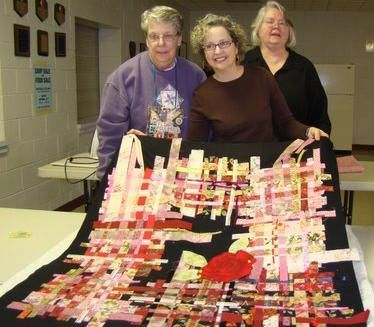 l
oved that we could all work at
one large table and decide together what would be included in the quilt, but that we broke apart to put our squares together. Then back again to decide on placement and get more instruction, and voila, we had the beginnings of a quilt.
Your instructions were concise and to the point. You encouraged creativity, while still providing enough structure to those participants hesitant to go out on a limb. You had the materials well organized and available, and you had excellent examples to share.
The workshop was a lot of fun and made it easy to interact with you and the other guild members, most of whom I didn't know before that afternoon.-- Ann Parke, The Red Rose Quilting Guild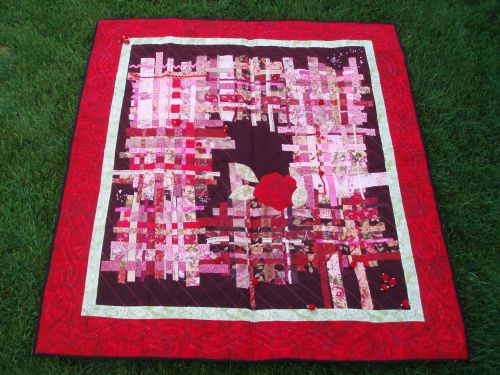 As part of this workshop, I'll be sharing various ways to sandwich and quilt your giant tapestry, showing several other examples of woven quilts.
In the process, we're gonna intertwine our senses of color and design and create a masterpiece, to show, compete in a group category, make as a very special gift from the guild, or ....!!!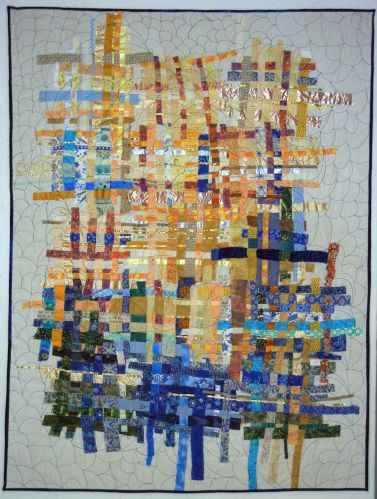 Guilds and groups: Book this workshop, and weave a masterpiece! Just click on contact me to get started!