free & fun
Vintage Diamonds Quilt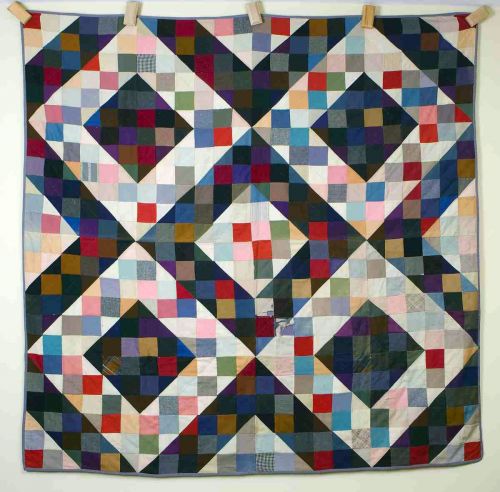 Circa 1940, this all-wool quilt found in Pennsylvania was probably made by an Amish woman. Ir often hangs on the wall of my home office/guestroom/quilting studio (do you have a room like that?). It was also featured, along with other areas of my home and life, in Mark Lipinski's Quilter's Home magazine, Sept.-Oct. '08. I wrote the directions for the Quilter's Home website.
Click here to get the pdf of those directions pages.
Want to learn more? The drama starts with a simple, humble, 9" Nine-Patch. Then the interest multiplies, 'cuz the block seems to be split diagonally in half, with light-colored fabrics on one side and dark ones on the other. Finally, the excitement explodes into a giant 72"-square criss-cross—and cross my heart, it's a stunner. But the truth is, it's really, an incredibly easy quilt to make. (If it were done as a Log Cabin, the setting design would be a classic Sunshine and Shadows.) Yes, the original shown here is made of at least 20 different light-weight wool fabrics, and only a few patches show the stress of its 50-75 years. The backing is also wool, there's no batting or filler, and it is hand quilted to accent the concentric diamond shapes. Very heavy and warm, great for snuggling under when there's a cold snap. But no matter the temperatures where you live, or the light and dark sides of the inner climates or temperaments we all lay claim to, anyone who wants to can take inspiration from this wonderful piece. Hey, it's just a great, big, scrappy square! Use anything you want from your stash! And send me a jpeg of your version, emailed to me at eleanorlevie@gmail.com! Thanks!