free & fun
14 Carrot Gold Soup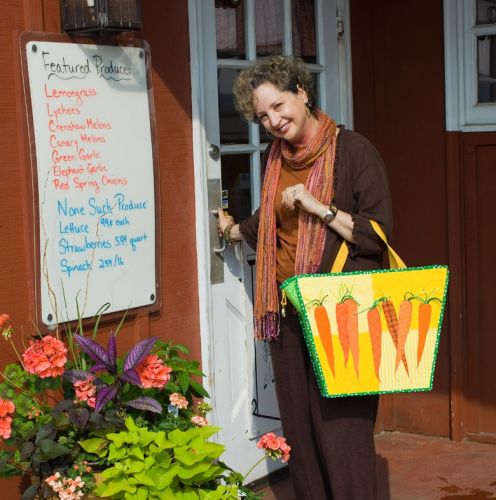 by Eleanor Levie, designer of the 14 Carrot Gold Bag in her book, Unforgettable Tote Bags,
as well as Skinny Quilts & Table Runners I and II, and Quilt Blocks Go Wild!

1. Melt 4 T butter or put some canola oil in a pot. Add chopped onions (1 or 2), cover, and cook until tender and light gold (20 minutes)

2. Add 14 large, peeled and chopped carrots, and 4 cups soup stock (chicken or vegetable soup broth or bouillon cubes plus water). Bring to a boil, reduce heat, cover, and simmer 'til carrots are very tender--about 30 min.

3. Pour soup through a strainer or sieve and transfer solids to the bowl of a food processor. You can also use a potato masher to pulverize.

4. Return this puree to the pot. Add 1 cup OJ and 2-3 more cups of soup stock, until soup is of desired consistency.

5. Season to taste w salt and pepper. Add some orange zest (minced orange peel) if desired. Simmer 'til heated through and serve. I like to add a dollop of yogurt and a sprinkling of fresh herbs.

Bon appetit!