free & fun
Pepper Upper Skinny Quilt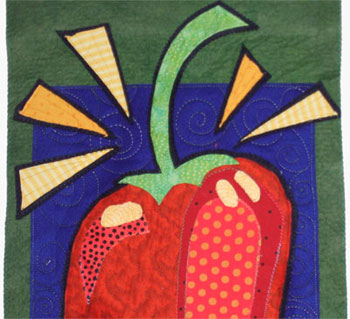 Pepper Upper Skinny Quilt


by yours truly, Eleanor Levie

As shown in Mark Lipinski's Quilter's Home magazine, Sept./oct. '08

Sometimes—especially first thing in a groggy morning--daisies or cherries are just way too cheerful as a greeting when you walk into the kitchen. That's why this high-energy, kick-butt, giant chili pepper works…as a wall hanging or a runner for your table, your kitchen island, or any available surface.

Best of all, it takes only a bit more time than your average hot flash. Take the spiciest scraps from your stash for the pepper, star, and triangles, quick-fusing them on black felt. Cut around that, to give you a funky, coloring-book definition. Felt does triple duty as backgrounds, backing, and fills in for batting—so there are absolutely no edges to finish. Easy quilting gives you lots of dimension, and some whirly curlicues make for free-motion fun.
Click here for free Pepper Upper Skinny Quilt pattern (PDF).

Check out my first Skinny Quilts & Table Runners book for a different design that works with fabric and felt in a flash!


Click here to take a peek and order an autographed copy!